8 Horror Movies To Look Forward To In 2018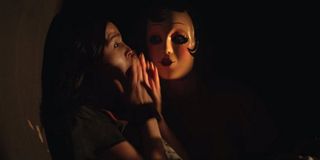 Not everyone can stomach a scary movie, but those who can typically love them. Last year turned out to be one of the best years for the spookiest of genres in recent memory with the releases of films like Get Out and IT, and if 2018 turns out to be anything like the year that preceded it, then we think it's safe to say that horror fans could once again walk away happy.
With horror on the mind, we have put together a list of scary movies that you should keep an eye on in 2018. We will bring you more information about these films as details become available to us, but you should make sure to note these on your calendars as soon as possible. On that note, let's dive into our first horror fest.
Winchester
Right out of the gates, it looks like February is going to nail us point blank with an awesome-looking horror film in the form of The Spierig Brothers' Winchester. Starring Helen Mirren as Sarah Winchester (of the Winchester firearm company fame), the film follows her as she begins to suspect a haunting in her house in the wake of the deaths of her husband and child. Increasingly paranoid about the potentially supernatural phenomena taking place around her, Ms. Winchester eventually sanctions the construction of the labyrinthian Winchester Mystery House in Northern California. Winchester is loosely based on real-life events, so if you are into horror with an added element of historical fiction, then this should be right up your alley when it debuts on the big screen later this year.
Release Date: February 2
The Strangers: Prey At Night
Bryan Bertino's The Strangers has developed a cult following in the ten years since it first debuted in theaters, and many fans have called for a sequel ever since its initial release. Now we will finally get a sequel to the creepy home-invasion thrilled this year in the form of The Strangers: Prey at Night, and it definitely looks like it won't disappoint. The three "strangers" have returned to hunt down a more extensive stable of victims this time around, and with the horror no longer confined to one single house, we're likely going to get a much better understanding of just how deadly this horrifying family can be when they don the masks. Now let's just hope that this sequel can live up to the original's legacy.
Release Date: March 9
Unsane
Steven Soderbergh's Unsane is a bit different from the other films on this list because it's one of the few horror movies set to debut in 2018 that has shown us basically no footage or early looks. All we really know is that the film centers on a young woman who confronts her worst fear after being involuntarily committed into a mental institution, and that the film stars Claire Foy, Juno Temple and Aimee Mullins. Even without much information, it's hard to deny that Steven Soderbergh has been on a directing hot streak lately with films like Logan Lucky, and his work on something like Contagion showed how well he could make a realistic story undeniably terrifying. Unsane sounds like it's going to be insane, and we're here for it.
Release Date: March 23
A Quiet Place
Some of the best horror movies rely on the simplest of gimmicks for their respective premises, and that long tradition is on full display in John Krasinksi's A Quiet Place. The new Jack Ryan and his wife, Emily Blunt, star in this thriller about a family hiding out from a world full of unknown monsters in a remote house. The catch? The threat that lurks out in the world can only hunt you by hearing you, so the family remains safe as long as they stay quiet. As you can probably imagine, something eventually causes a ruckus, and the family finds itself in a fight for survival. The trailer for A Quiet Place is already insanely gripping, so our hope remains high that the film can live up to that promise.
Release Date: April 6
New Mutants
Horror has seeped into our collective pop culture mentality arguably better than ever before, and that idea might be most prevalent in the fact that we're about to get a horror/superhero movie hybrid in the form of Josh Boone's New Mutants. Unlike the traditional X-Men adventures that we have seen over the last two decades, New Mutants looks like it's going to double as a proper young adult horror story about a group of troubled teenagers trying to cope with their abilities in a mental institution. We haven't seen any yellow spandex from this movie yet, and it genuinely lends the sense that New Mutants could be one of the scariest comic book adaptations of all time. Remember, folks, this is how we avoid superhero fatigue.
Release Date: April 13
Truth Or Dare
At first glance, a movie focusing on the classic childhood game of Truth or Dare (and the lethal consequences of that game becoming a full-blown curse) could seem like a concept worthy of an eye-roll. That said, Jeff Wadlow's Truth or Dare is a Blumhouse film, which lends a considerable amount of credibility to the idea when we consider that this is also the company responsible for Split, the Purge franchise and Get Out, just to name a few. If Truth or Dare can lean into the same level of tongue-in-cheek self-awareness that made Happy Death Day work so well in October, then there is a genuine chance that this could be yet another winner for a company that has become well-known for horror winners in recent years.
The Nun
Over the last few years, the Conjuring franchise has handily turned into one of the most surprisingly entertaining cinematic universes in the game. The first two Conjuring movies are both great, and Annabelle: Creation almost certainly redeemed the Annabelle franchise in 2017. Now it's Valak's turn to get a solo movie. Corin Hardy's The Nun will take us further back through the Conjuring timeline to 1952 Romania, where we will follow a priest, a young nun and a novitiate as they all try to solve the mysterious death of a nun at a convent. Valak earned some of the best scare sequences in 2016's The Conjuring 2, so there's no reason not to assume that this terrifying nun won't be able to deliver the same level of thrills in a solo movie.
Release Date: July 13
Halloween
It has been forty years since the iconic Michael Myers stalked Laurie Strode on Halloween night in Haddonfield, Illinois, and now it's time for the final battle. That said, it has been a while since the franchise produced a legitimately great movie, but all eyes are on David Gordon Green to return the slasher series to its former glory by teaming up with Alien: Covenant's Danny McBride and original Halloween director John Carpenter, as well as bringing Jamie Lee Curtis back as Laurie Strode. This year's Halloween will apparently ignore every other film in the continuity except for the first movie, which pretty much means all bets are off with regards to where this film's story can go from here.
Release Date: October 19
This poll is no longer available.
Your Daily Blend of Entertainment News
Originally from Connecticut, Conner grew up in San Diego and graduated from Chapman University in 2014. He now lives in Los Angeles working in and around the entertainment industry and can mostly be found binging horror movies and chugging coffee.