Black Panther Has Already Hit A Movie Ticket Record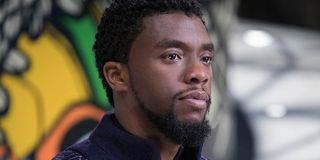 We assume that Ryan Coogler's Black Panther is going to be a hit. Why wouldn't it? It's the latest from Marvel Studios, a comic-book movie house that even figured out how to make Thor sequels entertaining. It's opening in February, once thought to be a dead zone for films, and it's facing very little competition for tentpole dollars. But early indications now suggest that Black Panther might be bigger than anyone thought, as Fandango has now announced the film has broken a pre-sale record.
In the first 24 hours since the tickets have been available on Fandango, launching during the telecast of college football's National Championship game, Black Panther has pre-sold more tickets than any film in Marvel Studios history. Ryan Coogler's wildly anticipated solo adventure tops the previous record-holder, Captain America: Civil War, which benefitted from being a semi-Avengers adventure, and marking the debut of Spider-Man (Tom Holland) into the MCU.
Black Panther has a lot going for it at the moment. Marvel fans seem to have embraced the casting of Chadwick Boseman in the role of T'Challa, the king of the secret African nation of Wakanda. Fans, also, seem excited to finally spend time in Wakanda on screen, though we saw it ever so briefly at the end of Civil War, when Captain America (Chris Evans) put Bucky (Sebastian Stan) on ice. And then there's the fact that Black Panther will lead right into the massive team-up movie that is Avengers: Infinity War, so we'll all want to see how Ryan Coogler's film sets the stage for that story.
Additionally, Black Panther is ramping up excitement because the marketing materials for Ryan Coogler's endeavor makes it look cool, unique, powerful, sexy and thrilling. Check this badass trailer out:
Looking to explain the reason for Black Panther breaking the Marvel pre-sale ticket record, Fandango Editor Erik Davis said in a press release:
Did you get your ticket? You might want to circle a date, and soon, because this one will be playing to packed houses for at least its opening weekend. And if you want to keep up with all of the happenings in the Marvel Cinematic Universe, bookmark our guide to the films that are on the studio's radar.
Movie junkie. Infatuated with comic-book films. ReelBlend cohost. Resident dad. Extroverted introvert. Wants to see the Snyder Cut. Managing Director at CinemaBlend.