9 Big Things We Want To See From The Marvel Cinematic Universe In 2018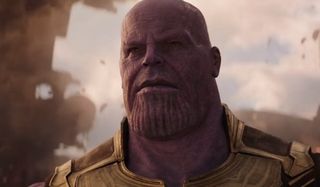 As any fan will tell you, 2018 is set to be an incredibly important year for the Marvel Cinematic Universe. Not only is it the second year in a row where we are getting three different blockbusters -- including Ryan Coogler's Black Panther and Peyton Reed's Ant-Man & The Wasp - but in May we will be seeing the release of the biggest comic book team up movie of all time: The Avengers: Infinity War. Given everything that's come before, there is a whole lot of anticipation from these films, and with that anticipation comes a whole lot of expectation.
Obviously there are many, many things that we are hoping to see in Black Panther, The Avengers: Infinity War, and Ant-Man & The Wasp, but there are nine major things in particular that we will specifically be waiting on. It's those nine moments that I've written about in this feature, so read on, and hit the comments section at the bottom with your own input on the matter.
At Least One Major, Game-Changing Hero Death
In the last decade, Marvel Studios hasn't shown any qualms about killing off notable villains, but they certainly have been much more protective of their heroes. With the exception of Aaron Taylor-Johnson's Quicksilver, who was both introduced and died in The Avengers: Age of Ultron, every adventure has ended with every established protagonist's heart still beating. Part of this is certainly that they wanted to make sure the character was still around for The Avengers: Infinity War -- but now that we've reached that point, it's time for someone to go.
It should be noted that we're expecting 2019's Avengers 4 to be just as epic as The Avengers: Infinity War, meaning that Joe and Anthony Russo can't exactly wipe the slate totally clean this point -- but that doesn't mean at least one major character can't bite the bullet. Knowing that anyone may die at any time adds extreme stakes, and May will be the time to establish those. Right now we can't necessarily say who it is that will find their time is up, but we fully expect that 2018 won't end without the legitimate death of a major MCU player.
Legit Time Travel
Time travel is a narrative device that has been employed in comics and comic book movies from the very beginning, but thus far it's not something that has been featured in big screen world of the Marvel Cinematic Universe. Scott Derrickson's Doctor Strange certainly came closest to employing it, both reversing time and creating time loops, but we have not actually seen a movie where a character uses technology and/or magic to either go into the past or into the future. That's a surprising streak, but one we expect to end in 2018.
Doctor Strange was able to manipulate time because of his use of the Eye of Agamotto, and we expect that particular device to once again significantly come into play in The Avengers: Infinity War. Why? Because while the Eye of Agamotto is one name for it, another is the Time Stone -- and it's hard to imagine this year ending without seeing either a hero or a villain use it to its full potential. Could we get a peek into a devastating future? Could Captain America be sent back to the 1940s to finally be with Peggy? There's an infinite number of options, and we're endlessly excited to see what will ultimately happen.
An Expansive And Immersive Look At Wakanda
Wakanda has always been a very special place in the history of Marvel Comics -- home of the first ever black superhero -- but our wait to see it on the big screen has felt interminable at times. We not only spent years wondering if Marvel Studios would ever even get around to making a Black Panther movie, but it felt like there was also endless speculation about the majestic African nation debuting in features like The Avengers: Age of Ultron and Captain America: Civil War. Now we know for sure that we're finally getting to see Wakanda in Ryan Coogler's movie, and all we're asking is that it's everything that it is in the comics.
As drawn on the page, there is no place on Earth that is like Wakanda, established as the most technologically advanced civilization on the planet. It's kept hidden from the world because of its precious, insanely valuable, and unique Vibranium mines, but that same metal that allows them to make cultural leaps that sets them far ahead of any other country, and allows design unlike anything we've ever seen. The trailers for Black Panther have given us a notion of what Ryan Coogler has in store, and it certainly looks like he's done an impressive job with his team building the mythical nation.
More Of The Classic Ant-Man & Wasp
The expansive canon of the Marvel Cinematic Universe is a big part of what makes it so much fun for geek fans -- and it's why flashbacks have an extra special quality to them. We can trust that the movies will thoroughly cover the modern world, but given that there has only been one period film thus far (Captain America: The First Avenger), it's nice when scenes give us a special look at what the world was like before Tony Stark's Iron Man revelation. Fortunately, Peyton Reed's upcoming Ant-Man & The Wasp is naturally set up for some cool dips into the past, and we hope that the movie takes full advantage.
We learned at San Diego Comic-Con 2017 that Michelle Pfeiffer will be playing the legendary Janet Van Dyne opposite Michael Douglas' Hank Pym in Ant-Man & The Wasp, and it would be crazy for the movie not to feature at least one extended sequence of them doing clandestine work for S.H.I.E.L.D. back in the day. The first Ant-Man gave us a very quick taste of this, with a flashback showing how Janet got lost in the Quantum Realm, but we're hungry for a lot more in the sequel.
An Impactful Introduction Of The Soul Stone
We've heard time and time again that everything we've seen thus far in the Marvel Cinematic Universe has been leading to the showdown with Thanos, and nothing demonstrates that better than the inclusion of the Infinity Stones. These special ingots have been peppered into Marvel movies ever since 2011, and in The Avengers: Infinity War will finally let us see what it is that they can really do. That being said, to date we have only actually seen five of the six Infinity Stones -- leading us to think that the franchise has something special in store for the final revelation.
Marvel movies have already shown us some of the capabilities of the Space Stone, the Mind Stone, the Reality Stone, the Time Stone, and the Power Stone, but we have not yet seen the orange Soul Stone. Because the franchise has held off on its reveal, we are very much hoping that they have something special in store for it. Will it be in a place we've seen a hundred times, or a brand new place we've never seen? Right now we don't know, but our anticipation for the answer is high.
A Set Up For Captain Marvel
Fans of the MCU have been ready to meet Captain Marvel for a long time now. It's been more than three years since the solo film was announced, and a year-and-a-half since Brie Larson was confirmed for the role, and yet we have yet to see any trace of her on the big screen. Sadly, we will still be spending 2018 waiting for the full feature that is being directed by Anna Boden and Ryan Fleck, but at the very least we do expect some kind of tease in one of the blockbusters coming out this year.
Admittedly, Captain Marvel does have some distance from the rest of the Marvel Cinematic Universe, what with being set in the 1990s -- an era not really previously explored by the franchise. That said, this is such a huge year for Marvel, and it feels like it would be crazy for them not to do some kind of set-up. It doesn't have to be something as big as a giant Skrull twist at the end of The Avengers: Infinity War, but one would think that a dedicated post-credits sequence could be managed in one of the three giant films.
Universe-Changing Action From Thanos
As mentioned earlier in this feature, the last decade of Marvel Cinematic Universe films have been leading to the titular team's face-off against the intergalactic warlord known as Thanos. To date, the guy really hasn't done all that much (he's spent more time sitting in a throne than anything else), but The Avengers: Infinity War will finally be his time to shine. We already know that he will be bringing some serious death and destruction during his quest to fully assemble the Infinity Gauntlet, but more than that, we need to see him change everything we know about the franchise.
That probably seems like a heavy burden to put on one film, but not only is The Avengers: Infinity War positioned to do that kind of thing, it's also presumably providing Thanos with the tools to accomplish it. Once the Infinity Gauntlet is assembled, the wearer possesses the abilities of a god, and can bend reality to their whim. In order to justify the years of setup, Thanos needs to be the one to exercise these abilities. The impact that the purple alien leaves needs to last for at least as many years as the build-up to his day in the spotlight.
A Deep Dive Into The Quantum Realm
Long before the arrival of Doctor Strange, it was Peyton Reed's Ant-Man that introduced the Marvel Cinematic Universe to the concept of alternate dimensions. Falling into the Quantum Realm is a consequence of going too far with shrinking technology, and while Scott Lang was able to pull himself out of that particularly scary pool, Janet Van Dyne couldn't do the same when she was on a mission with Hank Pym back in the 1980s. As mentioned earlier, we already know that the upcoming Ant-Man & The Wasp will be venturing back into this mystical realm during a search for Janet -- so much like our expectations for Wakanda, our hopes here are simple: give us a broad view of what it's like, and let the film do some exploring.
Beyond the involvement of Janet Van Dyne, we don't know a great deal about Ant-Man & The Wasp, and that's basically because of the two epic Marvel blockbusters that are ahead of it on the release calendar. That said, we can't say at this point exactly how much time the film will be spending with its heroes in the Microverse, but we're hoping the answer is ultimately "a lot."
At Least One Shot Of Every Avenger And Every Guardian Of The Galaxy Together
Fans can argue all day and night about the best and worst elements of the Marvel Cinematic Universe, but one thing the movies definitely nail every time out is the Epic Group Shot. It started with Joss Whedon's camera circling The Avengers standing on the streets of New York, and was followed by an in-unison charge at the start of The Avengers: Age of Ultron. James Gunn has delivered both times in his two Marvel efforts, Guardians of the Galaxy and Guardians of the Galaxy Vol. 2, Joe and Anthony Russo did an amazing job capturing both Team Cap and Team Iron Man in Captain America: Civil War. That's a great track record for the franchise -- and it absolutely needs to continue this year with The Avengers: Infinity War.
After four years of build-up, the next Russo-directed Marvel Studios blockbuster will be the first in the canon to have the Avengers meet the Guardians of the Galaxy, and that needs to be the most epic of epic unions. It will probably be a sincere challenge from a framing perspective, given that we're talking about a hell of a lot of characters here, but we trust that the filmmakers will find a creative way to get it done.
Assistant Managing Editor
NJ native who calls LA home and lives in a Dreamatorium. A decade-plus CinemaBlend veteran who is endlessly enthusiastic about the career he's dreamt of since seventh grade.
Your Daily Blend of Entertainment News
Thank you for signing up to CinemaBlend. You will receive a verification email shortly.
There was a problem. Please refresh the page and try again.