Wreck-It Ralph 2: What We Know So Far About Ralph Breaks The Internet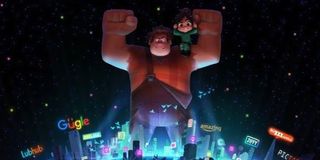 Traditionally, Disney is fairly gunshy when it comes to theatrically released animated sequels. In fact, Disney Animation Studios has only ever produced one direct sequel to a theatrical release, The Rescuers Down Under, back in 1990. However, the sequels begin to increase in 2018 when Wreck-It Ralph sees a sequel of its own, Ralph Breaks the Internet: Wreck-it Ralph 2.
The first movie brought us into a world that exists inside our favorite video games. The sequel, as the name implies, will expand on that theme and take on the entire internet. With a scope that large, nearly anything can happen, and, based on what we know, quite a lot of it will. Here's everything we know about the sequel to Wreck-It Ralph.
What Is The Wreck-It Ralph 2 Release Date?
There are several "big weekends" on the release calendar, and Disney is frequently associated with all of them. However, there may be no weekend more synonymous with Disney than Thanksgiving weekend. Movies like Frozen, Moana, and Coco have all been released the day before Thanksgiving, and Ralph Breaks the Internet: Wreck-It Ralph 2 will be Disney's 2018 representative for the holiday weekend when it gets released on November 21, 2018. Originally, Ralph 2 was going to be released in the spring of 2018. However, likely due to the issues Disney was having producing Gigantic, Ralph was pushed to November. The film will have some competition for that release, as it opens the same day as Creed 2. It also opens the week after Fantastic Beasts: The Crimes of Grindelwald.
What Is Wreck-It Ralph 2 Rated?
It's a bit early to know exactly what the release date for Ralph Breaks the Internet: Wreck-It Ralph 2 will be. However, the first movie received a PG rating and so it's a safe bet the sequel will fall in line with that. This is Disney that we're talking about, so really a G rating is the only other viable option. At this point, PG is becoming the standard for Disney animation and while the first film likely could have gotten away with a G rating, we expect the tone of the sequel to be on par with its predecessor.
What Have We Seen From Wreck-It Ralph 2?
Lucky for us, after years of waiting to see something from Ralph Breaks the Internet: Wreck-It Ralph 2, a trailer was finally released at the end of February 2018. In it, we see that Mr. Litwak, the arcade owner, has installed a Wi-Fi router in his business, which is plugged into the same power strip as the games, making it possible for Ralph and Venellope to go from the game world to the internet. While we still don't get much of the larger story in this two-minute trailer, it's easy to see that this sequel will be a lot of fun.
What Is Wreck-It Ralph 2 About?
The first details about the actual plot of Ralph Breaks the Internet: Wreck-It Ralph 2 came out last summer during Disney's D23 Expo. While we already had an idea where the movie would take place due to the title, we have a bit of information as to why. Apparently, the copy of Sugar Rush inside the arcade from the first movie is in need of a replacement part. This leads Ralph and Vanellope to make use of a router that has been installed in the arcade to jump from the arcade onto the internet in order to go looking for it. This will take the pair to, we assume, a number of different worlds, similar to the way that each game in the arcade was unique in the first film.
Exactly how a couple of digital characters are going to pick up a physical replacement part from the actual internet is unclear. Maybe they need to make nice with an Amazon buy box or digitally alter the results of an eBay auction in order to make sure the arcade wins. Either way, we saw how scary going "Out of Order" was for the people inside Fix-It Felix Jr in the first movie, and clearly that possibility happening for Sugar Rush will make this adventure an equally serious one.
The Writers
The story of Ralph Breaks the Internet: Wreck-It Ralph 2 comes to us from three Disney veterans who have a strong history behind them. The Head of Story is Jim Reardon, who previously was part of the story team for both Zootopia and the original Wreck-It Ralph. Then we have Pamela Ribon who previously assisted with the story for Disney's Moana. Before that, she had worked on television comedies like Mind of Mencia and Samantha Who? Finally, the third member of the story team for Ralph 2 is Phil Johnston, who co-wrote the screenplay for both Zootopia and the first Wreck-It Ralph. He's also got another big job on this movie, which takes us to our next section.
The Directors
The first Wreck-It Ralph was a solo directorial effort from Rich Moore, who also co-directed Zootopia. He'll be back in the director's chair for Ralph Breaks the Internet: Wreck-It Ralph 2, but this time he'll share directorial responsibilities with Phil Johnston. This is Johnston's debut as a feature film director, but considering how intimately he's been involved with this franchise, it certainly feels like he's picked the right film to start with.
Wreck-It Ralph
Long before Wreck-It Ralph 2 was official, we knew that it was coming, mostly because voice actor John C. Reilly likes to talk. The original Wreck-It Ralph was all about a character who had been designed to be a particular way, in this case, a video game villain, who tried to step outside his role and find more in his existence. His quest took him outside of his Donkey Kong-esque 8-bit video game and into other games, including modern first-person shooters and kart racers. Ralph succeeded in finding more, but also made peace with his role as the bad guy. One assumes that we'll find Ralph in a similar state as Ralph Breaks the Internet: Wreck-It Ralph 2 begins. The shift away from video games and into the internet will probably be the biggest shift for him. We certainly got the impression in the first movie that the characters were very much a product of their era, and so Ralph, from a game over 30 years old, likely won't know where to start when navigating the web. We've been promised that the friendship between Ralph and Vanellope will be tested in the sequel, though we're not exactly sure what that means.
Vanellope Von Schweetz
Most of Wreck-It Ralph took place in the game of Sugar Rush, the candy go-kart game and home of Vanellope Von Schweetz, voiced by Sarah Silverman. At the end of the first film, we learned that Vanellope was actually the princess of the land, though her time as an apparent glitch made her feel more comfortable in a hoodie than a frilly dress. Sugar Rush will be key to the sequel as well, as Vanellope and Ralph's journey into the internet is undertaken in an attempt to find a part that will fix the Sugar Rush arcade cabinet. This could indicate a slight shift in the character dynamic. Even though the film's title is all about Ralph, he may take a more secondary role in Vanellope's quest to fix her game.
Fix-It Felix Jr.
Fix-It Felix Jr. was the name of the video game that Ralph came from, and Felix was an important supporting character in the first film. While Jack McBrayer was apparently the last person to know that Ralph Breaks the Internet: Wreck-It Ralph 2 was coming, it has been confirmed that he'll be back to reprise his role as the guy who fixes everything. It's unclear how big a role Felix will have, but as the character was married at the end of the first movie, there are a lot of opportunities to do some new things with him.
Calhoun
Fix-It Felix Jr's bride at the end of the first movie was the tough-as-nails Calhoun, voiced by Jane Lynch. The actress has confirmed that she will be back for the sequel, and we would expect her part to be on par with that of Felix as far as its size an importance, but that's pure speculation. Calhoun's modern military video game character represented the current generation of more mature games, which are very popular among actual online communities, so, perhaps, she'll be in a better position to navigate the world of the internet than the others.
Mr. Litwak
One character from the first film who has seemingly not been confirmed for the sequel is Mr. Litwak, the owner of the arcade where Ralph and the gang all reside. He was voiced by the hilarious Ed O'Neil and while he wasn't a major character in the first film, with the plot of the game revolving around the Sugar Rush arcade cabinet, there's a good chance that the owner will make another supporting appearance as he did before.
Other Returning Characters
There was a nearly endless number of small supporting characters in Wreck-It Ralph in the form of the Nicelanders of Fix-it Felix Jr. and the additional racers in Sugar Rush. Since this adventure will take our leads out of the arcade, we wouldn't expect any of them to have roles even as large as what they had before. Still, expect the likes of Mindy Kaling and others to appear briefly, if only to keep the worlds feeling lived in and to help give us an idea of what has happened in the intervening years.
Yesss
So far, only one brand new character has been introduced for Ralph Breaks the Internet: Wreck it Ralph 2. During the D23 Expo last summer, attendees were treated to footage of the character known as Yesss who is voiced by Taraji P. Henson. She plays a digital algorithm for a website known as Buzzaholic, the apparent stand-in for BuzzFeed in this universe. She will be the film's tour guide of sorts as the character who introduces the internet world to our characters and helps them navigate it. No images have been released publicly of Yesss, but she's described as a character with blue hair that dresses fairly hip and has clothes made from fiber optics.
New Voices
Two voice actors have been attached to the movie to play brand new characters that we don't know much about. Ugly Betty's Ana Ortiz was the first name announced for what is being called a "small role," but beyond that, we don't know much. Late night TV host James Corden, who seems to be doing voice acting in everything these days, is also apparently involved in Wreck-it Ralph 2. His casting was revealed by Jane Lynch, so it's possible his role will be involved with whatever Calhoun is up to in the new movie.
Alan Tudyk
There are only about two things you can be sure of when it comes to a Disney Animation Studios movie these days. First, it will open with a shot of a castle, and two, you'll hear the voice of Alan Tudyk at some point. He's been in every animated Disney movie for the last several years, including voicing the major role of King Candy in the first Wreck-It Ralph. Tudyk has confirmed he'll be back for the sequel, though in a different role. It could be another major role like it was last time, though in Moana he voiced a sidekick chicken, so, really, anything is possible.
Disney References
Disney has become a massive entity in recent years and Wreck-it Ralph 2 will actually make reference to this fact with a major scene that they showed off at the D23 Expo last year. The characters will actually go to one of Disney's real homes on the internet, OhMyDisney.com, where they will see elements of Star Wars and Marvel as well as Disney animation. In fact, Ralph and Vanellope will meet all of the classic Disney princesses in one place, in a moment that will be a major joy for all the Disney fanatics out there. All of the original voice actors who are still with us will reprise their roles. With everybody from Snow White to Anna and Elsa making an appearance. Whether this will actually be a scene that is important in the grand scheme of the story or just one for fun is unclear, but it will be a major event either way.
CinemaBlend's resident theme park junkie and amateur Disney historian. Armchair Imagineer. Epcot Stan. Future Club 33 Member.
Your Daily Blend of Entertainment News
Thank you for signing up to CinemaBlend. You will receive a verification email shortly.
There was a problem. Please refresh the page and try again.