Wreck-It Ralph 2 Has Added Its First New Actor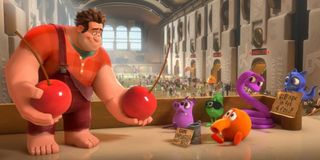 We've known for quite a while that Wreck-It Ralph 2 has been in development over at Disney. In fact, the sequel was green-lit in the weeks after Wreck-It Ralph began its stint in cinemas, which culminated with it grossing $471.2 million at the box office, after originally being met with superlative reviews, too. But animated sequels aren't the sort of thing that you can clobber together in a couple of months. They take years to get ready for the big-screen. Clearly things are running right on schedule with the proposed follow-up to Wreck It Ralph, though, because the first new actor has been confirmed for the film, and it's Ana Ortiz.
This announcement comes courtesy of Tracking Board, who confirmed that the Ugly Betty actress has joined the still untitled Wreck-It Ralph successor. The only details that they had regarding Ana Ortiz's role in the film is that it will be a small one. This is the second Disney gig that Ana Ortiz has secured in recent memory, as she recently voiced Rafa on the Disney Channel's hugely popular animated series Elena of Avalor. Clearly they were impressed with her work, which is why she has worked her way up from the small to the big screen for them.
Ana Ortiz will mostly be familiar to television fans because of her role as Hilda Suarez on ABC's Ugly Betty throughout its run between 2006 and 2010. In that role, she played the older sister to America Ferrera's titular character, and she drew many plaudits for her work. Ortiz has also popped up on the likes of NYPD Blue, Everybody Loves Raymond, ER, The New Adventures Of Old Christine, How To Get Away With Murder and Black-ish, as well as being a lead over the course of 49 episodes on Devious Maids, too. Which, all in all, is far from a shabby career. Wreck-It Ralph 2 marks her most impressive cinematic effort to date, as her only prominent previous credit has been the atrocity that was Big Mommas: Like Father, Like Son.
We already knew that most of Wreck-It Ralph's original cast would be returning for the follow-up, with John C. Reilly, Sarah Silverman, Jack McBrayer and Alan Tudyk all getting vocal again. Jane Lynch previously told Collider that James Corden will be involved in the sequel, too, but that's yet to be confirmed by the studio. Those of you looking for a quick reminder of what the original consisted of can watch the trailer for Wreck-It Ralph below.
It was previously confirmed that Wreck-It Ralph 2 will take place six years after the original, which is coincidentally the gap between the films, while it will center on Ralph's adventures travelling through the internet after a WiFi router is plugged into the arcade. We'll get to see if it can match its predecessor when Wreck-It Ralph 2 is released on March 9, 2018.
Your Daily Blend of Entertainment News