How Melissa McCarthy Uses Wardrobe To Build Her Original Characters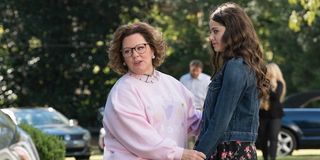 Over the course of her career, Melissa McCarthy has showcased her wide array of comedic talents. The 47-year-old is equally skilled doing physical comedy, quick witty one-liners, and exploding in sudden hilarious bouts of rage. But it all has to start somewhere, and it turns out that the key to McCarthy getting into character and finding her voice for the film is in her wardrobe selection.
This was an aspect of the comedian's process that co-producer Steve Mallory explained to us during a visit to the set of Melissa McCarthy's latest comedy Life Of The Party back in 2016. Mallory has seen this first-hand for decades, having worked with McCarthy during her time at the Groundlings, as well as writing 2016's The Boss for the actress. After we asked Mallory just how important wardrobe and clothing is to Melissa McCarthy's character development, he broke down her methods.
It doesn't always come easily to Melissa McCarthy, though. In fact, Steve Mallory admitted that the actress started production on The Boss still not feeling comfortable about her character, Michelle Darnell. Only a slight adjustment on the first day of filming gave her the necessary boost. He told us:
In Life Of The Party, Melissa McCarthy's Deanna is suddenly dumped by her husband Dan (Matt Walsh) on the morning they drop their daughter Maddie (Molly Gordon) off at college. A longtime dedicated housewife, Deanna finds herself at a crossroads, so decides to go back to college herself, only to land in the same school and class as Maddie, who is understandably mortified.
Don't forget to also check out the first Life of the Party trailer, which just dropped today.
Life Of The Party will be released on May 11. To keep track of all of the movies opening in theaters this year, bookmark our 2018 Movie Release Calendar, and keep it handy!
Your Daily Blend of Entertainment News