17-Year-Old Arrested For Shooting Someone At A Movie Theater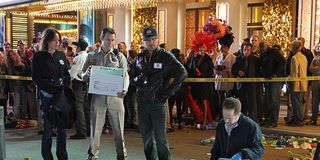 For many moviegoers, the theater feels like a safe space. It is a place where people become engrossed in a story, and the only action should take place is on the screen. Alas, that is not always the case, as a 17-year-old moviegoer was recently arrested for shooting someone at a theater.
The incident occurred over the weekend. On Saturday night, police responded to a disturbance a call at a movie theater in Henderson, North Carolina to find a gunshot wound victim waiting for them. Two days later, 17-year-old Kaleb Zijon Perry surrendered to police. As of right now, Kaleb Perry is in police custody, with his first court appearance scheduled for March 20.
According to the initial WRAL news report on the incident, the victim was rushed to the hospital and is considered the only target of the shooting. Having said that, we have not learned of a definitive reason yet as to why this shooting happened in the first place.
Many who have kept up with current events in recent years likely already know that this is not the first instance of a shooting at a movie theater. The last few years have seen a few high-profile incidents like this take place, not the least of which include the Aurora, Colorado shooting during a screening of The Dark Knight Rises in 2012, as well as the Lafayette, Louisiana shooting during a screening of Trainwreck back in 2015.
Shootings like these do not just create unsafe environments for members of the audience. They can also have far-reaching business implications as well. Specifically, in the face of a few bad years for movie theater attendance, it is not hard to imagine that concerns over safety and the possibility of a shooting happening might stand as one of the reasons why some people choose to forgo their movie theater experiences in favor of enjoying a cinematic tale in the comfort of their own home.
Of course, it is also not all that difficult to understand why some people might feel that way. While movie theater shootings are still relatively uncommon, these stories are arguably reasonably disconcerting for those of us who regularly like to go to the movies.
CinemaBlend will keep you up to date with any and all relevant updates related to the world of movies and movie theaters as more information is made available to us. In the realm of major upcoming movie releases, you can take a look at our comprehensive premiere guide to get a better sense of all the films that are coming to the silver screen this year.
Originally from Connecticut, Conner grew up in San Diego and graduated from Chapman University in 2014. He now lives in Los Angeles working in and around the entertainment industry and can mostly be found binging horror movies and chugging coffee.
Your Daily Blend of Entertainment News
Thank you for signing up to CinemaBlend. You will receive a verification email shortly.
There was a problem. Please refresh the page and try again.