10 Awesome Movies You Need To Watch Before They Leave Netflix In March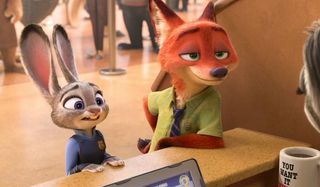 Every month, Netflix does a sort of dance with its subscribers. They add brand new content for the folks at home to enjoy, while at the same time they take away movies that their viewers may want to have watched before they said goodbye. It's a cycle that cannot be stopped, and as such we feel it's part of our job as an entertainment news provider to help you catch the more important films leaving the queue. Which is why we're here yet again with a list of several movies that deserve another watch through, before leaving this digital coil.
If you're curious about our selections for what left us in February, feel free to read them at your leisure. Now though, it's time to see who's March-ing on and out the door through next month's cycle.
Anastasia
While she's not a Disney princess, Anastasia's main character is a figure of historical legend. A musical adventure romp that tells a very fictionalized account of the woman who was claimed to be the last of the Romanov royal family, this one's a cult classic for animation fans. So much so that there's currently a more grounded Broadway musical based off of the film, and the true story, but still using the memorable songs from Anastasia's soundtrack. You should take this journey to the past while you can, without the bother of remembering to keep this clamshell out of your Disney collection.
Jaws
If you're a true Steven Spielberg fan, you're probably hungry for something between his Academy Award nominated picture The Post and his would-be blockbuster Ready Player One. While the latter film won't be out until the end of March, we can definitely recommend Jaws as an appetizer between the director's latest efforts. Though even if you're not a dyed in the wool Spielberg devotee, you can't go wrong with this classic blockbuster as a hint of the summer season, with its big-ticket thrills.
Memento
Before he made a career out of superhero action and IMAX sized thrills, Christopher Nolan shocked the world with his innovative thriller Memento. Told in reverse chronological order, the mystery surrounding the murder of protagonist Leonard's wife unfolds with a backwards motion. All the while Guy Pearce's portrayal of Leonard keeps the audience on its toes, as we know where his character is going, while we don't know where he's been. While only being his second film, Nolan's prowess as a film-maker and storyteller is in full throttle with Memento.
The Craft
After 20 years of casting its spell on the world, The Craft is still light as feather and stiff as a board, which makes the film's departure from the big red queue a little bit bittersweet. While the die-hard fans of this tale of magical power, and both the perks and pitfalls it entails, probably own this film in three different formats, being on a streaming service like Netflix undoubtedly helps win new fans of all sorts. So if you're going to keep spreading the gospel of The Craft after next month's purge, you're probably going to have to part with your own copy more than you would like in the near future.
Disney's The Santa Clause
Ok, so Disney's The Santa Clause isn't exactly in season; so the departure of Tim Allen's trilogy of holiday hijinks isn't an ill-timed affair. That said, there's probably still some folks out there that want to hold onto the Christmas magic, even as February comes to a close and March continues to warm things up. If you're one of those people, we won't judge. Just keep in mind that all three of these films will be leaving before the end of the month, and eggnog only stays fresh for so long.
Zootopia
It used to be that you could count on a Disney movie like Zootopia to hit Netflix's streaming library not too long after it went to home video. All of that is changing though, with Disney's plans to launch their own streaming service in the works, the age of the Disney / Netflix love fest is coming to an end. So with the departure of Nick and Judy's wild adventure in town, you'll probably be in the market for a physical copy in the near future. For now though, you can binge as many viewings of Zootopia as you want before Netflix (opens in new tab) takes away your toys.
Who Framed Roger Rabbit
As a kid, watching Who Framed Roger Rabbit is an exciting ride of animated thrills, spills, and laughs. After becoming an adult though, the Robert Zemeckis-directed classic is an impressive noir tinged mystery that upholds the genre's tropes to a tee, while seamlessly blending animated characters with human counterparts. No matter how you look at it, it's a timeless film that's earned its reputation of excellence and fandom. Not to mention, you can never go wrong with a murder case that involves a wisecracking rabbit in a bow tie.
The Life Aquatic with Steve Zissou
Wes Anderson and Bill Murray are like cinematic Peanut Butter and Jelly. Like any good director and their acting muse, the two have gone on to make memorable moments in almost each film of Anderson's filmography. One of the quirkier entries into that canon is The Life Aquatic with Steve Zissou, in which Murray plays a brash oceanographer who reconnects with his long estranged son, played by Owen Wilson. Throw in some clashes with pirates, sweet acoustic David Bowie covers, and a rather remarkable shark, and you wouldn't even need the role of Jeff Goldblum as a professional rival to spice things up. Seeing as this film has that as well, there's really no reason not to be watching this right now.
In Like Flint
Sometimes Netflix has the slightly annoying habit of having single installments of a multi-entry franchise. In Like Flint is one of those occasions, where the sequel to Our Man Flint is the one that's available for streaming, without its forerunner being given the same treatment. Though thankfully, the two films are as tightly connected as most of the classic James Bond films they're spoofing. So if you're looking for some swinging 60's spy sensations, your mission is clear: watch In Like Flint before March is out, and thank us later for the recommendation!
The Good Son
During their peak as child actors, Elijah Wood and Macaulay Culkin made a thriller that was as chilling as it was fun, and that film is The Good Son. While you'd probably have a hard time making something as dark and R-rated as a young child torturing his family, and in some cases killing certain members who stand in his way. The movie serves not only as an interesting time capsule for Wood and Culkin's early careers, it also stands as an obscure gem of the sorts of twisted thrillers the 90's was really good at providing audiences on a wide scale level.
CinemaBlend's James Bond (expert). Also versed in Large Scale Aggressors, time travel, and Guillermo del Toro. He fights for The User.
Your Daily Blend of Entertainment News
Thank you for signing up to CinemaBlend. You will receive a verification email shortly.
There was a problem. Please refresh the page and try again.