Is The Hulkbuster Armor Going To Be Repurposed In Avengers: Infinity War?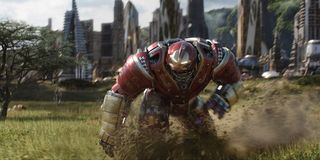 There are few in the universe who are capable of actually engaging Hulk in a straight-up brawl, which is why Tony Stark made preparations for if the day came that he'd need to throw down with the Green Goliath. In Avengers: Age of Ultron, the Hulkbuster armor debuted, which Iron Man donned when Hulk went crazy after being hexed by Scarlet Witch. The Hulkbuster will be thrown back into action late next month for Avengers: Infinity War, but this time around, it appears that Hulk himself may be putting the armor on.
As we enter the final weeks of Avengers: Infinity War's marketing push, toys for the movie will be hitting shelves, and one of the playthings that will be available is a Hulk figure that comes with the Hulkbuster armor. However, on the off chance you don't feel like pitting Hulk against the Hulkbuster for Round 2, the Hulk figure can actually be put inside the armor, hence why it's called "Hulk Out Hulkbuster." The artwork on the toy box, as passed on by a Reddit user, also shows Hulk tearing himself free from the Hulkbuster. Granted, toys don't always serve as confirmation that a specific moment or character will be depicted in a movie, but the little Avengers: Infinity War footage that's been released so far suggests Hulkbuster's repurposing is a strong possibility.
We know that Bruce Banner will meet up with Captain America, Black Widow, Black Panther and select other MCU heroes in Wakanda, and Banner will Hulk out so he can help fight Thanos' horde of monsters. There's also a quick shot in the teaser trailer of the Hulkbuster armor landing and later fighting with the Mad Titan's minions. However, Tony Stark is nowhere to be seen in Wakanda in the preview, suggesting that he may be too bust with what's going down in New York, but will still send the Hulkbuster to Wakanda to provide extra firepower. Even though Hulk is already incredibly strong, putting on the armor certainly wouldn't hurt. After all, he wore armor during his time on Sakaar. That being said, if that toy is indeed confirmation of what will go down in Avengers: Infinity War, then eventually Hulk will break free of the Hulkbuster and charge ahead without the added protection.
When we last saw Hulk in the MCU, he was returning to Earth with Thor, Loki and the Asgardian citizens. It remains to be seen how the character goes from being there to landing in Doctor Strange's Sanctum Sanctorum in Bruce Banner form, but whatever the reason is, it won't be long before he has to jump into a new conflict. Avengers: Infinity War also serves as the second chapter of Hulk's special story arc, which began in Thor: Ragnarok and will conclude in Avengers 4.
Avengers: Infinity War will now arrive in theaters one week earlier, on April 27. Keep checking back with CinemaBlend for more updates about the movie, and don't forget to look through our Marvel movies guide to learn what else the MCU has in development.
Your Daily Blend of Entertainment News
Connoisseur of Marvel, DC, Star Wars, John Wick, MonsterVerse and Doctor Who lore. He's aware he looks like Harry Potter and Clark Kent.