DC's Cheetah: Everything You Need To Know About Wonder Woman's Villain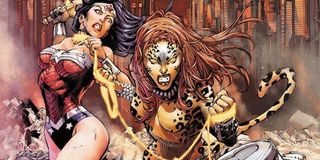 Patty Jenkins' Wonder Woman 2 is officially in development, and it has taken a massive step forward in terms of casting. We have obviously known that Gal Gadot would return as Diana Prince, but the film's evil side has officially started to come together with the casting of Kristen Wiig as Cheetah.
Of course, there are obviously going to be some fans out there who have never heard of Cheetah or don't know enough about her. To remedy that issue, we have put together a handy guide to help you get up-to-speed on everything that you need to know about Diana's arch nemesis. To kick things off, let's start with the fact that "Cheetah" doesn't necessarily mean one specific person from the DC lore.
There Are Multiple Cheetahs
True to any persona from the world of comic books and comic book characters, there have been several individuals to go by the moniker of Cheetah over the years. The character's tenure in the pages of DC Comics dates all the way back to some of the earliest Wonder Woman adventures in 1943 with the introduction of Priscilla Rich as the Golden Age Cheetah.
Following Rich's debut, there were two other female Cheetahs to face off against Diana Prince: Deborah Domaine, and Barbara Minerva. There has also been one male Cheetah named Sebastian Ballesteros, but his time as the character was relatively short-lived and was never viewed quite as fondly as the other three. Each Cheetah has brought something new to the table, and while Kristen Wiig's take on the character doesn't have a confirmed secret identity yet, she could be portraying Rich, Domaine, Minerva, or some amalgamation of the three.
Sometimes She Wears A Costume, And Sometimes She's An Actual Cheetah
In keeping with the theme of multiple Cheetahs running around the DC universe, it's also worth mentioning that not all Cheetahs are the same. In the earlier incarnations of the character, the character was merely a woman in a Cheetah costume intent on making Diana Prince's life a living hell. Specifically, the Priscilla Rich version of Cheetah was simply a woman who had a mental breakdown -- not dissimilar to Catwoman in Batman Returns.
With that said, the later incarnations of Cheetah (specifically Barbara Minerva) have taken the nature of the character to a far more magical and outlandish place. Instead of taking the form of a woman in a catsuit, Cheetah lives up to her namesake by taking the form of a full-blown human-cheetah hybrid. This take on the character has become the modern standard, with animalistic power, speed, and ferocity above that of any human.
The Most Famous Cheetah Is Cursed Archaeologist Barbara Minerva
Of all of the different variations and incarnations of Cheetah that have appeared in DC Comics over the years, Barbara Minerva arguably stands out as the most iconic of the bunch. A selfish archeologist looking for immortality, Barbara takes part in an African blood ritual to achieve eternal life but finds herself cursed when she learns that the ceremony was only intended to be used on virgins. As a result, she develops werewolf-life symptoms, experiencing immense pain in her human form and transforming into Cheetah on full moons.
Of course, as of right now we still have no way of knowing if Wonder Woman 2 will embrace the Barbara Minerva origin for the character for Kristen Wiig's take. That said, it would make plenty of sense. Thus far, the DCEU has embraced The New 52 continuity arguably more than any other single run of comics, and Barbara Minerva was the go-to Cheetah during that era.
She Hates Wonder Woman, But Their Relationship Is More Complicated Than That
Cheetah has been around for decades, but one of her most defining characteristics is her deep-seated hatred for Wonder Woman. The various Cheetahs have had different reasons for hating Diana Prince, with the Amazon sometimes playing an indirect role in their origins. With that said, the comics have sometimes seen them forge reluctant partnerships with one another, adding new layers of complexity to the dynamic.
On the other hand, the hatred isn't necessarily a two-way street, as Wonder Woman often doesn't reciprocate the feelings. In fact, in many depictions of their dynamic, Diana Prince is often shown feeling sorry for Cheetah and consistently trying to help rehabilitate her. In the context of Wonder Woman 2, this would neatly tie into the idea that Diana doesn't give up on people (which we see in Wonder Woman and Justice League), and it would help continue long-running themes that define the heroine.
She's An Even Match Against Wonder Woman In Combat
It is no secret that Wonder Woman is one of the most talented combatants on the entire Justice League roster. She was trained from childhood to become the fiercest warrior in Themyscira, which pretty much makes her one of the fiercest warriors (if not THE fiercest warriors) on Earth. The first Wonder Woman showed what she could do against a behemoth god, but now it's time for Diana to face off against someone with style similar to her own.
That's where Cheetah comes into the equation. Unlike someone like Ares, Cheetah's threat isn't entirely predicated on overwhelming power and magical abilities. Instead, she's tough as nails and ferocious in a fight. The brawls between Cheetah and Diana are some of the most brutal (and visually interesting) melees in the entire DC lore, and that combat skill could make her one of the coolest bad guys ever to grace the screen in a DC film.
She's A Frequent Member Of The Legion Of Doom
Oh, did you think that Cheetah only operated as a lone wolf (cat?) in her quest to take down Wonder Woman? Think again. The villainess has often seen fit to play well with others throughout her tenure in various DC properties, which has frequently seen her join forces with other bad guys. More often than not, this has led her to become a frequent member of the Legion of Doom -- a group of villains assembled to serve as the evil counterpoint to the Justice League.
With a potential DCEU Legion of Doom teased by the post-credits scene at the end of Justice League, it's clear that there might actually be room for Kristen Wiig's Cheetah to continue being part of this world beyond her debut appearance. If the character proves successful with fans and critics, then it would make plenty of sense for the folks at DC and Warner Bros. to take a cue from the source material and make her part of a team.
She Has Made A Lot Of Appearances In Other Media
As one of Wonder Woman's most iconic foes, Cheetah has transcended the pages of the comics to appear in a broad range of media over the years. In addition to her upcoming live-action film debut in the DCEU, she has also become a staple of the animated DC world, appearing in animated features like Justice League: Doom and Superman/Batman: Public Enemies, as well as classic DC animation series like Justice League and Justice League Unlimited.
Additionally, she has also appeared in a number of video games over the years, the most recent of which being Injustice 2. On the live-action TV side of things, Cheetah has never properly appeared in a DC TV series, but she has received several nods in the Arrow-verse, with numerous episodes suggesting that she is a member of Task Force X alongside characters like King Shark, Harley Quinn, and the late Deadshot.
Kristen Wiig's Cheetah will make her grand DCEU debut when Wonder Woman 2 premieres in theaters on November 1, 2019. For now, you can take a look at our handy Wonder Woman 2 guide to get yourself caught up on everything that we currently know about the upcoming DC solo movie!
Your Daily Blend of Entertainment News
Originally from Connecticut, Conner grew up in San Diego and graduated from Chapman University in 2014. He now lives in Los Angeles working in and around the entertainment industry and can mostly be found binging horror movies and chugging coffee.