Justice League Ends Box Office Run As The Least Popular DC Movie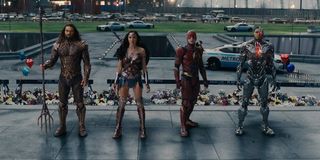 Much like The Avengers was the culmination of the Marvel Cinematic Universe's Phase 1 lineup of movies, last year's Justice League built off the events of director Zack Snyder's previous DC Extended Universe movies, Man of Steel and Batman v Superman: Dawn of Justice. For a long time, Justice League was being touted as one of the biggest DC movies yet, and it had the potential to be one of 2017's biggest blockbusters. However, not only was the DC team-up movie met with mixed critical reaction, it also commercially underperformed, and with its theatrical run having finally come to an end, it now officially ranks as the lowest grossing DCEU movie thus far.
According to Box Office Mojo, Justice League collected nearly $658 million worldwide during its time in theaters, a little over $229 million of which came from domestic screenings. For many blockbusters, a haul like this would be considered a terrific achievement, but considering that Justice League had a $300 million budget, it's nothing to write home about, although Justice League did help Time Warner surpass its financial expectations during 2017's fourth quarter. Of the other DCEU movies, Man of Steel ranks above Justice League with $668 million worldwide, while Batman v Superman: Dawn of Justice is at the top of the list with $873.6 million worldwide. Alas, this franchise has yet deliver a movie that hits the $1 billion mark.
It's a shame that a movie like Justice League, which could have been one of the biggest superhero movies of all time, ended up being the least popular DCEU movie commercially. Critically, Justice League earned a better overall reception than Batman v Superman: Dawn of Justice and Suicide Squad, but it still walked away with more negative reviews than positive ones, which certainly could have played a role in not as many people going to see it in theaters. Justice League dealt with a number of issues during its production process, from Joss Whedon taking over the movie during post-production following Zack Snyder's departure due to the death of his daughter, to Henry Cavill being unable to shave his Mission: Impossible - Fallout mustache for the reshoots, resulting in CGI being used to awkwardly cover it up for his Superman scenes.
In the end, Justice League can't be be classified as a full-blown commercial disaster, but clearly audiences weren't as interested in catching it on the big screen as they were its predecessors. The DCEU is still chugging along for the foreseeable future, and several Justice League members have their own movies coming up soon. It's just a shame that Justice League ultimately didn't end up being the kind of box office success many a DC fan had dreamed about.
Justice League is now available on Blu-ray, DVD and Digital HD, and if you're interested in learning what we thought of the movie, you can read our review. There's no word on if/when Justice League 2 will move forward, but the DCEU will continue on December 21 with the release of Aquaman, and Shazam! and Wonder Woman 2 will follow on April 5, 2019 and November 1, 2019, respectively.
Your Daily Blend of Entertainment News
Connoisseur of Marvel, DC, Star Wars, John Wick, MonsterVerse and Doctor Who lore. He's aware he looks like Harry Potter and Clark Kent.