Zack Snyder Reveals Another Deleted Justice League Scene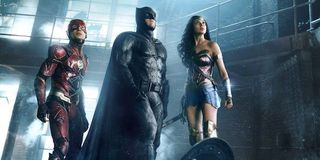 At this point, many fans already know that Justice League changed quite a bit between the moment the cameras initially started rolling and the film's November 17, 2017 release date. Several scenes ended up on the cutting room floor, and it looks like we have not seen the last of the sequences that could've ended up in the rumored Snyder Cut. In fact, Zack Snyder himself has just taken to his Vero account in honor of International Women's Day in order to tease a deleted scene between Lois Lane (Amy Adams) and Ma Kent (Diane Lane). Check out his post, below.
We do not know precisely when that scene would've taken place in Justice League, but it appears to be set on Kent Farm -- which Ma Kent sells at the beginning of the theatrical cut. This seems to imply that an earlier version of the movie kept the homestead in Ma Kent's possession, and offered a setting for another mother-daughter bonding session between Lois and Martha. That is already a notable change from the theatrical cut because as it currently stands, their most substantial exchange occurs at The Daily Planet, a.k.a the scene in which Ma Kent unintentionally makes that "thirsty" joke to Lois.
It is interesting to note that there was more Ma Kent/Lois Lane material that didn't end up in Justice League because that seems to line up with the themes of other scenes that never made it to the movie. Justice League was trimmed down to the essentials when Zack Snyder left the project, and Joss Whedon took his place, and it looks like Superman (Henry Cavill) was the character who received the bulk of the trimming. Between this Vero post and the other cut Superman scenes (which revealed the long-rumored black suit and his exchange with Jeremy Irons' Alfred), it is pretty clear that Supes and his supporting cast had far more substantial roles in Justice League in its earliest incarnations.
Now it is a matter of waiting to see whether or not audiences will ever get a chance to check out these scenes restored to an alternate version of Justice League. Many fans have called for the release of the Snyder Cut ever since the theatrical cut of Justice League debuted, but we have heard conflicting reports as to whether or not that could even happen (or if the Snyder Cut even exists in the first place).
Justice League is currently available on Digital HD, and the DVD and Blu-ray versions will debut on March 13. As for 2018's biggest superhero adventures, make sure to watch out for the first Arthur Curry (Jason Momoa) adventure when James Wan's Aquaman premieres in theaters on December 21.
Your Daily Blend of Entertainment News
Originally from Connecticut, Conner grew up in San Diego and graduated from Chapman University in 2014. He now lives in Los Angeles working in and around the entertainment industry and can mostly be found binging horror movies and chugging coffee.