Group That Tried To Mess With The Last Jedi And Black Panther Is Back For Avengers: Infinity War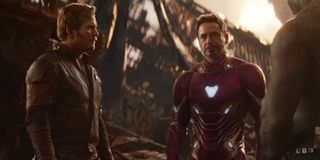 The Marvel Cinematic Universe is about to achieve scope and scale unlike anything that we have ever seen from this franchise before. Avengers: Infinity War is now less than a week away, and many fans have already prepared themselves for the big occasion. Having said that, not everyone is thrilled about the upcoming release of Infinity War, as it seems that the same group who tried to sabotage the Rotten Tomatoes scores of Star Wars: The Last Jedi and Black Panther is back in an attempt to do the same to the latest Marvel film.
For more information on what's happening, we must once again look to Facebook. The group "Down With Disney's Treatment of Franchises and its Fanboys" has officially announced an event titled, "Let's Ruin Avengers: Infinity War for Disney Fanatics and SJWs," designed to intentionally sabotage Infinity War's Rotten Tomatoes score and flood the internet with spoilers to ruin the movie for people who have yet to see it. This is similar to previous campaigns started by the group for movies like Star Wars: The Last Jedi and Black Panther.
Though the Avengers: Infinity War event seems particularly noteworthy because of how massive this movie is intended to be, it's not the only one currently on the group's radar. In fact, elsewhere in the Facebook event description for "Let's Ruin Avengers: Infinity War for Disney Fanatics and SJWs," it is made clear that the folks behind this campaign intend to begin others for Solo: A Star Wars Story, Ant-Man and The Wasp, Luke Cage Season 2, and other upcoming projects released under the Disney banner within the coming months.
Of course, we will have to wait and see what happens with this particular campaign. Even with the previous efforts by this group, both Black Panther and Star Wars: The Last Jedi both went on to become significant successes for Marvel Studios, Lucasfilm, and Disney as a whole. Rotten Tomatoes specifically stated that it would go after fake reviews intentionally intended to scuttle Black Panther's release, so it's entirely possible that the review aggregator will do the same for Infinity War.
Then, as far as spoilers go, fans looking to avoid leaked secrets from Avengers: Infinity War will just have to be extra diligent once the movie has actually screened for audiences. Marvel Studios has arguably done a commendable job of keeping leaks from the film at an absolutely minimum, but we are about to reach the stage of the Avengers: Infinity War process where Marvel fans will have to start keeping a close eye out to protect the film's secrets.
For those of you who are not protesting the release of the film, Avengers: Infinity War will officially hit theaters this weekend on April 27. Moreover, the film's Los Angeles premiere is tonight, so make sure to keep an eye out for reactions to the behemoth Marvel Cinematic Universe event!
Originally from Connecticut, Conner grew up in San Diego and graduated from Chapman University in 2014. He now lives in Los Angeles working in and around the entertainment industry and can mostly be found binging horror movies and chugging coffee.
Your Daily Blend of Entertainment News
Thank you for signing up to CinemaBlend. You will receive a verification email shortly.
There was a problem. Please refresh the page and try again.