6 Classic MCU Marvel Characters We Want To See In Captain Marvel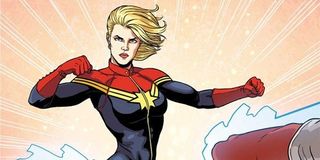 Minor spoilers for Infinity War can be found in the intro to this story!
Now that Avengers: Infinity War has finally debuted in theaters, audiences all around the world finally know that Carol Danvers (Brie Larson) is on the way. Thanks to the Avengers: Infinity War post-credits scene, the big guess seems to be that she will show up to save the day in Avengers 4; however, we will get our first good look at the badass Marvel heroine when Captain Marvel premieres next year. In fact, not only will Carol Danvers get a chance to take center stage in the movie, but she will bring an assortment of fan-favorites with her, such as Nick Fury (Samuel L. Jackson) and Agent Coulson (Clark Gregg).
With that said, the fact that so many classic Marvel Cinematic Universe heroes are returning leaves us wondering what other Marvel personalities could show up when Captain Marvel debuts on March 8, 2019. On that note, we've put together a list of familiar faces that we want to see. Now, let's get things started with one of the most beloved (and dearly-departed) heroes from the Guardians of the Galaxy corner of the MCU.
Yondu
When it comes to notable (and downright tragic) deaths in the Marvel Cinematic Universe, the demise of Michael Rooker's Yondu in James Gunn's Guardians of the Galaxy Vol. 2 easily stands out as one of the most heart-wrenching of the bunch. Nevertheless, the character has a long history in the years leading up to the Guardians films, and a movie like Captain Marvel could easily allow the MCU to capitalize on his popularity. We know that Peter Quill (Chris Pratt) was abducted by Yondu and his band of Ravagers in the late 1980s, and if Captain Marvel takes place in the 1990s, then it's entirely possible that we could see Carol Danvers run into Yondu (and possibly even a young Star-Lord) at some point in her travels through the cosmos.
Howard Stark
We know that Captain Marvel will take place in the 1990s, but we don't know exactly what year that it will take place just yet. As we learned in Captain America: Civil War, Howard Stark (John Slattery) was alive until 1991 when Bucky Barnes (Sebastian Stan) hunted him down and killed him on a secluded country road. If Captain Marvel takes place before 1992, then there's a solid chance that Stark could play a prominent role in the overarching story. Beyond that, even if the main story takes place after the death of the elder Stark, it's still possible that he could show up in a flashback sequence, a dream sequence, or even archive footage -- not unlike how he appeared with his secret message during the events of Iron Man 2.
Hawkeye
Although the modern age of superheroes technically started in 2008 when Tony Stark (Robert Downey Jr.) donned his first suit of Iron Man armor to escape from captivity in an Afghanistan cave, there were other members of The Avengers roster working in the hero world. In fact, the inclusion of Hawkeye (Jeremy Renner) in Thor specifically shows that Clint Barton was a seasoned marksman working for S.H.I.E.L.D. (specifically under Coulson) before Earth's mightiest heroes actually assembled. The MCU has long-implied that Clint has a long history of work as a soldier/spy/assassin, so it does not seem entirely unrealistic to assume Hawkeye may have had a run in or two with Carol Danvers in his earlier years as a bow-wielding badass. With no Hawkeye in Infinity War, we want to check in with him before Avengers 4.
Melinda May
The Marvel Cinematic Universe movies have largely ignored the events that have taken place on the TV side of the MCU in recent years, but that doesn't change the fact that shows like Agents of S.H.I.E.L.D. definitely take place within the continuity of the films. With that in mind, if Agent Coulson is going to return to the film side of the MCU for Captain Marvel, then there's no better time to bring Ming-Na Wen's Melinda May into the fold. Their five-season arc as partners on Agents of S.H.I.E.L.D. has established that they have a long working relationship as members of the secret spy organization so it would be easy to see a scenario in which Coulson shows up to work with the newly-powered Carol Danvers with the endlessly badass May by his side.
Alexander Pierce
Although he has only made one appearance in the film side of the Marvel Cinematic Universe, Robert Redford's Alexander Pierce is the type of character who could easily slide into a Captain Marvel movie set in the 1990s. The reveal of Pierce's allegiance to Hydra in Captain America: The Winter Soldier is a massive blow to Nick Fury in the 2014 political thriller, but that film makes it clear that he's one of Fury's best friends and that the two of them have a long working history together in the intelligence world. With the discovery of Carol Danvers likely standing out as one of the most substantial moments in the MCU timeline, it would seem entirely within the realm of possibility to imagine that Fury may consult with his longtime ally to get advice on how to handle the situation.
Peggy Carter
Last but not least we round out this list with none other than Hayley Atwell's Peggy Carter. The badass S.H.I.E.L.D. spy has a long history of working top-secret espionage missions in the Marvel Cinematic Universe, and we know that her tenure as a high-ranking member of the spy organization at least extends to 1989 when Hank Pym (Michael Douglas) walked away from the organization -- as seen in Ant-Man. If Peggy Carter remained active for a few more years (at least before her Alzheimer's started to manifest), then it's reasonably easy to assume that she may have been part of S.H.I.E.L.D. when Carol Danvers first acquired her powers. If that's the case, then it's entirely possible that she could show up for a cameo while Nick Fury and Captain Marvel get to work.
This poll is no longer available.
Your Daily Blend of Entertainment News
Originally from Connecticut, Conner grew up in San Diego and graduated from Chapman University in 2014. He now lives in Los Angeles working in and around the entertainment industry and can mostly be found binging horror movies and chugging coffee.