10 Great Movies Coming To Netflix In June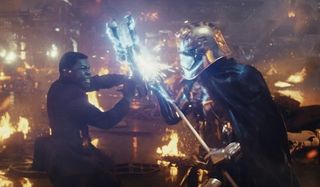 Temperature-wise, June is known to be a pretty hot month. Netflix-wise, it looks like things are going to get pretty heated as well, as we've gotten our big look at what the streaming platform is bringing online throughout the month of June. While we've noticed some notable titles leaving their library during the next month's cycle, there's still some incoming material that more than makes up for the void that'll be left behind after the reapings of both May and June have finished. If you want to see the notable additions of last month, you can jump out now and do so at your pleasure. For now though, here's the best and brightest films heading to Netflix in June.
Star Wars: The Last Jedi
Talk about heated. Star Wars: The Last Jedi is probably the most divisive Star Wars film ever, and now it'll be available on Netflix's streaming library for all to re-examine, or enjoy for the first time. Writer/director Rian Johnson's singular style shines throughout this episodic entry into the canon, as he does some new and uncharted stuff with the series. Needless to say, your mileage may vary, so it's probably best to invite some friends over and watch this one in a group that can discuss things, calmly, after the fact.
Thor: Ragnarok
Cue Led Zepplin's "The Immigrant Song," because Thor: Ragnarok is also here to make your summer bright again. Taika Waititi's threequel to the Thor series is another one of those movies that drips in personal style, leading to some divided opinion. No matter where you land on the spectrum, you've got to admit that this severely funny follow-up to the self serious films that preceded it has a lot of panache and spectacle for all to enjoy. Plus, Korg. Who doesn't love Korg?
101 Dalmatians
While Disney seems to be pulling some of the more modern content they've added to the Netflix streaming library, they don't seem too shy about adding some classics. And there's no question that 101 Dalmatians is, indeed, a classic of the era that saw Walt himself guiding the studio. On the outside, it's a cute animal movie, but past the surface, it's a romantic comedy mashed up with a family adventure. Throw in a catchy song, and it's a film that isn't easily categorized as merely a child's entertainment.
The Departed
After making a career out of turning New York into his thematic playground, it was a huge irony to see Martin Scorsese finally win a Best Director Oscar for his role in helming the Boston-centric film The Departed. A remake of Hong Kong's Infernal Affairs, the story of a cop, a gangster, and their double lives in each other's worlds is as sharp, violent, and smart assed as you'd expect. The accents may not always work, but the dialogue always hits like a pleasantly humorous brick.
The Covenant
Before you ask, yes, this is the same The Covenant that How Did This Get Made covered, and for that alone this flick is worth checking out. In an era where sexy witches, wizards, and creatures were starting to become the latest fad, one could say this project was a product of its environment. And yet, The Covenant manages to be a pretty entertaining film overall, ranking pretty high on the guilty pleasure scale. Though, to be honest, you don't need to feel guilty to enjoy Sebastian Stan and Taylor Kitsch as magic powered warlocks at a posh boarding school.
Miracle
Disney and sports movies are as American as trade wars and collectors coins. So it's not a hard sell to get us to watch Miracle again, as its retelling of the "Miracle on the Ice" at the 1980 Winter Olympics is as stirring as it is entertaining. However, this film also has the added benefit of housing stellar performances from Kurt Russell and Patricia Clarkson, with the former returning to his home turf after being a child star in the Disney canon. Bring the Kleenex, because you're definitely going to cry.
National Treasure
It's back! After getting yanked from the Netflix line-up, Benjamin Gates and his friends are back in your streaming queue. National Treasure 3 is one of those sequels we really wish had happened, and still hold out hope for. Considering Jerry Bruckheimer is still working, and Nicolas Cage is working like a dog, we're kind of surprised that hasn't happened yet. Once you've taken this adventure of historical importance once again, you'll probably be asking that same question yourself.
Just Friends
Before he embarked on a quest to save the superhero movie, all around good guy Ryan Reynolds saved two other genres at the same time: the holiday movie, and the romantic comedy. Just Friends is an absolutely hilarious, and severely underrated comedy, that shows what happens when the nice guy becomes the asshole, but really wants to win over his best friend by being a nice guy. It's a bit of gymnastics, and the likes of Amy Smart, Anna Farris, and Chris Klein all make it work like a charm.
In Bruges
Before heading to this year's Academy Awards with Three Billboards Outside Ebbing, Missouri, Martin McDonaugh was the bold newcomer to the independent film scene, all thanks to In Bruges. Pithy snark connects solid action to an extraordinarily human story of a hitman who's trying to atone for a job gone wrong. All of the pieces slowly unveil themselves, and connect into a greater picture, which sails across the screen with beautifully woven profanity. In Bruges operates as an extremely witty comedy that turns into an action/drama set-piece for a good part of its last act, working like a dream in the process.
Disney's Tarzan
At the tale end of what some consider to be the renaissance of Disney animation, there were some films that have been almost completely forgotten. Hidden in that treasure trove of lost animated children is Disney's Tarzan, a film that certainly treads well worn ground in a new and exciting way. Whether you're a fan of the Phil Collins soundtrack, the incredibly detailed animation based off of skating moves courtesy of Tony Hawk, or just a sucker for a good Disney adaptation, Disney's Tarzan is something you should revisit, as time hasn't given it nearly enough praise.
Your Daily Blend of Entertainment News
Senior Movies Contributor
CinemaBlend's James Bond (expert). Also versed in Large Scale Aggressors, time travel, and Guillermo del Toro. He fights for The User.