Iron Man 2 Has An Early Mention Of An Ant-Man And The Wasp Plot Point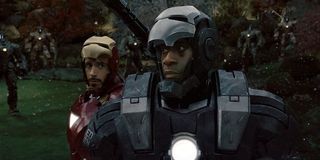 Occasionally something that's casually referenced or included in a Marvel Cinematic Universe movie turns into something bigger down the road. Take 2010's Iron Man 2, for example. Coulson discovering a replica of Captain America's shield in Tony Stark's workshop and later Mjolnir in the New Mexico desert paved the way for Thor and Captain America: The First Avenger, and last year, it was retroactively decided that Peter Parker was the kid in the Iron Man mask who Stark saved. But now it's been noticed that eight years before Ant-Man and the Wasp, Iron Man 2 alluded to one of the sequel's new characters, Bill Foster.
Bill Foster was introduced to the Marvel Comics universe in 1966, and the decade following, he made his superhero debut as Black Goliath and became the new Giant-Man a few years after that. While it doesn't look like Laurence Fishburne's version of Bill will be suiting up this summer in Ant-Man and the Wasp, the most recent trailer revealed that he still has experience with increasing his size, as he worked with Michael Douglas' Hank Pym on Project Goliath. One astute Redditor has noticed that this isn't the first time Project Goliath has been mentioned, as Tony Stark referred to it, as well as Projects P.E.G.A.S.U.S. and E.X.O.D.U.S., in an extended Iron Man 2 scene where Tony is starting work on synthesizing a new element.
I highly doubt that at the time Iron Man 2 was being made, Kevin Feige and the rest of the Marvel Studios bigwigs had Ant-Man and the Wasp on the MCU slate. After all, this was back when the first Ant-Man movie was still years and expected to be directed by Edgar Wright. That said, I also wouldn't be surprised if Feige and his colleagues were contemplating bring Foster into the MCU, and threw in the Project Goliath mention as an Easter egg that could potentially grow (pun intended) into something more substantial.
Aside from his connection to Hank Pym and his record growth being 21 feet, we haven't learned how Bill Foster will fit into Ant-Man and the Wasp. Captain America: Civil War showed Scott Lang turning into Giant-Man for the first time on screen, so perhaps Bill will help Scott hone his size increasing skills so that he's as experienced doing that as he is with shrinking. It's also worth mentioning that The Avengers revealed that Project P.E.G.A.S.U.S. was the study of the Tesseract, and while we don't know yet what E.X.O.D.U.S. was all about, some fans are speculating it has to do with Captain Marvel.
Ant-Man and the Wasp buzzes into theaters on July 6, so stay tuned to CinemaBlend for more updates about the sequel. In the meantime, look through our 2018 release schedule to learn what other movies are coming out this year.
Connoisseur of Marvel, DC, Star Wars, John Wick, MonsterVerse and Doctor Who lore. He's aware he looks like Harry Potter and Clark Kent.
Your Daily Blend of Entertainment News
Thank you for signing up to CinemaBlend. You will receive a verification email shortly.
There was a problem. Please refresh the page and try again.