A Marvel And Incredibles Crossover? Brad Bird Explains His Feelings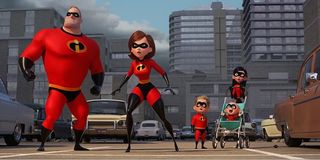 In our current movie landscape and perhaps forever more, there is a natural inclination to build out cinematic universes, team-ups and crossover films. This is especially true with superhero properties and doubly so when they all fall under the same corporate umbrella. Such is the case with Pixar's Incredibles and Marvel's Avengers, they all belong to one very powerful mouse. So I don't think anyone would be shocked if Pixar's Incredibles films saw an appearance by Earth's Mightiest Heroes in animated form. But when asked about such a possibility, Incredibles 2 director Brad Bird made his feelings on the matter quite clear, saying:
Responding to a question about combining the two universes at an IMAX and AMC Q&A for Incredibles 2, Brad Bird's rhetorical response conveyed his staunch belief about the merits of keeping the Avengers and the Incredibles separate. So I wouldn't go into Incredibles 2 this weekend thinking you're going to see an Iron Man or Captain America cameo. Given the state of the industry, it's unsurprising that this isn't the first time that Brad Bird has been asked a question about the potential of Marvel characters appearing in an Incredibles film. He recently spoke to Fandango and provided some compelling reasoning for not crossing over the brands, saying:
That is a really great analogy that cuts to the heart of the issue. Both Disney and each of its massive brands are better served by remaining separate. Sure seeing Captain America in a trailer for an Incredibles film or having Spidey on the poster might make for some 'aha' moments and recognition for the audience, but it does nothing to serve the story. It is simply a way to shoehorn a popular IP into everything imaginable. As Brad Bird said, on their own these properties are bright fun colors, but together they would get diluted and muddied until they no longer resemble themselves.
The other thing about an Incredibles-Marvel crossover is that, as comic book fans know, some things simply aren't compatible. For example, even though there have been crossover events in the past, DC and Marvel don't really work together. The same would be true for Incredibles and Marvel. The history of supers established in The Incredibles simply would not really allow for Avengers characters to exist in the same world in their current form. Each has its own specific tone, mode of operation and rules that govern its respective universe and while great on their own, together would be a messy affair that would require mental gymnastics to make sense of it all.
Brad Bird also makes a great point about how the separation is good for Disney. Some people may like Pixar but not Marvel, or Lucasfilm but nothing else. Keeping these various properties separate allows each to stand out on its own. It also insulates each from ebbs and flows in interest and public sentiment. For example Star Wars has been something of a disappointment of late while Marvel is riding as high as it ever has. As much fun as a Patton Oswalt filibuster on Parks and Recreation-esque super shared cinematic universe sounds, it doesn't work in practice. All of these universes are great on their own and there will be no cumulative effect by combining them. Fortunately, at least for Incredibles 2, we don't have to worry about it.
Incredibles 2 is tracking for a huge debut all on its own, sans Marvel tie-ins, when it opens in theaters on June 15th. For all of this year's biggest movies, check out our release schedule.
Your Daily Blend of Entertainment News
Nick grew up in Maryland has degrees in Film Studies and Communications. His life goal is to walk the earth, meet people and get into adventures. He's also still looking for The Adventures of Pete and Pete season 3 on DVD if anyone has a lead.