Samuel L. Jackson Teases Nick Fury's Return With Funny Business Card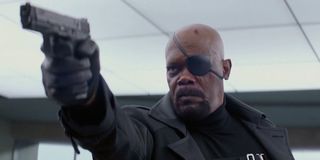 Ever since he broke into Tony Stark's mansion and told the billionaire superhero about the Avengers Initiative, Nick Fury has been an important player in the Marvel Cinematic Universe, although less so in recent years. Following his supporting role in Avengers: Age of Ultron, Fury was absent until his brief, but important, appearance in Avengers: Infinity War earlier this year. Fortunately for fans of the character, Samuel L. Jackson is reprising Fury next year for Captain Marvel, and it's entirely possible he'll be back for Avengers 4 as well. Now Jackson is teasing the character's return, and while it's unclear if it's for one of the previously mentioned movies or something else, the business card is definitely on-brand for the actor.
Nearly 25 years after its release, Pulp Fiction remains one of Samuel L. Jackson's most popular movies, and his role as Jules in the Quentin Tarantino-directed flick was even referenced in Captain America: The Winter Soldier by Fury's tombstone reading Ezekiel 25: 17, part of the quote that Jules continually recited. Now Jackson has gotten hold of Nick Fury's S.H.I.E.L.D. business card that reads, "Bad Motherfucker," just like Jules' wallet did. It's doubtful that you'll ever actually see this business card up close, but I wouldn't put it past Fury to print that phrase on there. Come to think of it, as a spy extraordinaire, I can't imagine Fury carrying business cards at all. It'd be bad if a Hydra operative or some other terrorist got ahold of his personal information.
What's also particularly interesting about Samuel L. Jackson's Instagram post are where it's geotagged and the other pictures attached. The location is listed as Watford, United Kingdom, and Jackson also included snapshots of his Nick Fury goatee, eye scarring and eyepatch. Those latter photos indicate that Jackson is teasing the return of present day Nick Fury, thus taking Captain Marvel off the table (plus, that movie just wrapped principal photography). As far as we know, none of the Avengers 4 reshoots are happening in the United Kingdom, but a Marvel movie that is shooting across the pond is Spider-Man: Far From Home. Does this mean that Fury will appear in the Web-Slinger's next standalone adventure? It's too soon to tell, but since Nick Fury served as Spider-Man's mentor in the Ultimate universe, maybe this relationship will be adapted for Far From Home.
Warning: SPOILERS for Avengers: Infinity War are ahead!
At the end of Avengers: Infinity War, Nick Fury faded away along with half of all life across the universe after Thanos snapped his Infinity Stones-powered fingers. But before disappearing, Fury was able to send a distress signal from a spruced-up pager that displayed the Captain Marvel insignia. Next year, we'll see what Nick Fury was up to in the 1990s during Captain Marvel, when he still had both eyes and hadn't yet had any experience with superheroes. As for Avengers 4, there's no official word on if Jackson is reprising Fury, but assuming Thanos' genocidal act is undone, then one would imagine we'll see Fury at least reformed like everyone else who was erased from existence. Plus, Sebastian Stan already indicated that Jackson might be back.
Stay tuned to CinemaBlend for all the latest updates about the MCU. Ant-Man and the Wasp is currently playing in theaters, and Captain Marvel will arrive on March 8, 2019.
Connoisseur of Marvel, DC, Star Wars, John Wick, MonsterVerse and Doctor Who lore. He's aware he looks like Harry Potter and Clark Kent.
Your Daily Blend of Entertainment News
Thank you for signing up to CinemaBlend. You will receive a verification email shortly.
There was a problem. Please refresh the page and try again.