Don't Worry, Thor's Roommate Darryl Survived Thanos' Snap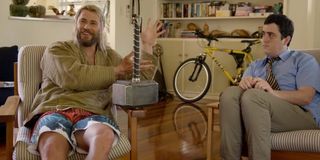 Earlier this year, Thanos snapped his fingers, unleashed the full force of the Infinity Stones, and wiped out half of the universe. Avengers: Infinity War proved itself as the most devastating Marvel movie yet, leaving many to wonder which characters survived the film. One specific personality that some have wondered about is Thor's roommate, Darryl, and luckily, we can now confirm that the lovable housemate survived -- though he's now saddled with much more work at his job. Check out a video posted by Daley Pearson, below!
So, not only did Thor survive Thanos' finger snap at the end of Avengers: Infinity War, but his beloved roommate managed to make it out alive as well. As that video lays out, Darryl was left unaffected by Thanos' actions, but he was indirectly very inconvenienced because the deaths of half of his co-workers resulted in far more work. Goodbye, half of the universe, and goodbye Sundays.
Of course, there's a reason why this video was posted in the first place; it served as a happy birthday message to Chris Hemsworth/Thor. At the end of the clip, Darryl plays the Happy Birthday song for his former roommate, and we're left to hope that we will one day see a reunion between these two buddies.
While this video obviously offers up a hilarious return for Darryl, it also hammers home the profoundly dark effects of Avengers: Infinity War and Ant-Man and The Wasp's endings. Not only did half of the Marvel Cinematic Universe heroes perish when Thanos snapped his fingers, but half of all life in the galaxy was wiped from existence. We still don't entirely know what that means in terms of how the Marvel world will be affected, but something tells us that Avengers 4 will likely go into much deeper detail to explore how the world has changed in the wake of that genocidal act.
For those of you who have no idea who Darryl is, he debuted in the viral "Team Thor" video that premiered online near the release of Captain America: Civil War. Directed by Thor: Ragnarok filmmaker Taika Waititi, the short hilariously explained where Thor was during the events of Civil War and offered up some great moments for Chris Hemsworth to show off his comedic chops. If you have yet to see the video, you can check it out, below!
If you want to revisit the traumatic results of the Thanos snap, then make sure to pick up your copy of Avengers: Infinity War on Digital HD, 4K, and Blu-ray today! As for the future of the Marvel Cinematic Universe, we will see the resolution of the Thanos arc next year when Avengers 4 debuts in theaters on May 3, 2019!
Originally from Connecticut, Conner grew up in San Diego and graduated from Chapman University in 2014. He now lives in Los Angeles working in and around the entertainment industry and can mostly be found binging horror movies and chugging coffee.
Your Daily Blend of Entertainment News
Thank you for signing up to CinemaBlend. You will receive a verification email shortly.
There was a problem. Please refresh the page and try again.