Yes, Don Cheadle Was Shocked That Mark Ruffalo Almost Spoiled Avengers: Infinity War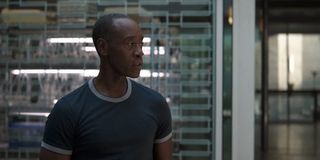 Tom Holland, the current live action Spider-Man, has developed a reputation for spoiling things, especially concerning the Marvel Cinematic Universe, but he isn't the only actor from this franchise who's accidentally revealed things they shouldn't have. Mark Ruaffo, a.k.a. Bruce Banner/The Hulk, easily takes second place in the Spoiler Rankings, mainly because he accidentally live streamed part of Thor: Ragnarok last year. Ruffalo's second biggest offense was when he nearly spoiled Avengers: Infinity War's ending, with Don Cheadle by his side. As you might expect, the War Machine actor was shocked that Ruffalo clued people in on how high Infinity War's body count would be before the movie had even been released to the public, as you'll see below.
Technically Mark Ruffalo didn't provide any specific details about Avengers: Infinity War when he and Don Cheadle were promoting the movie on Good Morning America, but he nonetheless let slip that a lot of heroes would die at the end. It's been almost four full months since that interview, and as you can tell by Cheadle's face during his recent appearance on Jimmy Kimmel Live!, he's still astounded that Ruffalo delved into spoilery territory despite Cheadle warning him to tread cautiously. As Cheadle noted, it could have been worse, because if you listen closely, Ruffalo starts to say "Ha..." before then switching to "Everybody dies," indicating he was about to "half" of all the heroes would die, a.k.a. "the absolute truth." Needless to say that Marvel is going to keep an even closer eye on Ruffalo in the future, and Cheadle even joked that the Hulk actor wouldn't be allowed to do press for any movie for fear of accidentally spoiling something Marvel-related.
Since Avengers: Infinity War was touted as the biggest MCU entry to date, it was generally assumed that there would be a lot to unpack, especially given the source material this movie was inspired by, 1991's The Infinity Gauntlet. Nevertheless, many were shocked to see Thanos erase half of all life in the universe after obtaining all six Infinity Stones, which included heroes like Spider-Man, Black Panther and Scarlet Witch disappearing. Fortunately for Bruce Banner and James Rhodes, they were among the lucky half who survived the Thanos snap, and we'll find out how them and the other survivors are coping in this changed landscape when Avengers 4 comes out next year. Of course, Marvel is staying just as secretive about Avengers 4 as it was with Infinity War, if not more, so unless the studio decides to evict from Ruffalo from the press tour, the actor will need to practice self control.
Avengers: Infinity War is now available on Digital HD, Blu-ray and DVD, and while the MCU wrapped up its 2018 theatrical offerings with Ant-Man and the Wasp last month, the franchise will continue on March 8, 2019 with Captain Marvel, followed by Avengers 4 on May 3 and Spider-Man: Far From Home on July 5.
Connoisseur of Marvel, DC, Star Wars, John Wick, MonsterVerse and Doctor Who lore. He's aware he looks like Harry Potter and Clark Kent.
Your Daily Blend of Entertainment News
Thank you for signing up to CinemaBlend. You will receive a verification email shortly.
There was a problem. Please refresh the page and try again.