Why 2019 Could Be Disney's Biggest Year Ever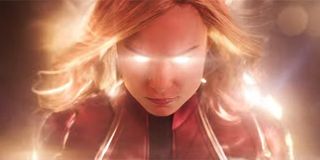 When it comes to the box office, there's Disney and then there is everyone else. The year isn't over yet, but Disney is lapping the field thanks to its popular brands and successful blockbusters. In fact, the studio is on track for its second-biggest year ever at the worldwide box office. It is impressive to say the least, but looking ahead, this year could pale in comparison to what Disney has in store for 2019.
Next year is set to be a huge one for the company started by Walt Disney and not only at the box office. Disney isn't just a movie studio; it's an entertainment empire. In 2019 that empire is looking to expand as Disney conquers new territory and breaks out its biggest guns to do so.
Across its business on screens big and small, in the boardroom and in the most magical place on Earth, Disney is set to dominate and make 2019 The Year of the Mouse. Read on to see why 2019 could be Disney's biggest year ever.
The Disney-Fox Deal Should Close
One of the biggest things queued up for Disney's 2019 is something that will affect not only the Mouse House, but also the entertainment industry as a whole. Disney's purchase of the 20th Century Fox film and television assets for $71.3 billion has been one of the biggest industry stories of 2018 and the deal closing and its effects will begin to alter the landscape in 2019.
The ink is expected to dry on this deal in the first half of next year. Sadly, this deal looks as if it will result in many people losing their jobs and it will reduce the number of major studios. Still, it is a huge win for Disney.
The content and rights Disney nets from this gets the company a lot for its money that it can then use to bolster all aspects of its business and continue to compete in an ever-shifting and competitive market. Oh yeah, and once this deal closes, we can hopefully all start counting down the days until the X-Men show up in the MCU.
Oscar Chances?
No guarantees, but when the 91st Academy Awards roll around next February, Disney may actually have two contenders for some of the night's biggest prizes. Since Black Panther was released, there has been talk about its Oscar chances. Part of the backlash against the Best Popular Film category was the thought that it would be a consolation prize that hurt Black Panther's chances at the top prize.
Make no mistake, Disney is gunning for Best Picture with this one. A critically loved box office triumph with genuine cultural significance, Black Panther seems like it could snag one of the Best Picture nominations and possibly nominations in other categories like costume design.
Mary Poppins Returns doesn't release until December, but some of the early reactions to Rob Marshall's film out of the NATO conference are gushing, indicating that Disney managed to make a film that lives up to the high expectations conferred by the original masterpiece. Word is that Disney's two big Oscar pushes will be Black Panther and Mary Poppins Returns and any victories for these two films would be another feather in the mouse's cap during a huge 2019.
Live-Action Remakes
One of the pillars of Disney's box office dominance has been the live-action remakes of its animated classics, best exemplified by 2017's Beauty and the Beast, which invited audiences to be its guest to the tune of $1.26 billion. In 2019, Disney has not one, not two, but three of these live-action remakes headed to theaters.
This kicks off with Tim Burton's Dumbo in March, which looks to be a strange and beautiful tearjerker with a brilliant cast. Disney is also breaking out the big guns with adaptations of two of the iconic films of the Renaissance of the 1990s. In May, Guy Ritchie's Aladdin hits theaters. We just got our first glimpse at the film and it looks to be pure nostalgic magic.
Last (but certainly not least) is the "live-action" remake of Disney's seminal 1994 film, The Lion King. Jon Favreau's movie has a stellar voice cast, including the return of James Earl Jones, and given what we saw from The Jungle Book, this film should be a gorgeous retelling of the beloved tale. If Disney has wished for these three films to deliver box office gold, there's a good chance that wish will be granted.
The MCU Ends Phase 3
A decade plus of the Marvel Cinematic Universe all culminates next year in Avengers 4. This year's Avengers: Infinity War broke the opening weekend box office record with $257.7 million on its way to over $2 billion worldwide. I expect Avengers 4 to have a similarly incredible performance and it should be the clear frontrunner for the biggest movie of 2019.
The mysterious final chapter in Phase 3 should conclude the battle with Thanos and reveal what happens to all of those individuals the Mad Titan snapped out of existence. This could also be the end for some of the original heroes of the MCU like Tony Stark and Steve Rogers.
In addition, before Avengers 4 Marvel will also release its first female-led superhero movie in Captain Marvel starring Brie Larson. This is a huge step for the MCU. It introduces a powerful hero that could lead the charge in Phase 4 and beyond. And while Spider-Man: Far From Home is technically a Sony film, it is part of the MCU. So, as Phase 3 comes to a close in presumably epic and lucrative fashion, Phase 4 of Disney's cash cow MCU will begin in 2019.
Huge Animated Sequels
Disney's bread and butter has historically been its animated films and 2019 sees the release of two huge and eagerly anticipated animated sequels. First is Pixar's Toy Story 4. There's an argument that the Toy Story trilogy is perfect and we don't need a fourth film. Plus, the production process hasn't been a smooth one, but this is the crown jewel of the Pixar stable and everyone will show up to see Buzz and Woody's next adventure.
There has been talk that the film will be something of a love story involving Woody and Bo Peep. We don't know much about the story beyond that; however, it seems safe to say this will be another emotional Pixar film.
The other big sequel on Disney's calendar in 2019 is Walt Disney Animation Studios' Frozen 2. The first Frozen was a phenomenon, enjoying a level of success no one predicted, earning $1.28 billion at the box office and cementing 'Let it Go' as the bane of parents everywhere. Disney took its time with the sequel and, six years later, Anna and Elsa are back warm up the box office.
Star Wars: Galaxy's Edge Opens
Disney's massive 2019 isn't limited to the two-dimensional world of film and television. Disney is a many-tentacled leviathan and its theme parks are also set to have a huge year, highlighted by the opening of the Star Wars: Galaxy's Edge lands. At Walt Disney World's Hollywood Studios Park, Galaxy's Edge is set to open in late fall 2019 and at Disneyland the force arrives a little earlier next summer.
This massive expansion will transport guests to the Outer Rim planet of Batuu in a galaxy far, far away for a truly unique Star Wars experience. You'll be able to drink blue milk and alcohol at a cantina, board a Star Destroyer and pilot the Millennium Falcon in a ride that is truly interactive and where your mission success or failure will influence your experience in other areas of the park.
Everything we've heard about Galaxy's Edge and the technology it will use indicates that this land will completely immerse you in the world of Star Wars. Despite the inevitably long lines and high ticket prices, Star Wars: Galaxy's Edge is one of the most exciting and anticipated things Disney has in store next year.
The Launch Of Disney's Streaming Service
The way we consume entertainment continues to shift away from traditional platforms like cable and broadcast to streaming services and Disney has no intention of letting others reap the benefits of its vast library of content. Disney is launching its own streaming service in late 2019 and it while this moniker is probably too simplistic, it has all the makings of a 'Netflix Killer'.
On the TV side of things (although we don't know if they will arrive in 2019) the Disney streaming service, possibly titled Disney Play, is bringing MCU mini-series of Scarlet Witch and Loki as well as the Star Wars live-action series The Mandalorian.
There are plenty of movies headed to the service too, including Noelle starring Anna Kendrick and the young adult adaptation Stargirl. Disney is also bringing live-action remakes of its classics The Sword and the Stone and Lady and the Tramp to the streaming service instead of making them theatrical releases. Oh yeah, and Bob Iger says Disney's streaming service will cost less than Netflix. All this ensures that Disney will become a major player in the streaming wars when its service launches next year.
Star Wars: Episode IX
It is no secret that Star Wars is going through a bit of a rough patch at the moment, but audiences should be ready to return to a galaxy far, far away by the time Star Wars: Episode IX rolls around. Regardless of how you feel about Star Wars: The Last Jedi, we all want to know how this Saga ends. And this is the end.
Star Wars: Episode IX is being touted as the final installment in the Skywalker Saga and we're all hoping J.J. Abrams can end this 40+ year journey on a high note. Episode IX should bring closure to the battle between The Resistance and The First Order. Rey, Poe, Kylo and Finn are once again joined by Luke Skywalker and thanks to some extra footage, Carrie Fisher's Princess Leia.
This anticipated film will also see the return of Lando Calrissian along with a whole host of new cast members. The end of the Skywalker Saga is a cinematic event and it should close out Disney's 2019 with a bang.
Nick grew up in Maryland has degrees in Film Studies and Communications. His life goal is to walk the earth, meet people and get into adventures. He's also still looking for The Adventures of Pete and Pete season 3 on DVD if anyone has a lead.
Your Daily Blend of Entertainment News
Thank you for signing up to CinemaBlend. You will receive a verification email shortly.
There was a problem. Please refresh the page and try again.