Star Wars: Episode 9 Rumors - Will Hux Betray The First Order?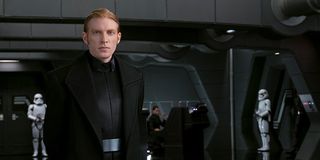 Warning: The following is just a rumor, but if true, it would constitute a major SPOILER for Star Wars: Episode IX, so proceed with caution!
Perhaps more than any other franchise, Star Wars is the subject of countless rumors and exhaustive theorizing. Fans seek to learn all they can and speculate about what happened a long time ago in a galaxy far, far away. This is more true than ever for master of the mystery box, J.J. Abrams, whose Star Wars: Episode IX is set to end the Skywalker Saga that began with 1977's Star Wars: A New Hope.
We are approaching the halfway point between Star Wars: The Last Jedi and Star Wars: Episode IX and J.J. Abrams has his film's secrets locked up tight with little in the way of concrete information out there. So now seems a prudent time to look at the various rumors surrounding Episode IX and talk through them; what are their chances of happening, what would their effect be on the film and the franchise? Also, do we even want them to come true.
First up is a rumor that initially surfaced a couple of months back and if true, it would make for a pretty massive twist in the final film in this trilogy. The rumor is that part of Episode IX will see Kylo Ren (Adam Driver) rooting out a mole in the First Order who is secretly working for the Resistance, and that the mole turns out to be none other than Domhnall Gleeson's General Armitage Hux.
Hux has been one of the three pillars of villainy in the first two films in the new trilogy and this would obviously mark a drastic shift for the character. Where Snoke had a mysteriousness about him and Kylo Ren has been racked with inner conflict, Hux has been the one whose evil has been the most overt, the most hateful and the most gleeful.
Hux screaming to his troops on Starkiller Base before the destruction of the Hosnian system evoked real-life villains throughout history, making it clear that this isn't just a job for Hux, he's a true believer, a zealot for the cause of the First Order. Basically, if he's been faking it, he's been really, really selling it.
So what would make him betray his beloved First Order for a Resistance he has called loathsome and filth? Well, Kylo Ren just kind of has that effect on people. And that's what makes this rumor somewhat believable. It doesn't retroactively make him a mole throughout the series, just in the wake of The Last Jedi.
According to the rumor, Hux is attempting to undermine his new Supreme Leader and make him look bad in the eyes of the First Order just enough for him to be deposed, and for Hux to take over.
After the battle in the throne room in The Last Jedi, we saw Hux motion for his blaster upon discovery of a dead Snoke and a prone Kylo Ren. The intention to usurp power is there (he may lack Force sensitivity, but Hux has very Sith-like traits) and with Snoke now gone there will be no one to stand between Hux and Kylo's destructive impulses and unhinged behavior. A person can only take so much and an unrestrained Kylo could push Hux over the edge into doing something drastic.
It's actually kind of surprising that either of these dictators will maintain power now that Snoke is gone. Snoke and Kylo regularly dunked on Hux in front of his subordinates and the First Order troopers are well aware of Kylo's temper tantrums, meaning they both look weak and ineffectual. Tarkin and Vader these two are not.
On the one hand, helping the Resistance in any way goes against everything we know about Hux, so that makes this rumor seem unlikely. On the other hand, the end of The Last Jedi set up a new dynamic within the First Order and the antagonistic relationship between Hux and Kylo has been established since the beginning.
So while on its surface this might seem unlikely, the circumstances of Hux betraying the First Order to temporarily help the Resistance are true to the characters' behavior thus far and the power struggle within the First Order. Hux is a weaselly, underhanded individual so betrayal is not beneath him, that's for sure. And even if Hux winds up getting caught or dooming the First Order through his actions, those outcomes would all be in keeping with the buffonishness the villain has displayed thus far.
Therefore I think that this rumor, while maybe not entirely accurate, probably contains some truth about Star Wars: Episode IX. It seems extremely likely that Hux will be working against Kylo Ren in some way, whether that goes as far as him working against the First Order by feeding information to the Resistance, albeit temporarily, remains to be seen.
As far as how things could play out, I don't really see Armitage Hux meeting with Poe Dameron and agreeing to help out the Resistance with a handshake to seal the deal. The circumstances of how such a meeting would come to be would be weird, and I don't see how either party would ever trust each other.
More likely I think is that the Resistance starts getting intel somehow from an unnamed source. The intel is good and they keep using it, never knowing that it is Hux who is undermining the First Order. Then I imagine at some point Kylo Ren discovers that Hux is the mole and either forces him to tell the Resistance something or just gives Hux bad information that ultimately leads the heroes into what Admiral Ackbar might call a trap.
Now, as to whether or not we'd like to see this rumor come true. I think this can work as long as (as is the case with anything) it is done in a way that makes sense and rings true. We would really need to see Hux pushed to the edge and need to see that he believes that his only recourse is to become a mole for the Resistance.
I wouldn't want this to dominate the story in any way, Hux hasn't been a particularly compelling or rich character thus far and giving too much weight to his arc as a mole in this final film could take away from more deserving characters. That said I do think the power struggle between Hux and Kylo should continue since it's already been established and with Kylo now Supreme Leader, we do need to see a progression and escalation of that. As long as Hux isn't redeemed in any way, I'm open to seeing Hux as a mole for the Resistance in Star Wars: Episode IX.
Now it's time to let us know what you think. Tell us if you think this will happen in the poll below and head to the comments section to say why you do or don't want it to. Star Wars: Episode IX opens in theaters on December 20, 2019.
This poll is no longer available.
Your Daily Blend of Entertainment News
Nick grew up in Maryland has degrees in Film Studies and Communications. His life goal is to walk the earth, meet people and get into adventures. He's also still looking for The Adventures of Pete and Pete season 3 on DVD if anyone has a lead.