The Story Behind Instant Family's Surprise Cameo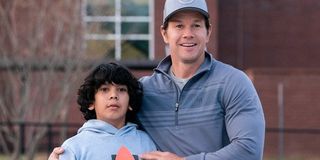 *Warning: Spoilers for _Instant Family_ are in play. If you haven't seen the film yet, bookmark this page and come back once you're current. *
Towards the end of Instant Family, a heartfelt moment between Mark Wahlberg, Rose Byrne, and Isabela Moner ensues. It starts out as your usual scene where foster parent and child, after a film's worth of conflict and sparring, break down and admit that they're a better family than they thought the whole time. But there's one big difference between this scene and similar examples that came before it in the course of film history, and it all comes down to a surprise cameo that co-writer / director Sean Anders took the opportunity to include.
In this big scene, a comedic undercurrent is injected, courtesy of a neighbor to Wahlberg and Byrne's Pete and Ellie. Played by Joan Cusack, she inserts herself into the moment in a sweet, but definitely weird way, as only a legendary talent like Cusack could ever do. When CinemaBlend spoke to Anders about this scene, and how it came to be, he started to describe it as follows:
As the writer / director of such classics as Sixteen Candles and The Breakfast Club, the latter of which Sean Anders discussed in our conversation, John Hughes had a blockbuster-sized understanding of such a process. His ability to take something like Anthony Michael Hall's potential suicide plotline from The Breakfast Club and turn it into a laugh was something that Anders cited as a particularly powerful example.
With the gun in Brian's locker turning out to be one of the flare-shooting variety, that twist, in Sean Anders' words, "lets the audience off the hook." It's a technique that lets the emotion play, but with the right button at the end, deploys a satisfying resolution through a powerful laugh. Obviously, Anders wanted that to happen in Instant Family, so not only did he need the right moment, he needed the perfect co-star.
That fateful conversation with John Hughes would pay off big time, when Sean Anders would receive a rather serendipitous piece of advice as he was preparing the film for production. He continued explaining this story, as seen below:
Anyone who's a Joan Cusack fan, especially someone who's seen her in films of the John Hughes era, knows that it doesn't take much for her to latch onto a moment and deliver some well paced comedic beats. So seeing her drop by in the middle of Instant Family's emotional climax does reel things a bit, so as to not allow the film's resolution to fall into the totally heartwarming side of the pool.
While you can still take the moment seriously, the laughs her appearance generates punctuate the scene with the sort of comic energy and honesty that the rest of the film takes advantage of. If your kids were crying in a neighbor's yard, surely they'd pop outside to see what was going on themselves. It's an honest moment, in a film where the talent behind its making have heralded honesty as one of their biggest assets.
All it takes is a slight comic exaggeration of the moment, with Joan Cusack delivering a slightly weird, but definitely honest energy to it, and the scene becomes a crucial part to the machinery that makes Instant Family so unique. As far as how audiences reacted to the film, Sean Anders had something to say about that as well:
Comedy and drama are two sides to the same coin, and it's not always easy to flip between them. But with the heartfelt approach to both genres in Instant Family, the film takes its audience on a journey that'll make them laugh, as well as cry.
Audiences gave Instant Family a chance this past weekend, even though it was stacked up against a heavy-hitter franchise sequel in Fantastic Beasts: The Crimes of Grindelwald and the animated remake of The Grinch. In its debut weekend, Instant Family climbed to a respectable $14.7 million opening, good for a fourth-place spot on the weekend Top 10. But we expect the movie to continue to perform as the holiday weekend rolls along, and families are looking for a diversion at the local movie theater. Positive word of mouth on the comedy, which has a 79% Fresh grade, should continue to power interest.
Instant Family is in theaters now, just in time for your Thanksgiving viewing needs.
CinemaBlend's James Bond (expert). Also versed in Large Scale Aggressors, time travel, and Guillermo del Toro. He fights for The User.
Your Daily Blend of Entertainment News
Thank you for signing up to CinemaBlend. You will receive a verification email shortly.
There was a problem. Please refresh the page and try again.