7 Off The Radar Movies To See At Theaters Over Thanksgiving Weekend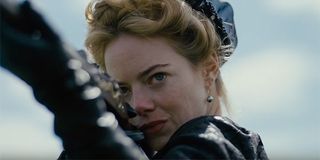 Thanksgiving may be known for turkey, parades and the start of the Christmas shopping season, but the holiday is also one of the biggest moviegoing days of the year. Families take a break from shopping and awkward dinner conversations to go to the movies together when everyone is off work and school. And this year there are plenty of big movies to see over the Thanksgiving weekend.
There are huge sequels like Creed II, Ralph Breaks the Internet and Fantastic Beasts: The Crimes of Grindelwald all in theaters this weekend, as well as holiday appropriate family films like The Grinch and Instant Family. But those are just the biggest and buzziest films playing this weekend. There are quite a few films that you may not have seen trailers for or know much about, but are worth your attention nonetheless.
So whether you're going to the movies with the whole family, or taking a break from the family in the sanctuary of a darkened theater, there are plenty of off the radar titles worth checking over Thanksgiving weekend. Here are just a few.
Fascinating True Stories
This is the time of the year that smaller, character-driven films with top tier talent hit theater screens, hoping to drum up positive buzz heading in to awards season. The Academy loves true stories, and as such there are quite a few critically acclaimed films playing over the Thanksgiving weekend based on real people and real events. So whether it's a disgraced politician, a writer who turns to forgery or a fearless journalist, there are plenty of fascinating true stories to discover this Thanksgiving weekend.
The Front Runner stars Hugh Jackman as Democratic Senator Gary Hart, who was the front runner for the 1988 Democratic presidential nomination before allegations of an extra-marital affair derailed his campaign. The film depicts the scandal that marked a turning point in American politics, when the personal lives of politicians made the jump from the tabloids to the mainstream news. The Front Runner is directed by Up in the Air helmer Jason Reitman, and also stars Vera Farmiga and J.K. Simmons.
In Marielle Heller's Can You Ever Forgive Me? Melissa McCarthy makes the jump from slapsticky comedy to a biopic filled with humor and drama. McCarthy stars as Lee Israel, a celebrity biographer who turns to forging letters from famous people when she can no longer get her writing published. Melissa McCarthy's performance is being called the best of her career and Richard E. Grant is getting Oscar buzz for his portrayal Lee's friend and partner in crime, Jack Hock.
Documentary director Matthew Heineman steps in to the narrative realm for the first time to tell the true story of renowned war correspondent Marie Colvin in A Private War. Gone Girl's Rosamund Pike plays the fearless journalist who reported from the front lines of conflicts around the world. As all the horrors she has seen begin to take their toll on her personal relationships, her drive to shed light on the human costs of war leads her to the most dangerous assignment of her life.
Uplifting Movies To See With The Family
The Thanksgiving holiday and this time of the year are about spending time with family and enjoying things together. With that in mind, sometimes it's nice to just go to a movie with your family and feel good and uplifted when you leave the theater. But far from being saccharine fluff, both of these films deal with very serious and real issues. However, they are movies that are good to see with family and should have you walking out of the theater with your heart warmed.
Joel Edgerton has joined the long list of actors-turned-notable directors, and he tackles emotional and heavy material with his sophomore film Boy Erased. Based on the memoir by Garrard Conley, Boy Erased stars Lucas Hedges as Jared, the son of a Baptist pastor who is forced to attend gay conversion therapy when he is outed to his parents. The film depicts his struggles with family, friends and faith as he comes to terms with who he is. Boy Erased also stars Oscar winners Russell Crowe and Nicole Kidman as Jared's parents.
Green Book tells the story of Tony Lip (Viggo Mortensen), a working class Italian-American who is hired to drive classical pianist Dr. Don Shirley (Mahershala Ali) on a tour of venues in the 1960s Deep South. There they must navigate through racism, danger and their own differences to form a special friendship. Peter Farrelly's comedy-drama has received rave reviews for the performances of the two leads, and it is the perfect kind of feel good movie to see over Thanksgiving weekend.
Something Different
Maybe none of those films appeal to you, or maybe you are planning to hide from crowds and relatives all weekend in the theater and want to see everything you can. Well, the final two films on this list both offer up something a little different from their respective genres.
Director Yorgos Lanthimos' The Favourite takes place in 18th century England, but if you've seen the trailers, it is far from a stuffy period piece. The comedy-drama stars Rachel Weisz as Lady Sarah Churchill, who governs the country while taking care of the ill and temperamental Queen Anne (Olivia Colman). When the charming and ambitious new servant Abigail Masham (Emma Stone) arrives, she and Sarah become embroiled in a rivalry to become Queen Anne's favorite. The Favourite is being lavished with praise and figures to be a major contender come awards season, especially in the acting categories for the three leads. This one is in limited release this weekend, but if you're near where it's playing, you should seek it out.
World War II films are a dime a dozen, but Nazi zombies are usually the province of video games. Julius Avery's film Overlord follows a group of American soldiers, tasked with a critical mission upon which the success of D-Day depends. Behind enemy lines they discover the horrific lengths the enemy will go to in order to win the war and the result is an action-packed gorefest. The war drama/horror film stars Wyatt Russell, Jovan Adepo, Mathilde Ollivier and Pilou Asbæk.
As you can see, this weekend at the movies offers a lot besides the brand names and franchises that are going to claim the top spots at the box office. Almost every movie on this list boasts fresh Rotten Tomatoes scores and you'll be hearing a lot more about many of these movies in the months to come as Oscar season ramps up. So whether its great new chapters in fan favorite franchises or off the radar titles like these, there are plenty of reasons to go to the theater this weekend and that's something to be thankful for.
This weekend is just the beginning, though. We are in the thick of the holiday movie season and you can check out what else is coming down the pike in our Holiday Movie Guide. And for the biggest titles hitting theaters next year, check out our 2019 Release Schedule.
Nick grew up in Maryland has degrees in Film Studies and Communications. His life goal is to walk the earth, meet people and get into adventures. He's also still looking for The Adventures of Pete and Pete season 3 on DVD if anyone has a lead.
Your Daily Blend of Entertainment News
Thank you for signing up to CinemaBlend. You will receive a verification email shortly.
There was a problem. Please refresh the page and try again.