Kurt Russell's 5 Sexiest Santa Moments In The Christmas Chronicles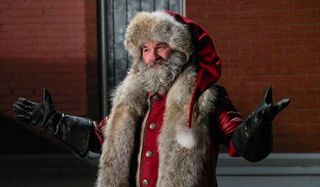 The numbers are in, and it appears quite a few people are fans of Kurt Russell's Santa in The Christmas Chronicles. While this could be related to the film being holiday related and a good family film to watch on the platform, it also could be due to the fact that Kurt Russell plays a St. Nick who can "get it." With that said, here's a compilation of five of Russell's sexiest moments as Santa in the movie.
Santa's Cookie Flex
Santa may not be the most ripped guy in the world, but Kurt Russell's version is certainly not the portly character seen in the art and other specials that portray him. Santa makes it known he's not fond of these depictions and, quite frankly, folks should be impressed by his dad bod physique.
Santa then follows up this rant with the fact that he eats "millions" of cookies in one night and still seemingly manages to keep himself in a respectable BMI range. Santa may have been exaggerating here, but with the film showing him doing bunch of other incredible things, such as move at the speed of light and pull a seemingly endless amount of objects from inside his coat, I'm inclined to think it helps justify his massive calorie count.
A man who can eat can also be sexy, especially in an era where the perfectly sculpted man isn't necessarily the most sought after body type these days. Plus, Russell isn't at the age where maintaining a body like Dwayne "The Rock" Johnson should be attainable, so some credit is due to this skinnier Santa for keeping in shape.
Santa Creates A Police Radio Out Of Junk
Santa and the kids steal a stolen Dodge Challenger in order to find the reindeer faster, but it's obviously needed to avoid the police at the same time. To help them do this, Santa takes tin foil, a spring, wires and an air freshener to turn the car's standard radio into a police radio. When asked how he managed to do that, Santa replies "I am the greatest toymaker on Earth."
Who doesn't like a man who's good with his hands? If Kurt Russell's Santa can repurpose a radio within a couple minutes, imagine how useful he'd be when it comes to other house projects? Not even a combination of Tim Allen's Santa Claus and Tim Taylor could match his usefulness!
Plus, a Santa that creative and able to think on the fly has to be great in conversation. The Christmas Chronicles hero seems to know the wants of whatever person he's speaking to which, obviously, adds to his sex factor. Mrs. Claus likely doesn't want for anything when Santa's around, and I do mean anything.
Santa Keeping Cool Under Police Interrogation
Santa and the kids try their best to outrun the police in the Dodge Challenger, but eventually, the law catches up with him. Santa ultimately turns himself in so that the children can escape with the reindeer, and heads down to the station for questioning. Jolly Old St. Nick gets thrown through the wringer in interrogation, but manages to keep his cool all the way through.
This is particularly impressive (and hot) considering his typical Santa tricks prove to be largely ineffective against Martin Roach's Officer Poveda. Santa pulls a classic Hot Wheels car, an astronaut Snoopy and an in-box Kenner Han Solo, but the officer is impervious to what he may think are Jedi mind tricks. He even doesn't believe Santa's the real deal when the man brings his ex-wife into the conversation, which had to be frustrating to Old St. Nick.
Despite that, Santa stays cool as a cucumber despite the fact that his failure to deliver presents might result in World War III. The ability to remain calm even in the face of pressure is often considered sexy, and The Christmas Chronicles put Santa in some immense pressure in this situation. He stays cool regardless, and manages to throw in some classic Kurt Russell faces that may make a few swoon upon seeing.
Santa Performs Does The Jailhouse Rock
Many famous musicians and sex icons have performed in prisons throughout the years. Elvis Presley, Johnny Cash, and now Santa Claus can add his name to the list thanks to The Christmas Chronicles. Kurt Russell's Santa struts and sways along the jail cell, and pulls out a bunch of instruments for his cellmates to play while he puts on a special performance for the folks in lockup on Christmas Eve.
He does this with a rousing performance of "It's Christmas Time Pretty Baby," which is on the list of the most sexual holiday-themed songs in existence. Sure it may not be the pinnacle of sexualized Christmas songs, but it's restrained, which can be sexier in some scenarios. It's also age-appropriate, and while it would've felt more modern, Santa singing Lady Gaga's "Christmas Tree" may not have had the same effect.
Santa's got some swag in his performance, and that glint in his eye that just says "I'm killing it." Confidence is a key factor in self-sexiness, and Kurt Russell's Santa is just overflowing with it during this musical number. That said, who wouldn't feel confident when they have rock legend Steven Van Zandt backing them up on the guitar?
Santa Hanging With Mrs. Claus
Once the adventure is over and all is said and done, Santa is back home and relaxing after another successful Christmas. Here, we see Santa wearing some dashing looking reading glasses and a somewhat dressed down, but still very Santa look. Tan France would be proud of the character's at home look, and the fact that Santa is keeping himself on fleek for the Mrs.
Who wouldn't feel pressured to keep up their appearance when The Christmas Chronicles' Mrs. Claus is played by none other than Goldie Hawn? Having Kurt Russell's actual wife appear as his better half in the film was a great touch, and did a great job of showing how this Hollywood power couple has aged like a fine wine. Looking that good at that age requires work and dedication, which again, is something that can add to one's sex appeal.
As a bit of added sexiness, Santa goes through a hellacious night and still has enough energy to chill with the wife and watch a film. Granted, that film is apparently going to be a home video of his exploits throughout the evening, which might be his attempt to get her all hot and bothered. It might do the trick, although he might need to fill in the blanks between some of the moments so she understands what's happening.
The Christmas Chronicles is now streaming on Netflix. For more about Kurt Russell and his sexiness, feel free to read up on his claim that his scene as a young man in Guardians of the Galaxy 2 was done without extensive use of makeup.
Your Daily Blend of Entertainment News
Mick likes good television, but also reality television. He grew up on Star Wars, DC, Marvel, and pro wrestling and loves to discuss and dissect most of it. He's been writing online for over a decade and never dreamed he'd be in the position he is today.