NYPD And LAPD Have Exchanged Funny Die Hard Messages For The Holidays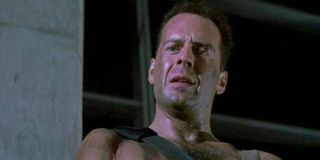 It's tough working during the holidays, but to bring about a bit more holiday cheer this year, the LAPD and NYPD have taken to social media to say some nice things about their partners in blue on the opposite coast. It all started when the NYPD acknowledged the fine work the LAPD did during the events of Die Hard to take down Hans Gruber. Thanks Al Powell. But we'll let you take a look yourself...
The character of John McClane is a no-nonsense New Yorker, which is how there is a connection to the LAPD and the NYPD in Die Hard. In the first flick, McClane, a police officer, is traveling to Nakatomi Plaza in Los Angeles to meet his recently estranged wife Holly Gennaro for her Christmas Eve workplace party. He's not there to be a police officer, but when terrorists strike Nakatomi Plaza, he rises to the occasion and takes down Hans Gruber
By Die Hard 2, John McClane has left New York, taking on new duties as an LAPD police officer to be closer to his family. (In fact whether McClane is with or not with Holly and whether or not he's speaking with his kids factors into most Die Hard franchise movies.)
The LAPD gamely responded to the NYPD this holiday season with a Die Hard-oriented tweet of its own. However, of course whoever wrote the tweet couldn't stop before they got a "best coast" reference in there...
Personally, the best part of both of these tweets is that they roll with the hashtag #yesitsachristmasmovie. The question of whether or not Die Hard is actually a Christmas movie has long been a fun debate on the Internet and in households across America. The Goldbergs even did an episode on Die Hard tied to the holiday this year.
A new poll recently revealed that only 25% of responders find Die Hard to be a Christmas movie, despite the fact that it is set during the Christmas season, there's a holiday party and Christmas is referenced frequently. (Clearly, you can see where I stand.)
Bruce Willis himself has joked about Die Hard not actually being a Christmas movie and I suppose the actor would have the most weighted opinion on the matter. However, Steven E. de Souza, who wrote Die Hard, has come out to say he does believe the flick is a Christmas movie.
Regardless, this is one debate that will be unlikely to ever really be settled, no matter what evidence or arguments are eventually presented. In fact, keep 'em coming. And yippee ki yay Merry Christmas to the NYPD and LAPD.
Amazing Race & Top Chef superfan with a pinch of Disney fairy dust thrown in. Theme park junkie. If you've created a rom-com I've probably watched it.
Your Daily Blend of Entertainment News
Thank you for signing up to CinemaBlend. You will receive a verification email shortly.
There was a problem. Please refresh the page and try again.