Sandra Bullock's Most Memorable Movies (Because She's Not Just the Lady From Bird Box)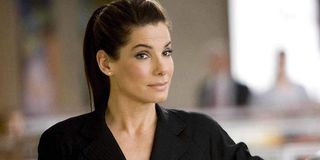 If you logged onto social media over the holiday season, chances are you've seen a blindfolded Sandra Bullock from Netflix's Bird Box going viral as the star of a lot of internet memes. A LOT of people watched the sci-fi horror film within the first week of its release. Netflix even reported that Bird Box hit a record for the streaming giant, as over 45 million users watched it within its first seven days. However, something concerning sprung amidst all this Bird Box excitement. There are actual people in the world who don't know who Sandra Bullock is. Take a look:
It's a terrifying reality. However, when you think about it, before 2018, Sandra Bullock has mainly appeared in last year's Ocean's 8 and Gravity in 2013. So for the younger generation who is more likely to regularly watch Netflix than re-runs of her past work on TV, it is possible this acting queen hasn't been on many people's radar. This is unacceptable. Sandra Bullock is not only an accomplished and Oscar-winning actress, she is also a producer, philanthropist, mother of two and reportedly has a net worth of $200 million. If you're just discovering Sandy, I'm honored to be your guide through this list of her best roles over 30 years, and all are welcome to this trip down memory lane.
Speed
Alright, pop quiz -- how did the career of the one "lady from Bird Box" famously launch? With the 1994 action classic Speed, of course! In this thrill ride, Keanu Reeves stars as an LAPD officer who tirelessly tries to stop a ruthless bomb terrorist and Sandra Bullock plays the young LA bus driver who has to keep steering it at over 50 mph prevent the bomb onboard from exploding.
While You Were Sleeping
This genuinely hilarious rom-com sees Sandra Bullock playing a lonely transit token collector named Lucy who saves her secret crush (Peter Gallagher) from being hit by a train on Christmas Day and is mistaken by his family as his fiancée. She kind of just goes with it because she falls in love with the warmth the family treats her with and starts to form a special connection with his younger brother (Bill Pullman). It's quite the underrated holiday charmer.
Practical Magic
Sometimes we forget that Sandra Bullock and Nicole Kidman played witch sisters back in 1998. In Practical Magic, Sally and Gillian Owens are faced with a curse that kills off any man they fall in love with. Bullock's Sally is much more careful then her eccentric sister about letting her heart guide her until she starts to fall for the police detective (Aiden Quinn) who is investigating the deaths of the doomed men who have crossed Gillian's path.
Miss Congeniality
Miss Congeniality will likely go down in history as Sandra Bullock's most iconic roles because of its many hilarious, quotable moments and because her character beautifully subverts what was typically expected of women at the turn of the 21st century. Bullock as a one-of-the-boys F.B.I. agent who goes undercover in the Miss United States beauty pageant helped position her as a refreshing leading lady for audiences.
Crash
This 2004 Best Picture winner from Paul Haggis follows the lives of a handful of people living in Los Angeles in a 36-hour period as each of their lives start to intertwine. Among them, Sandra Bullock plays the wife to a district attorney (Brendan Fraser) who has recently been carjacked by two black men. Her racist view of the situation plays a vital role in the important conversation of race relations in America that Crash discusses.
The Proposal
Before Ryan Reynolds was cracking us up in the Deadpool films, he too was once was a rom-com regular, one of which had him starring alongside Sandra Bullock. Before Crazy Rich Asians broke its record over the summer, The Proposal held as the highest-grossing movie in the genre for almost a decade. If you don't know it, Bullock forces her assistant (Reynolds) to marry her so she doesn't have to get deported back to Canada.
The Blind Side
Sandra Bullock became a Best Actress Oscar winner after portraying real-woman Leigh Anne Tuohy, who famously took an African-American named Michael Oher and helped him become the famous football player for the Baltimore Ravens. The Blind Side features one of Bullock's most transformative roles to date as she shed her comedic roots to become an affluent mother from the South with some truly memorable scenes.
The Heat
At a time when Melissa McCarthy really started coming in hot on the big screen, Bullock thankfully came along the ride in The Heat, a buddy cop masterpiece. This pair of funny woman have an electric chemistry on screen as McCarthy plays a foul-mouthed cop from the streets to off-set Bullock's at-first proper F.B.I. agent on a hilarious chase to take down a drug lord.
Gravity
Prior to working with Netflix on his passion project Roma, Alfonso Cuarón helmed a critically-acclaimed/blockbuster hit Gravity, starring Sandra Bullock and George Clooney. The drama has the actress playing an astronaut who is stranded in space after a terrible accident. It's perhaps her most vulnerable and trying performance as an actress, as she must carry the film much on her own with only the backdrop of cold and lifeless space behind her.
Ocean's 8
In summer 2018, Sandra Bullock led a female-led spinoff of the Ocean's Eleven series alongside Cate Blanchett, Anne Hathaway, Helena Bonham Carter, Mindy Kaling, Rihanna, Awkwafina and Sarah Paulson. The new take on the franchise wasn't the year's biggest hit, but Ocean's 8 showed great potential for a new heist franchise starring women, and having Sandra Bullock at the center was the perfect move.
Sandra Bullock has had an incredible career thus far, and her lead role in Bird Box definitely will earn a place among this list since it's been all the rage recently. Check out my review on her latest role in the horror film, and I hope you check out some of these other titles!
YA genre tribute. Horror May Queen. Word webslinger. All her writing should be read in Sarah Connor's Terminator 2 voice over.