Predicting the Highest Grossing Superhero Movies of 2019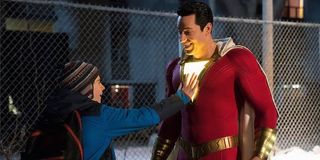 Superhero movies have been Hollywood gold for the last few years now. Whether it's something epic like Avengers: Infinity War or smaller scale adventures like Venom, audiences flock to the theater to check out the high-flying spectacle. 2018 was a big year for superhero movies, but 2019 might blow all of that out of the water.
This year is jacked with superhero movies. There will be a whopping total of nine live-action superhero films. That's partly by accident because two of them were delayed until 2019, but still! This year's superhero films come in all sorts of shapes and sizes, each one vying to be the box office king. Here are my predictions for what will be the highest grossing superhero films of 2019, taking into account brand, budget and previous entries in the universe.
9. Joker
Perhaps the most intriguing superhero film hitting theaters in 2019 is Joker. Coming from Warner Bros. and director Todd Phillips, the film is a loose adaptation of the iconic DC supervillain and his origin. The movie is entirely unconnected to the current continuity of the DCEU. This film definitely has comic book fans curious, but it's still such a dark horse. Based on leaked set photos and plot details, Joker feels less like a superhero movie and more an Oscar-friendly crime thriller (which is likely intentional), which means its box office probably won't be as massive as others entries on this list.
8. Hellboy
It might not be Hellboy 3, but Big Red returns in an all-new reboot starring Stranger Things' David Harbour. The reboot takes bigger inspiration from the comic books than Guillermo del Toro's beloved films, pitting Hellboy against a witch bent on unleashing his inner demon. Hellboy has some tough competition in April with Shazam! and Avengers: Endgame, both of which are more high-profile. Anticipation for the film seems muted at the moment, but that could change as the marketing really ramps up and we get some more footage.
7. Glass
The sequel nobody knew was coming, Glass is a follow-up to Unbreakable, M. Night Shyamalan's 2000 superhero movie that ended up being a bit ahead of its time. Glass is also a sequel to Split, the horror thriller smash hit that took home $278.5 million worldwide. That success had more to do with the fact that people love (good) horror movies right now, and less that it was connected to Unbreakable, but there's no doubt that people are excited to return to this universe. It's got a great cast, the trailers have been on point, and it's got a similar release date to Split, so Glass will likely run away with January no problem... not that there's much competition.
6. New Mutants
Fox's New Mutants saw a pretty significant delay when it was pushed back over a year to August 2019. However, that was reportedly to make the film scarier, which could work out well for New Mutants. Set in the X-Men universe, New Mutants follows a group of young mutants being held in a secret facility against their will and must contend with their powers and the hidden terrors of the facility. A superhero-horror hybrid should be a match made in heaven. Horror movies have been on an uptick both in quality and performance over the past few years, so if New Mutants promises the scares, then it could draw in major crowds this year.
5. Dark Phoenix
The core X-Men franchise has had some tough breaks since the critically and commercially underwhelming X-Men: Apocalypse, and Dark Phoenix could be the last chance to turn things around. Longtime franchise scribe and producer Simon Kinberg steps up to direct a more faithful adaptation of one of the best X-Men stories ever told. The movie was delayed for reshoots, and the future of the franchise has been subject for debate ever since Disney bought Fox, but that doesn't necessarily factor into the box office. The franchise has seen better days, but it seems to finally be embracing the more comic book-y elements of superheroes (there are aliens!) that fans love, so with a good word of mouth, Dark Phoenix could see a solid turnout.
4. Shazam!
A month ago, I might not have put Shazam! as high on this list, but then Aquaman smashed it out of the waterpark by being fun and entertaining as hell. Based on what we've seen so far, fun seems to be the name of the game for Shazam! as well. Starring Zachary Levi, the film follows a young orphan who is given immense power by a wizard, transforming into an adult superhero alter-ego. The mind and personality of a kid in the body of a grown superhero is rife with comedic potential. DC and Warner Bros. will really have to ramp up the marketing this year to bring the film to people's attention, but the movie seems poised to place the DCEU in a hot streak.
3. Spider-Man: Far From Home
We've had over a decade of Spider-Man films, but people haven't gotten sick of Spidey yet. The next solo outing from the popular character is Spider-Man: Far From Home, which finds Peter Parker heading overseas to Europe and battling the Elementals. The sequel directly follows Avengers: Endgame, which could give Far From Home a boost as people will be curious to see what the MCU is like after finally closing that chapter. Plus, people love Tom Holland, who I believe is the best on-screen Peter Parker. Again, this movie might be weighed down by the frequency of Spidey films, but there's a reason he's one of the most popular fictional characters ever created.
2. Captain Marvel
It took her a long time to get here, but Captain Marvel is finally ready to make her debut. Anticipation for the movie is high right now, partly because of the character herself and partly because of some recent (and excellent) trailers Marvel has released. The film follows Carol Danvers, an amnesiac warrior of the alien Kree who returns to Earth to discover her past and end an age-old war with the Skrull. Not only will Captain Marvel make a strong debut, but she will then go off to be a major player in Avengers: Endgame. Captain Marvel is sure to be a big ticket item for the MCU, and we'll wait and see if its numbers are more comparable to Black Panther or any of Marvel's other solo debuts.
1. Avengers: Endgame
Well, I couldn't have possibly picked anything else, now could I? Avengers: Infinity War grossed over $2 billion and Avengers: Endgame might actually have a shot at beating that monstrous figure. The movie is the conclusion to Phase 3 and the entire story told over the course of 10 years. The fact that it's a finale will likely bring in big crowds looking to say goodbye to some of these fan-favorite characters. It'll also attract casual movie-goers looking to find out the solution to Infinity War's epic cliffhanger. Throw in a good level of secrecy (no one knows anything about this movie) and you've got a recipe for the highest grossing superhero movie of the year.
So, what's your pick for best superhero movie? Let us know in the comments, below.
Your Daily Blend of Entertainment News
Matt has lived in New Jersey his entire life, but commutes every day to New York City. He graduated from Rowan University and loves Marvel, Nintendo, and going on long hikes and then greatly wishing he was back indoors. Matt has been covering the entertainment industry for over two years and will fight to his dying breath that Hulk and Black Widow make a good couple.