People Bullied Eighth Grade Star For Appreciating Bohemian Rhapsody's Globes Win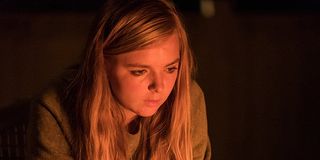 At this past weekend's Golden Globe Awards, Bohemian Rhapsody pulled off a huge upset, taking home the prize for Best Motion Picture-Drama and beating out frontrunner A Star is Born. One person thrilled at this upset was Eighth Grade's Elsie Fisher, who was nominated for Best Actress in the Musical or Comedy category. The actress tweeted out her excitement about Bohemian Rhapsody and Rami Malek's win, only to be unexpectedly bullied for it. Take a look:
In Eighth Grade, Elsie Fisher's Kayla was quite savvy with social media, but in real life, the actress had to be reminded of the often ugly side of it. In response to her tweet, some people felt the need to rain on her parade, bullying her for liking the film and celebrating its win. Some people replied to Elsie's tweet with comments saying that her happiness at Bohemian Rhapsody and Rami Malek's wins was why Elsie Fisher didn't win a Golden Globe for her performance in Eighth Grade.
The bullying response to Elsie Fisher's tweet seemed to stem not from Bohemian Rhapsody's lukewarm critical notices, but from the various controversies surrounding the film. Bohemian Rhapsody has been accused of playing it safe and glossing over Freddie Mercury's sexuality and battle with AIDS, a choice that didn't sit well with some in the LGBT community.
There is also the fact that Bohemian Rhapsody was directed by the controversial Bryan Singer, who has been the subject of sexual assault allegations. So the backlash against Bohemian Rhapsody's win and Elsie Fisher's enthusiastic response to it come from people that feel that this film should not be celebrated because of these issues, and anyone who does so is deserving of condemnation.
As you can see, Elsie Fisher was taken aback by the negative responses to her seemingly innocuous tweet, and she told USA TODAY that she didn't know the full story about Bryan Singer beforehand. Elsie later tweeted that she wants to be educated if she does something problematic and that she wants to grow. She simply did not know everything in this situation.
It is frankly quite sad that Elsie Fisher, a 15-year-old, was bullied because a movie she liked won an award and she was happy about it. The situation around Bohemian Rhapsody is not black and white, and people will have different opinions about it. Some people simply didn't think that the movie deserved the win and it is indeed the lowest rated winner in decades, but these issues are more complicated than Rotten Tomatoes scores.
Bohemian Rhapsody was a safe crowd-pleaser that audiences generally loved and was wildly successful, but it didn't delve into Freddie Mercury's sexuality as some people thought it should have. There is also the question, one that is sadly asked quite frequently these days, of whether you can separate art from artist, and the answer may not be the same for everyone every time.
Does the fact that Bryan Singer is on the film mean that Dexter Fletcher who replaced him deserves no credit? Is Rami Malek's incredible performance negated by the fact that Singer directed? What about all of the other people who put their heart and soul into the film or took a job as a crew member to feed their families, is their work to be condemned?
Personally, the way I see it, Bryan Singer was fired from Bohemian Rhapsody, he wasn't at the ceremony, he wasn't nominated, he didn't win an award and he wasn't thanked in the speeches. If you don't want to support the film, that's a defensible position, but when you bully a 15-year-old for loving for a film and not knowing about these issues, you lose whatever moral high ground you think you had.
For those who did love Bohemian Rhapsody, it hits Digital HD on January 22 and arrives on 4K Ultra HD, Blu-ray and DVD on February 12, complete with the full Live Aid performance. Check out our guide for this year's biggest releases, and for all the latest in uncontroversial topics, stay tuned to CinemaBlend.
Your Daily Blend of Entertainment News
Nick grew up in Maryland has degrees in Film Studies and Communications. His life goal is to walk the earth, meet people and get into adventures. He's also still looking for The Adventures of Pete and Pete season 3 on DVD if anyone has a lead.