Chris Pine Says He's Done With Steve Trevor After Wonder Woman 1984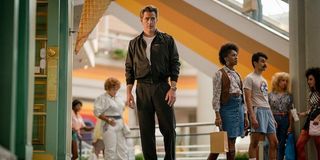 Considering that Steve Trevor died during Wonder Woman's climactic third act, needless to say that there were many people surprised to learn that he's back in Wonder Woman 1984. We still don't have any official details about how the pilot is both alive and still looking youthful over 60 years after World War I, but for those wondering if this means Steve will be sticking around the DC Extended Universe afterwards, Chris Pine says that Wonder Woman 1984 will be the last time he plays the character. In Pine's words:
Since Wonder Woman 1984 was recently pushed back from fall 2019 to summer 2020 (it's now following four months after Birds of Prey), we have an even longer wait ahead of us to learn what's going on with Steve Trevor in the sequel. However, when asked on if Steve could be involved with Wonder Woman 3, Chris Pine told ET that Wonder Woman 1984 is likely to be his final outing as the character.
Director and writer Patty Jenkins already has "clear plans" for Wonder Woman 3 should that get the green light, and considering her close professional relationship with Chris Pine (they also worked together on the TNT limited series I Am The Night), presumably she's already clued the actor in on what said plans are, hence his comment. It is possible things could change later down the line, but for now, Pine sounds like he's made peace with leaving Steve Trevor behind.
Of course, those who've seen Batman v Superman: Dawn of Justice and Justice League shouldn't be shocked to learn that Steve Trevor isn't in Diana of Themyscira's life post-1984. This wasn't expressly stated in Batman v Superman since that movie came out over a year before Wonder Woman, but since it was set a century after World War I, naturally it was assumed he'd died a long time ago. Then in Justice League, which came out five months after Wonder Woman, Diana expressly talked about Steve and how she lost him.
At the time of Justice League's release, we assumed Diana was indirectly referring to how Steve Trevor sacrificed himself aboard that plane to destroy Doctor Poison's deadly gas in Wonder Woman, but now we know that she has one last encounter with him in Wonder Woman 1984. Again, we don't know how Steve has popped up in 1984 and what he'll be doing, although Patty Jenkins has assured fans that this indeed Steve and not someone in disguise, a hallucination, etc. That leaves resurrection on the table, and since Wonder Woman 1984 is pulling from the mystical/mythical realm like its predecessor, it's easy enough to imagine powerful forces being harnessed to bring Steve back, and in era-appropriate attire no less!
Part of me hopes that Patty Jenkins finds a loophole to bring Chris Pine back for Wonder Woman 3, specifically by pulling a page from the Wonder Woman TV series' book and having Pine play one of Steve Trevor's descendants. I'm not sure how that would work since Steve didn't mention having any children in Wonder Woman, and presumably he won't have much time to form a meaningful relationship with anyone new in Wonder Woman 1984, but just like how Lyle Waggoner played Steve Trevor Sr. and Jr. in the Lynda Carter-led show, it would be amusing to see Pine keep that trend going on the big screen.
If Steve Trevor does manage to conceive a son during Wonder Woman 1984, that means that Steve Jr. (or whatever he would be named) would be close to Chris Pine's actual age. So if Wonder Woman 3 is set in the present, then it would be easy enough to have Diana cross paths with Steve Jr. Maybe he's an agent of ARGUS like his comic book counterpart, or maybe he's in another line of government/military work. Either way, imagine the surprise on Diana's face to learn that not only did the man she once loved have a son, but he looks just like his father. But hey, that wouldn't be the weirdest thing to happen in the DCEU.
While we last saw Wonder Woman in the present day deciding to become a public superheroine after defeating Steppenwolf alongside Batman, Superman, Aquaman, Flash and Cyborg, her sequel adventure opted to wind the clock back to when she was still keeping a low profile… relatively speaking. All we know so far about Wonder Woman 1984 is that it will involve Diana coming into conflict with the Soviet Union during the waning days of the Cold War. In the midst of that, she'll clash with Kristen Wiig's Barbara Ann Minerva, a.k.a. The Cheetah, one of Wonder Woman's most iconic foes from the comics.
Along with the previously mentioned actors, Wonder Woman 1984's cast also includes Connie Nielsen and Robin Wright reprising Hippolyta and Antiope, respectively, as well as Pedro Pascal, Natasha Rothwell, Ravi Patel, Gabriella Wilde, Kristoffer Polaha and Oakley Bull in undisclosed roles (although it has been theorized that Pascal is playing Maxwell Lord). In addition to stepping back in the director's chair, Patty Jenkins co-wrote the script with Geoff Johns and David Callaham.
It will be a while until we learn if Wonder Woman 3 is happening, but if Wonder Woman 1984 is anywhere near as critically and commercially successful as Wonder Woman, no doubt Warner Bros will give it the go-ahead, especially since Jenkins has indicated that the threequel would "end her incarnation" of the character. It would be weird not having Steve Trevor around since he's an integral part of the Wonder Woman mythology, but we're lucky that we're being treated to a second appearance from him next year.
Wonder Woman 1984 is now set for release on June 5, 2020, so stay tuned to CinemaBlend for continuing coverage. In the meantime, browse through our DC movies guide to learn what else is in development for the DCEU, or look through our 2019 release schedule to plan your trips to the theater later this year accordingly.
Your Daily Blend of Entertainment News
Connoisseur of Marvel, DC, Star Wars, John Wick, MonsterVerse and Doctor Who lore. He's aware he looks like Harry Potter and Clark Kent.