Wait, What Did You Think Will Smith's Live Action Genie Was Going To Look Like?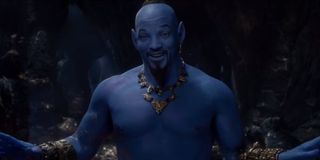 Last night, we got our first look at Will Smith taking on the iconic role of the Genie in Disney's live-action version of Aladdin. To say the least, social media is unimpressed with the big blue Will Smith, but what's unclear to me is why anybody was expecting anything else.
Ever since the "human" version of Will Smith's Genie was revealed on the cover of EW, what we see in the new trailer is pretty much exactly what I was expecting to see when the promised blue version was revealed. He looks pretty much exactly like Will Smith, except he's blue.
If people were expecting something that looked like the Robin Williams version, only created with CGI rather than traditional animation, then they were clearly not paying attention.
This is, after all, the "live-action" version of Aladdin and you don't hire Will Smith for a live-action movie and not have him look like Will Smith. His face was always going to be a big part of selling this movie to people. While you could have had Will Smith voice a CGI character that looks nothing like him, you're only getting half of what you paid for in that case. And Will Smith's career as voice actor hasn't been all that stellar.
Having said that, the iconic Aladdin genie is also blue, and fans of the original want the nostalgia of the big blue guy. Put the two together and this is what you get.
I'm not saying Will Smith looks absolutely amazing here, though I don't think he looks all that bad honestly. Though, that may be because this is exactly what I was expecting to see and so I was more prepared than apparently everybody else on the internet.
If anything, the biggest issue to me is that he looks like every other damn person who has ever played a genie in the history of film. There's a lack of creativity, but that's about it. He looks boring, not bad.
Of course, a lot of people have very different reactions to mine.
Comparisons to Will Smith being a Smurf or being one of Na'vi from Pandora have been all over social media. The Arrested Development memes have been flowing freely.
It seems that most of the criticism seems to simply be the fact that Will Smith is blue, which, as you might recall, was the problem that everybody had with the first look at Will Smith in the role, because he wasn't blue. At the time, Will Smith took to social media himself to put everybody at ease and promise that he would be blue in the film. Now, he's followed through on that, and people are still freaking out.
Of course, there are those who take issue with more than simply his blueness. While Will Smith pretty much looks like Will Smith here, he is clearly a CGI version of Will Smith, and for some that has led Aladdin into the uncanny valley.
I'll be honest, i just don't really see it. Is the Will Smith Genie a little "off." I suppose, but to my eye it's not so much that it's a real problem. The Genie, after all, isn't human, and so the fact that he doesn't look perfectly human doesn't bother me. It's like the giant eyeballs the main character has in Alita: Battle Angel. It looks disconcerting, but you get used to it, and it makes sense because the fact that the character doesn't look quite right is part of the point.
The creation of the new Genie was always going to be a dicey situation for the live-action Aladdin. The character voiced by the late Robin Williams has become one of Disney's most iconic voices. Disney had to balance the desire for nostalgia, to see something that they remembered, with the fact that nobody could ever duplicate that original performance. The choice of Will Smith was clearly meant to separate this new Genie from the old in a big way. The decision to make the character also look more like a normal person (but, you know, blue) was also part of that decision making process.
We also need to be prepared, however, for the fact that this isn't actually the final version, or even the only other version, of the Genie that we will see. The movie isn't out until May and the final post-production effects likely aren't finished yet. it wouldn't be the first time that what we saw in a trailer wasn't quite what we got in the final movie.
It's also possible that the Genie will take other forms throughout the movie. In the same way that we've seen a non-blue Will Smith that will be part of the story, it's also possible that we could get a non-humanoid version as well. He is a Genie after all, capable of magic and making himself look however he likes.
Either way, odds are we'll just be getting the non-blue version of the character more than anything in Aladdin, as it will allow the character to be part of the story without tipping off to the bad guys that he is, in fact, the Genie.
It seems that the new live-action Aladdin is just going to be one of those movies that fans like to have fun with. I'm not going to pretend that the meme-worthiness of blue Will Smith isn't there. The only real question is will the character be so out of wack for people that they can't enjoy the movie, or is this version of the character evidence that there won't be much to enjoy in the movie in the first place.
We'll probably get to see a bit more of Will Smith's Genie between now and the film's release in May. Whether those additional looks will help people relax or make them freak out more, we'll have to wait and see.
What do you think of the blue Will Smith? Is this nightmare fuel or is it pretty much what you were expecting to see as well? Let us know in the poll below.
This poll is no longer available.
Your Daily Blend of Entertainment News
Content Producer/Theme Park Beat
CinemaBlend's resident theme park junkie and amateur Disney historian. Armchair Imagineer. Epcot Stan. Future Club 33 Member.