6 Things I Learned Bringing A Child To Walt Disney World For The First Time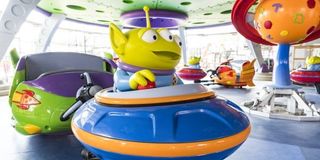 There are few people in the world who don't enjoy a good theme park. Whether you like the rides, parades, fireworks or just eating loads of food that is terrible for you, but tastes amazing, there's something there for everybody. I say this as somebody who first visited Disneyland when he was 10, but didn't truly fall in love with the place until I went back when I was an adult.
My wife and I have visited Disneyland and Disney's California Adventure more times than I can count over the last decade or so. Sometimes it's with other friends, sometimes it's just the two of us, but we always had fun enjoying everything the parks had to offer. As a couple of adults without kids, we had nearly complete freedom.
Then, a little under two years ago, my wife and I had our first child. Needless to say, the spur of the moment weekend trips to Disneyland stopped at that point. However, a long scheduled trip to Walt Disney World recently did take place, and while bringing along a toddler for the first time certainly changed the experience in a bunch of obvious and predictable ways, it also brought about several realizations that I did not see coming.
Disney's Hollywood Studios Is Kind Of Terrible For Kids
To be clear, Disney's Hollywood Studios isn't a terrible theme park. It certainly has its issues, as there aren't a lot of major attractions there to experience at the moment, but the recently opened Toy Story Land and the forthcoming Star Wars: Galaxy's Edge look to fix that in a big way. However, it's a pretty bad park if you're a small child. Pretty much all the major attractions are for the big kids and grown-ups only. The only ride of any kind that my daughter was able to experience was the Alien Swirling Saucers in Toy Story Land, and even that one was near miss as she only barely made the height requirement.
What Disney's Hollywood Studios has in lieu of rides is a lot of shows, and your kid can certainly go to those. But if you have a kid who is small enough, and therefore young enough, to not be able to do the rides, getting them to sit and watch a show isn't a simple task. By the time they're old enough to enjoy the Indiana Jones Stunt Spectacular the kid will be able to do the other attractions as well. As it stands, there's basically one ride that small children can even do.
Traveling With Friends Or Family Is A Must
This particular Walt Disney World vacation was a celebration of sorts, and as such we invited literally all of our friends to join us. Obviously, not everybody did, but we ended up with a dozen other people joining our family on the trip. While this was a lot of fun simply by virtue of being able to share the experience with a lot of great people, it also turned out to be a lifesaver as the more people you have, the more eyes you have on little ones.
One of my personal favorite things to do at Walt Disney World is eat. There are so many fantastic restaurants, especially at Epcot's World Showcase, that you'd need to spend a week in that park alone to enjoy them all. Kids, however, are less interested in savoring a fine meal. Mom and dad trying to enjoy an entree with a kid around is tough, but when a couple extra people join you for dinner, there are enough people capable of distracting the kid that everybody can take turns and everybody will also have enough time to actually enjoy their food. Having friends willing to watch the kid so you can go out and eat at least one meal without the child is also very welcome.
Ride Swap Is Great, Even If You're Not The One With Kids
Ride Swap is the option to have one person wait in a line for an attraction, usually one a child can't ride at all, while another stays with the kid. Then, after the first person rides, the second person gets to use the FastPass queue while the first waits with the kid. It's great for parents who both want to go on Space Mountain when the child is too small to join them.
However, the Ride Swap can actually be used up on to three people for the second ride. This means that friends can actually FastPass into a ride without needing a FastPass at all, even if they're not "technically" watching the kid. Even people who get in line with the first party can use the FastPass line with the second party, getting two rides out of the deal. It also means that friends can watch the kid while mom and dad get to actually do a ride together every once in a while.
Reservations Are The Best And Also The Worst
As a frequent traveler to Disneyland, the hardest thing to get used to at Walt Disney World is the way you need to schedule your entire trip so far in advance. Restaurant reservations can be made six months out, and if you want to get a table at a popular spot during the prime dinner hour, you'll need to book it that far out. You can reserve three FastPasses per day of your trip 60 days out if you're staying at a Walt Disney World hotel, 30 days out if you're not. Don't expect to even be able to get a FastPass for the most popular attractions if you're not staying on property.
This level of scheduling isn't how I normally vacation; I prefer to have a bit more freedom. On the other hand, with kids, having some kind of schedule is quite useful. Knowing when and where you're eating lunch and dinner every day is one less thing to worry about, and you won't find yourself scrambling to figure it out while you (or your child) starts to get hangry. At the same time, schedules don't always work with kids. My daughter got sick one day early in our trip and we had to stay home from a planned day at Disney's Animal Kingdom. Because of the previous scheduling, that day was then lost. We couldn't just reschedule our meals or our FastPasses for later in the week, as those slots were already taken by others. The day was a complete waste.
Walk-Around Characters Can Be Terrifying
The major reason I don't have photo albums full of pictures of myself with costumed walk-around characters is because the lines are usually too damn long. I can justify standing in line for a roller coaster, but for a picture, it's just too much. Still, I would have done it if my daughter had shown any interest in getting near the characters. I gave her a stuffed Mickey Mouse for Christmas entirely so she would get used to the character and potentially recognize him when they met.
But like many small kids, my daughter had no interest in getting that close. Interestingly, she found the costumed characters very interesting from a distance. They always caught her eye and she'd look and point at them, but the closer we got, the less curious she became. Seeing through her eyes, you begin to understand where she's coming from. While some costumed characters can actually have voices, most of the ones you meet walking up and down Main Street U.S.A. are large and mute. How is that not scary to everybody?
There's Nothing Quite Like Watching Somebody Enjoy Walt Disney World For The First Time
In a lot of ways, going to Walt Disney World with a kid is as much chore as it is vacation. There's a lot you have to do and even more you have to think about that was never a concern for me only a couple years ago. Considering my daughter could only experience a fraction of the parks, and it was far from clear how much she even comprehended the parts that she could do, it's a lot of work for remarkably little activity.
But man, when everything fires just right, the magic really does happen. The look on her face as we went spinning around in the teacups was like nothing I'd ever seen before. I'd been on these rides a thousand times, but with her it was like doing them all again for the very first time. When the biggest tantrum comes after the toddler realizes she can't just go on the ride again immediately, it's a less frustrating tantrum for dad. Honestly, I was bummed we couldn't just do it again too.
There will be many more theme park vacations for my daughter in the future. Of that, I can be certain. With each one we'll be able to do and share more. We'll both learn a lot with each one. I can't deny that I'm kinda looking forward to getting to the point where she's old enough that she won't even want to hang out with mom and dad, if only so mom and dad can go back to enjoying the parks the way we used to. But until then, I'll look forward to the next time this kid finds herself on Main Street U.S.A.
Images courtesy WDWNews.com/DisneylandNews.Com/Disney
Your Daily Blend of Entertainment News
Content Producer/Theme Park Beat
CinemaBlend's resident theme park junkie and amateur Disney historian. Armchair Imagineer. Epcot Stan. Future Club 33 Member.