Michael B. Jordan's Superman Movie Idea Could Actually Be A Cool DC Project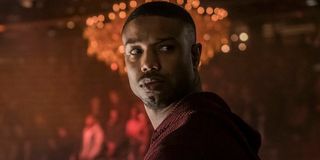 It's a weird time for Superman on film right now. Following his resurrection in Justice League, there are no plans to bring the Man of Steel back to the DC Extended Universe anytime soon, and last year it was reported that Henry Cavill was leaving the role behind. Warner Bros has stayed cagey about what's in store for Superman, and shortly after this Cavill rumor broke, it was also said that Michael B. Jordan was being looked at to fill the Kryptonian hero's shoes. Cut to earlier this month, Jordan said that if he were to play Superman, he would rather be the Calvin Ellis version rather than Clark Kent. That could actually make for an interesting project, because not only would make for a much different kind of Superman movie than we're used to seeing, but there's already a precedent for delivering an Elseworlds-like story to moviegoers.
Before going further, for those of you who don't know who Calvin Ellis is, he is the Superman of Earth-23, one of the many alternate realities that populate the DC Comics multiverse. Created by writer Grant Morrison and artist Doug Mahnke, the first chunk of Calvin's life basically plays out the same way as Clark Kent's. Born Kalel on the planet Krypton, he was sent to Earth by his parents as an infant before his homeworld exploded. Kalel was found by the Ellis couple and named Calvin. Just like Clark Kent, he gains incredible powers from Earth's yellow sun and was raised to use these powers to protect the innocent both on our world and around the universe. But the main thing that separates Calvin Ellis from Clark Kent is as an adult, Calvin is also the president of the United States. So along with helping people as a superhero, Calvin also works on the political front to do that, using a reprogrammed Brainiac to cover for him when he has to put on the cape.
Thus far, Calvin Ellis has appeared in comic books stories like Final Crisis and The Multiversity, but he has yet to lead his own series. Nevertheless, there's enough interesting material available to build the skeleton of a cinematic story, allowing for a screenwriter and filmmaker to then come in and leave their own creative stamps. The result: a standalone Superman movie quite different than what we've gotten the last six times, plus Batman v Superman: Dawn of Justice and Justice League.
As great as it would be to see Henry Cavill return for Man of Steel 2, we have no idea when, or even if, that will happen. In the meantime, Michael B. Jordan, who's already a huge star thanks to the Creed movies, Fruitvale Station, Black Panther and more, has a first-look deal with Warner Bros, which will see him starring in features like Just Mercy. Clearly he has a good relationship with the studio, so Warner Bros would have an easier time signing him onto such a major blockbuster (when he's not busy playing John Clark at Paramount). After all, Jordan has plenty of experience in the comic book realm and has clearly proven he can lead a franchise. Being the Calvin Ellis Superman could be his most impactful genre role yet.
Plus, as I mentioned earlier, Warner Bros has already expressed an interest in making 'outside the box' DC movies. Look at the upcoming Joker starring Joaquin Phoenix. Not only is it set outside of the DC Extended Universe (hence why we're not seeing Jared Leto playing the Clown Prince of Crime), but it's also clearly quite comfortable with not following the established source material closely. Rather than transforming into The Joker during a confrontation with Batman, Phoenix's Arthur Fleck will adopt his sinister clown persona in 1981, when Bruce Wayne is still a boy and both his parents are still alive. Behind the scenes, Joker reportedly had a budget of around $55 million, as this movie is intended to be more of a character study rather than a major spectacle like what we normally get from comic book movies. Director Todd Phillips and writer Scott Silver, while taking some cues from the comics, are telling a Joker story that is free from the need to stay faithful to traditional depictions.
This is the same approach a Calvin Ellis Superman movie would take, although obviously the budget would need to be bigger than $55 million. Instead of exploring the story of Clark Kent fighting crime, reporting for The Daily Planet and building a relationship with Lois Lane that we've seen numerous times already, Michael B. Jordan's Superman movie would show Calvin Ellis balancing his superhero duties with his responsibilities as U.S. President. Even with his powers and an alien A.I. helping him out, it's safe to say that's stressful, and who knows if Calvin even has time to have a social life on the side. Maybe Calvin also struggles with what job of his does the more good, and if dedicating too much time doing one of them hampers the effectiveness of the other. That's an incredibly compelling narrative to delve into.
And just because this would be a Superman movie doesn't mean other superheroes couldn't appear. Earth-23 has its own Justice League, so why not bring them into the fold as well? It's extremely unlikely that an entire Earth-23 franchise would ever be made, so while Superman would be the star of the show, it would be great to see him fighting alongside his frequent allies, many of whom are black versions of traditionally white DC heroes.
For right now, Calvin Ellis making his big screen debut is just an idea that Michael B. Jordan thought up, but it's an idea that DC and Warner Bros should seriously considering hashing out. Just like Joker and a Batman Beyond movie, a Earth-23 Superman movie would be a good way to give audiences a different kind of superhero movie that doesn't interfere with what's happening in the DCEU. Michael B. Jordan and Superman can both bring in the big bucks individually, so even though such a Superman movie would be quite different from what we've gotten before, that's also the key to making it unique. If there's one thing that moviegoers crave, it's stories they've never seen before told well. And explosions. Those don't hurt either.
Stay tuned to CinemaBlend for all the latest updates concerning Superman on film, whether it's Clark Kent, Calvin Ellis or one of the many other heroes in the DC multiverse wearing the 'S' shield. For now, you can see what's coming down the DCEU pipeline by browsing through our handy guide.
Your Daily Blend of Entertainment News
Connoisseur of Marvel, DC, Star Wars, John Wick, MonsterVerse and Doctor Who lore. He's aware he looks like Harry Potter and Clark Kent.
Your Daily Blend of Entertainment News
Thank you for signing up to CinemaBlend. You will receive a verification email shortly.
There was a problem. Please refresh the page and try again.