Star Wars: Galaxy's Edge's Cast Member Costumes Will Make You Want To Work At Disneyland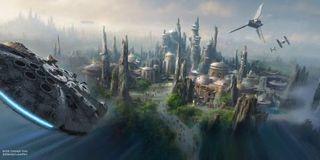 If you're a fan of Star Wars or theme parks then you're likely waiting for the opening of Star Wars: Galaxy's Edge as much, if not more, than you're looking forward to the release of Star Wars: Episode IX. It's going to be a huge event when the brand new theme park lands opens at Disneyland this summer and Walt Disney World this fall. Disney has promised a new theme park land unlike anything they've made before and every piece of news helps fill in the picture of what we're going to get. That includes the latest news, revealing the cast member costumes that we'll see when Galaxy's Edge opens.
Last night at a Disney cast member only event at Disneyland, entitled "The Attire Awakens," the cast member costumes were shown off for the first time. A number of images and video have hit the internet, which allows us to give these costumes a look and see what we're going to see when we arrive on Batuu later this year.
Cast Members Will Create Their Own Costumes
One of the most interesting things about the reveal was just how many new costumers there were, this is because there apparently won't be an entirely standard uniform for any cast members. Instead, one of four different tops and one of five different bottoms can be used in whatever way a given cast member wants. According to Attractions Magazine, the main portion of the clothing, along with several accessories will be up to the individual cast member to decide how they want to look. Then, there will be an overlay that cast members will wear that relates to their specific job.
Even the Custodians Are From A Galaxy, Far, Far Away
While every part of Disneyland and Walt Disney World has different cast member costumes designed to match with wherever they work, there is one exception. The custodial staff at Disneyland is always wearing white regardless of which part of the park you find them in. That will seemingly not be the case at Star Wars: Galaxy's Edge, as even they will reportedly be wearing clothing that looks like the rest of the cast members. Apparently, they could be dressed in something similar to what the guy in the hat is wearing. This way, the illusion that you're on an alien planet won't be broken.
Some Clothing Is Reversible
One of Star Wars: Galaxy's Edge's big new attractions will be the Rise of the Resistance, which will put guests into the middle of a battle between the Resistance and the First Order. Guests won't be the only ones caught in the middle as cast members will apparently be dressing as either First Order or Resistance fighters themselves. Interestingly, the Resistance jackets are reversible and the other side looks the standard villager jacket. One wonders if this is simply for simplicity of clothing cast members, or if the jacket could have a place in the storytelling. Perhaps Resistance fighters have to transform into standard villagers in order to evade the First Order.
Smuggler's Run Costumes Show Lando's Millennium Falcon
One of the more interesting things noticed in the costuming comes from the jackets that will be worn by cast members handling the Millennium Falcon: Smuggler's Run attraction. The insignia on the jackets is clearly that of the Millennium Falcon as we first see it in Solo: A Star Wars Story. The escape pod that Lando Calrissian installed is apparently there, as the nose of the ship is rounded, rather than having the two different bits sticking off of it.This is an odd design choice because the Millennium Falcon that's been built at Galaxy's Edge clearly uses the more traditional design, and we know that the events that take place in the land on the planet Batuu are set between the original and modern movie trilogies.
Costumes Were Inspired By Two Trilogies
As I mentioned, the story that Star Wars: Galaxy's Edge plans to tell within the Star Wars universe will be set somewhere after Star Wars: Return of the Jedi and prior to Star Wars: The Force Awakens, as such, the idea was to make the clothing feel like it fit between those two eras as well. The original trilogy was a large inspiration for how the cast member outfits would look, but some references, like a jacket similar to that of Poe Dameron, was also visible on display.
Name Tags Will Be Written In Aurebesh
This one is a minor detail, but all of the cast member name tags will be bi-lingual, as the names will be written in both English and Aurebesh, the alphabet of the Star Wars universe. You might want to brush up on it because, while I'm sure anything important will also be spelled in English, there's a good chance that there will be a lot easter eggs hidden throughout the land in the form of Aurebesh.
Look Out For Little Details
If you're like me and you enjoy not just the thrilling attractions of theme parks, but just the experience of feeling like you've stepped into another world, then it's the little details that make that world feel real which are truly special. Jeff Kucharski, who helped create the new outfits for Star Wars: Galaxy's Edge, pointed out some of those little details found in the food server overlays. Because Batuu is on the edge of the galaxy, people have to make due with whatever they can find which is why busser aprons have been designed to look like food sacks that have been sewn together, complete with graphics depicting what food stuff was originally stored in the sack.
I think all of these costumes look amazing. While many of the clothing options look familiar to us, variations on jackets, vests, and even hoodies, there's an unmistakable feeling that the clothing looks like it came from a galaxy far, far, away. Unfortunately, no matter how cool you think everything looks, the only way to wear any of it is to go to work at Disneyland or Walt Disney World. Cast member clothing is never sold in stores to avoid confusing guests, believe me, I've asked.
Content Producer/Theme Park Beat
CinemaBlend's resident theme park junkie and amateur Disney historian. Armchair Imagineer. Epcot Stan. Future Club 33 Member.
Your Daily Blend of Entertainment News
Thank you for signing up to CinemaBlend. You will receive a verification email shortly.
There was a problem. Please refresh the page and try again.