Bad News, Marvel Confirmed Shuri's Death In Avengers: Infinity War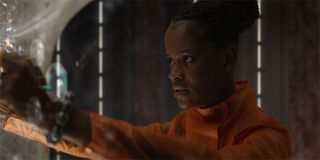 For months, the fate of Letitia Wright's Shuri in the Marvel Cinematic Universe was a mystery. Despite having a prominent role in Avengers: Infinity War, the blockbuster never showed audiences what happened to the character after Thanos snapped his fingers with the completed Infinity Gauntlet, so we were all left in the dark regarding how she fared during The Decimation.
Admittedly the first trailer for Avengers: Endgame released in December 2018 did provide us with a solid lead - showing her on a monitor as being among the world's dead heroes - but now it looks like we have official confirmation courtesy of the new movie's character posters: Shuri got dusted.
Earlier today Marvel Studios released a grand total of 32 new one-sheets for Avengers: Endgame, and during the rollout it wasn't hard to discover a pattern: all of the living characters are featured in color, and all of the dead ones are in black-and-white. There were a few exciting surprises mixed in, such as revelations regarding Tessa Thompson's Valkyrie, Benedict Wong's Wong, and Jon Favreau's Happy Hogan (all revealed to be alive), but the artwork also seems to confirm that Shuri was one of Thanos' many, many victims.
This isn't really a surprise for those who took the information provided in the first Avengers: Endgame trailer at face value, but it's understandable why some people questioned the preview's credulity. After all, Shuri's face was featured right next to a picture of Paul Rudd's Scott Lang on the aforementioned monitor, and the very end of that footage showed Scott very much alive and at the front door of the Avengers facility. Also, Joe and Anthony Russo have confirmed that marketing material has been doctored to protect certain elements of the movie, so who knows what we can really trust?
All that being said, there actually was good reason to believe when the first trailer said that Shuri was counted among the Decimated. After all, her situation at the time of the Thanos snap was a lot different than Scott Lang's. None of the heroes specifically knew where Scott was when half of life in the universe was eliminated, so when he didn't turn up after the event it was just assumed that he was dusted (the reality actually being that he was trapped in the Quantum Realm). Shuri, on the other hand, was present in Wakanda with the Avengers battling against the Black Order and their Outriders, so the team knew exactly where she should have been... and clearly she wasn't there.
This is obviously a bummer, as Shuri is one of the most exciting new characters featured in the Marvel Cinematic Universe, and audiences are hungry to see more of her in big screen adventures. I guess this just means that fans will be rooting that much harder that the heroes will somehow be able to reverse the events of Avengers: Infinity War and save the fallen.
As of today we now just have one month to wait for the arrival of Avengers: Endgame, and excitement is near the point of boiling over. Obviously we'll been covering the hell out of it here on CinemaBlend for the next few weeks, so stay tuned as we get closer and closer.
Assistant Managing Editor
NJ native who calls LA home and lives in a Dreamatorium. A decade-plus CinemaBlend veteran who is endlessly enthusiastic about the career he's dreamt of since seventh grade.
Your Daily Blend of Entertainment News
Thank you for signing up to CinemaBlend. You will receive a verification email shortly.
There was a problem. Please refresh the page and try again.