Dark Phoenix Won't Have A Stan Lee Cameo, But It Will Have A Tribute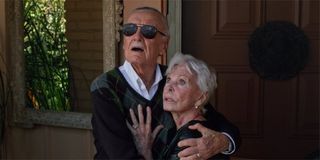 As many exciting developments and projects we've heard about and seen in the world of comics and comic book movies over the last few months, there is still a persistent feeling of mourning in the community. Stan Lee, one of the great icons of the industry, passed away in mid-November of last year, and since then there has been a constant outpouring of love and appreciation for his legacy.
This most definitely extends to his legendary string of cameos in big screen Marvel projects - which has emotionally continued posthumously. Since November we've seen him with pop up roles in Spider-Man: Into The Spider-Verse and Captain Marvel, and it's been reported that there are still a few left that we haven't seen. Now we can confirm, however, that one of them isn't featured in Simon Kinberg's Dark Phoenix.
This weekend I had the opportunity to sit down with Kinberg and producer Hutch Parker at WonderCon in Anaheim, California, and it was at the end of the interview that I asked about the presence of Stan Lee in the upcoming blockbuster. In deference for the Marvel legend, the director didn't play coy with his answer, opting to admit that there isn't a cameo in Dark Phoenix, but he added that Lee's presence will be felt when audiences see the film this summer. Said Kinberg,
It was actually for the X-Men franchise that Stan Lee did his first ever cameo in a big screen superhero movie, playing a hot dog vendor on a beach who watches Senator Kelly (Bruce Davison) emerge from the ocean in 2000's X-Men. That was followed by appearances in Spider-Man, Daredevil, Hulk, Spider-Man 2, 2005's Fantastic Four, and more, but he did eventually return to appear alongside some of his mutant creations in X-Men: The Last Stand, Deadpool, and X-Men: Apocalypse.
Simon Kinberg actually specifically cited the X-Men: Apocalypse cameo during the interview, highlighting it as one that was particularly significant for Stan Lee. As while we've seen him in all kinds of crazy situations and contexts over the years, his appearance in the 2016 comic book movie was the only one to A) take place at Lee's actual house, and B) co-star his wife, Joan Lee - who passed away about a year after the film was released. The director told me,
Stan and Joan Lee were actually married for 70 years – betrothed since 1947 – which by itself is really remarkable.
Of the movies in which Stan Lee cameoed, Simon Kinberg was a part of three as a producer and/or writer, and it was clearly an emotional subject for the filmmaker to discuss. He added that he really thinks that all of the feelings surrounding Lee's death will also ultimately have an impact on the way that audiences view the film – if not partially because of the very real pride that Lee felt in regards to the team of mutant heroes that he created. Kinberg continued,
So while we may not get to see Stan Lee in some kind of goofy, weird or even heroic situation in Dark Phoenix, it should still be recognized that the deep love for him is still in the DNA – and surely there will be a wave of chills felt when we get to see the aforementioned tribute that the film has planned.
You can see more of my interview with Simon Kinberg and Hutch Parker, as well as parts from my interviews with Dark Phoenix stars Sophie Turner, Tye Sheridan, Evan Peters, Alexandra Shipp, and Kodi Smit-McPhee, by clicking play on the video below!
The directorial debut of Simon Kinberg, Dark Phoenix takes audiences back to the 1990s, and sees the X-Men, led by Professor X (James McAvoy), in a situation we've never seen before: recognized worldwide as true heroes. The mutants are experienced working as a team, called on by governments and large organizations in times of crisis, and they are beloved. When their first mission in outer space winds up going sideways, though, they are left with a perilous situation they never saw coming – specifically Jean Grey (Sophie Turner) getting more and more powerful, and less willing to control her darker impulses. As she gets more dangerous, and people start to get seriously hurt, choices have to be made – choices that risk dividing the team.
Also starring Michael Fassbender, Jessica Chastain, Jennifer Lawrence, and Nicholas Hoult, Dark Phoenix will be hitting theaters everywhere on June 7th – and not only will we have more from my interviews with the cast and filmmakers coming your way here on CinemaBlend, but also a whole lot more of my coverage from WonderCon 2019.
NJ native who calls LA home; lives in a Dreamatorium. A decade-plus CinemaBlend veteran; endlessly enthusiastic about the career he's dreamt of since seventh grade.
Your Daily Blend of Entertainment News
Thank you for signing up to CinemaBlend. You will receive a verification email shortly.
There was a problem. Please refresh the page and try again.