Spider-Man: Into The Spider-Verse Actually Has Multiple Stan Lee Cameos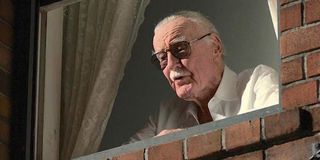 Stan Lee sadly passed away last November, but because the Marvel Comics heavyweight filmed/recorded several cameos before his death, we're not done seeing/hearing him on the big screen for a while. Lee's most recent cameo was in the award-winning Spider-Man: Into the Spider-Verse, where he had a key interaction with the main protagonist, Miles Morales. As it turns out, though, Lee can also be spotted in several other portions of Into the Spider-Verse.
New York Times reporter Kyle Buchanan learned from Spider-Man: Into the Spider-Verse directors Bob Persichetti, Peter Ramsey and Rodney Rothman that because every animator on the movie was so eager to animate Stan Lee, he was added to several crowd scenes. You won't hear Lee delivering any more dialogue, but once Into the Spider-Verse is available on home media, the directors have issued a challenge for viewers to see if they can spot Lee amongst the other people in these crowds.
Of course, you're welcome to try and find Stan Lee in these shots while Spider-Man: Into the Spider-Verse is still playing in theaters, you just won't have the benefit of pressing pause to go back and see if you did indeed spot the spectacled comic book mastermind. Besides, there's a lot of other subtle references and easter eggs to catch in Into the Spider-Verse, as Spider-Man and Marvel Comics fans can attest to. There's only so much a person can notice when watching the movie once or even a couple times, but once you watch it in the comfort of your own home, then you have all the time in the world to spot Lee's crowd cameos and everything else hidden in plain sight.
Warning: mild SPOILERS for Spider-Man: Into the Spider-Verse are ahead!
While it's interesting to learn that Stan Lee shows up a few more times in Spider-Man: Into the Spider-Verse, obviously his biggest moment came after the death of the Peter Parker from Miles Morales' world (voiced by Chris Pine). As the city mourns the death of the web-slinging vigilante, Miles, like other Spidey fans, buys a Spider-Man costume, and Lee is the shopkeeper who sells it to him. Lee tells Miles that he's going to miss Spidey and that the two of them were friends. When Miles asks if he can return the Spider-Man costume if it doesn't fit, Lee assures the teen that the costume always fit, eventually (only for the camera to pan over to show a 'NO RETURNS' sign).
Stan Lee made a lot of cameos during his time on Earth, both Marvel Comics-related and for other kinds of projects, but his brief Spider-Man: Into the Spider-Verse was definitely among the most touching. Perhaps Lee's death just a month earlier made it more impactful, but even just hearing the line about him and Spider-Man being friends was something that surely choked up a lot of longtime Spider-Man comics readers. After all, while Lee co-created many of Marvel's most iconic characters, Spider-Man was arguably the most personal to him.
Along with Stan Lee's cameo and crowd shots, Spider-Man: Into the Spider-Verse also included a tribute to the man right before the post-credits scene by showing the following quote from him, with Lee's trademark glasses placed below the words:
This was followed by a message that read "Thank you. Stan Lee & Steve Ditko," thus honoring the other co-creator of Spider-Man, as Ditko (who also co-created Doctor Strange with Lee) illustrated Spider-Man in the hero's debut issue, Amazing Fantasy #15, and drew him for the first 38 issues of his own series, The Amazing Spider-Man. Without these men, one of pop culture's most famous superheroes wouldn't be around to have enriched so many lives.
Of course, let's not forget that Spider-Man: Into the Spider-Verse was just the latest of Stan Lee's Spider-Man movie cameos, as he appeared in all of the previous six live action movies starring the Web-Slinger. There's no official word yet if Lee filmed anything for the upcoming Spider-Man: Far From Home, which would bring the number of his Spidey movie appearances to eight. Into the Spider-Verse was the first of Stan Lee's posthumous cameos in which he's actually heard. He did briefly appear in Ralph Breaks the Internet, which came out a little over a week after his death, but he didn't have any lines. Lee is also confirmed to have filmed cameos for Captain Marvel and Avengers: Endgame, while the last of Lee's cameos released before he died was in Venom.
Spider-Man: Into the Spider-Verse will always hold a special place within Stan Lee's cameo filmography, but as we've seen in the weeks since its release, the movie has plenty of other appealing elements. The movie, which sees Miles Morales taking his first steps as a superhero as he teams up with five other Spider-heroes from across the multiverse, has earned critical acclaim and made over $275 million worldwide so far. Its latest accolade is taking home the Golden Globe for Best Animated Feature Film, thus boding well for its chances in the same category at the Academy Awards.
With all this success, it's hardly surprising to learn that Sony plans to keep this superhero franchise going. A sequel (with David Callaham writing and Joaquin Dos Santos directing) will explore a romantic relationship between Miles Morales and Gwen Stacy, and Spider-Gwen will also return for a spinoff (with Bek Smith writing and Lauren Montgomery directing) that will see her teaming up with the Jessica Drew Spider-Woman and Cindy Moon, a.k.a. Silk. And that's just the tip of the proverbial iceberg on what can be done with this Into the Spider-Verse continuity.
Don't forget to read CinemaBlend's review of Spider-Man: Into the Spider-Verse, and stay tuned for more updates on the future of the franchise. You can also look through our 2019 release schedule to plan your trips to the theater this year accordingly.
Connoisseur of Marvel, DC, Star Wars, John Wick, MonsterVerse and Doctor Who lore. He's aware he looks like Harry Potter and Clark Kent.
Your Daily Blend of Entertainment News
Thank you for signing up to CinemaBlend. You will receive a verification email shortly.
There was a problem. Please refresh the page and try again.