Why Star Wars: Galaxy's Edge Designed An Entirely New Planet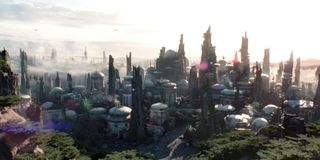 The Star Wars universe is a vast place that has created numerous planets over the years. From the desert of Tatooine to the forest moon of Endor, we all have different places that we love to visit in the films. When Disney began to actually create a Star Wars location for the new land dedicated to Star Wars at Disneyland and Walt Disney World, the team could have decided to build one of these iconic locations, so that fans could actually visit a place in the galaxy, far, far away that they'd always wanted to see. However, in the end, they decided to instead create someplace new.
Over this past weekend at Star Wars Celebration, several of the people who have helped bring Star Wars: Galaxy's Edge to life, spoke about the process, and while they apparently did consider recreating known locations in the Star Wars universe, in the end, the team realized that the new land needed to be new place in order to be the home to new stories, not the ones we'd seen before. As Chris Beatty, the Executive Creative Director of Walt Disney Imagineering explained, it had to be a new place because it had to be a different story...
While many of us would love to find ourselves inside a Star Wars movie, most of would probably want to be the star of that movie. The feeling from Lucasfilm and Disney Parks was, that if they simply created a place we'd seen before, it would feel like we were on the outside looking in at somebody else's story, and they wanted Galaxy's Edge to be our story.
As Lucasfilm VP Doug Chiang put it, other locations in the Star Wars universe were specifically designed in order to reflect particular characters, so while we'd all love to visit the Mos Eisley cantina ourselves, if we did, we'd be telling Luke Skywalker's story. According to Chiang...
Nobody wants guests to feel emptiness when visiting Walt Disney World, so a bleak desert location doesn't fit with the design goals. Black Spire Outpost is a location at the edge of the galaxy. It doesn't get visited as much as it once did, which means that it's a place where all sorts of people who don't want to be noticed might end up. Thus the variety of people who wander into the land (you and me) feel normal. Both the Resistance and the First Order have taken residence on the planet, which means guests will have the ability to join whichever side they want.
Of course, while the team may have gone all in creating a new location in the Star Wars universe, it doesn't mean they were entirely sure they had made the right call. Chris Beaty admits that taking on the responsibility of creating an entirely new land was a little scary...
Of course, the other thing that creating a whole new world allows Disney to do is have the freedom to create whatever they need for the land. If we were walking on to Tatooine or Coruscant, we'd have an expectation of what we were going to see that would potentially limit the creativity that could be exercised by the design team.
Of course, just because a new world was created for Galaxy's Edge doesn't mean that Batuu is going to feel in any way separated from the rest of the Star Wars universe. Black Spire Outpost on Batuu has been referenced in films like Solo: A Star Wars Story and has also been an important part of several books that have been written in recent months. For fans, Batuu will eventually be as much a part of the Star Wars universe as Mustafar.
As excited as I am for a new Star Wars movie, I might actually be more excited for the moment I actually step onto an alien world in the Star Wars universe. Everything from the environment to the food to the merchandise is designed to make you feel like you're actually part of the galaxy far, far, away. As a Disneyland fan, I can't wait to check out the next level attractions that have been designed, but as a Star Wars fan there's so much more going on. Getting a drink in Oga's Cantina is going to be as much an experience as flying the Millennium Falcon.
We'll all get to experience what's in store for us at Black Spire Outpost when Star Wars :Galaxy's Edge opens at Disneyland May 31 and Walt Disney World August 29.
Content Producer/Theme Park Beat
CinemaBlend's resident theme park junkie and amateur Disney historian. Armchair Imagineer. Epcot Stan. Future Club 33 Member.
Your Daily Blend of Entertainment News
Thank you for signing up to CinemaBlend. You will receive a verification email shortly.
There was a problem. Please refresh the page and try again.