Star Wars: The Rise Of Skywalker Might Be Introducing An Intriguing Force Power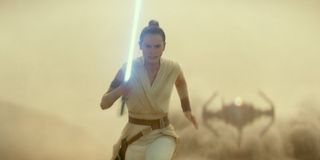 Most of the main saga Star Wars movies have shown off new ways to harness the Force, like how Luke Skywalker was able to project himself from Ahch-To all the way to Crait in Star Wars: The Last Jedi. If a new rumor is to be believed, Star Wars: The Rise of Skywalker will contribute to the expansion of the Force through something called "Force Flash Fights."
It was teased during the Rise of Skywalker panel last week at Star Wars Celebration that new Force powers would be on display in the upcoming movie. Supposedly "Force Flash Fights" is likely the main power that was being alluded to, although it might be given a different name later on. So what are "Force Flash Fights"? Basically, as two Force-users are engaged in a lightsaber duel, the environment around them changes.
As Making Star Wars' report notes, when Rey and Kylo Ren meet again during The Rise of Skywalker, both are much more powerful since we last saw them in The Last Jedi, which makes sense given that there's a time jump. Whereas before Snoke was responsible for mentally linking the two together, apparently now they're able to do that on their own. This time, as the two are flighting, they're still physically in the same location, but Force-wise, the background will change to different places.
And these aren't just any random places in a galaxy far, far away, by the way. They'll be places that we've already visited in previous Star Wars movies, although no specific locations were identified. Still, considering that The Rise of Skywalker is the final chapter of the Skywalker Saga, it'd be fitting to look back at where some of the Star Wars franchise's biggest events have gone down, even if the characters aren't actually there.
As for how Rey and Kylo Ren end up in a "Force Flash Fight" with one another, it sounds like this could happen after that moment from the teaser trailer when Rey ignites her lightsaber, gets a running start and then leaps over Kylo Ren's TIE Fighter as it flies towards her. She damages the ship, Kylo emerges from the wreckage and they begin this trippy battle.
However, it's also worth mentioning that other sources that spoke with MSW say that Rey and Kylo Ren will team up against an "outside threat." Maybe it's Emperor Palpatine, maybe it's the Knights of Ren, maybe it's someone/something new that still hasn't been revealed or even rumored, but regardless, it's possible that if Rey and Kylo do form an alliance later in the story, they might engage in a "Force Flash Fight" with this threat.
Although this sounds like a cool way to elevate lightsaber fights up a level, given how some fans reacted to Force Projection in The Last Jedi, if "Flash Force Fights" do indeed factor into The Rise of Skywalker, I suspect that will also be met with controversy. At the very least though, seeing all these different locations flash by as Rey and Kylo Ren have their respective blue and red blades locked in combat should make for quite the visual treat if pulled off effectively.
Star Wars: The Rise of Skywalker opens in theaters on December 20, and you can find out when this year's other big movies are coming out in our 2019 release schedule.
Connoisseur of Marvel, DC, Star Wars, John Wick, MonsterVerse and Doctor Who lore. He's aware he looks like Harry Potter and Clark Kent.
Your Daily Blend of Entertainment News
Thank you for signing up to CinemaBlend. You will receive a verification email shortly.
There was a problem. Please refresh the page and try again.