All Pirates Of The Caribbean Movies, Ranked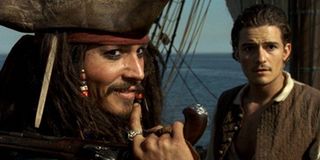 (Image credit: Disney)
Legend has it, there was a time when no adventure was more engrossing and exciting than a swashbuckling journey with Captain Jack Sparrow, brought to life by Johnny Depp in the Pirates of the Caribbean movies.
In 2003, Pirates of the Caribbean: The Curse of the Black Pearl grossed more than $654 million worldwide, a huge surprise for a film inspired by a Walt Disney World and Disneyland attraction, but as the series kept going and going, the world became more fascinated by superheroes than a quest for buried treasure, breaking curses, mermaids, and other ideas the franchise would eventually become known for.
With talk that Disney is developing a sixth entry into the series without Johnny Depp in the lead, it is almost hard to imagine a Pirates of the Caribbean film without the drunken, bumbling, inexplicably lucky former captain of the Black Pearl. Of course, we have five movies featuring Captain Jack to relive, for better or worse. But which of the Pirates of the Caribbean movies made the pirate's life most attractive?
5. On Stranger Tides (2011)
As far as sequels go in the series of Pirates of the Caribbean movies, this one seems to be the most lacking in what made the franchise special.
Using Pirates of the Caribbean: At World's End's hint at Captain Jack Sparrow's quest for the fountain of youth as a jumping point, On Stranger Tides (which is actually inspired by a 1987 novel by Tim Powers) sees Jack team up with former rival Barbossa (Geoffrey Rush), who has been appointed by the King to lead a search for the fountain, and race to reach it before Blackbeard (Ian McShane) and his daughter (Penelope Cruz), who also happens to be Jack's old flame, find it first.
Despite Johnny Depp's chemistry with his former Blow co-star Penelope Cruz and the return of Keith Richards as Jack's dad adding to the fun, the movie boils down to feeling less like a Pirates movie and more like an Indiana Jones rip-off. Just switch Indy vs. Nazis with Jack vs. more pirates and you have this.
Pirates of the Caribbean: On Stranger Tides proved the Pirates of the Caribbean movies are not as effective with Captain Jack Sparrow leading the show without Orlando Bloom or Keira Knightley to keep it somewhat grounded, which they would eventually attempt to correct. More on that later.
4. Pirates Of The Caribbean: At World's End (2007)
After Dead Man's Chest pulled a Back to the Future Part II with its cliffhanger ending, fans anticipated this third Pirates of the Caribbean movie would reveal the fate of William Turner (Orlando Bloom) and Elizabeth Swann's (Keira Knightley) romance, why Barbossa was back from the dead somehow, and why Johnny Depp's face was on the poster if Captain Jack Sparrow died in the last movie. While we get all of those answers, the journey to get there is a long and often confusing one.
For essentially being a part two to Dead Man's Chest, the reason Pirates of the Caribbean: At World's End scores lower for me is because it feels disconnected from its preceding chapter, with a bleaker tone, a forgettable new cast of characters, and a plot that begs the question, "This is still about pirates, right?" I'll give the movie credit for Will's intriguing send-off as heir to the Flying Dutchman, even if that felt unfair to Elizabeth. Still, this one is in fourth.
3. Pirates Of The Caribbean: Dead Men Tell No Tales (2017)
I must admit that I am a bit of an apologist for the fifth Pirates of the Caribbean movie, somewhat because of my sympathy for pirates movies lacking relevance at the cinema lately, but also because I actually had some fun with it compared to some of the others.
In Pirates of the Caribbean: Dead Men Tell No Tales, Johnny Depp reprises his most famous role as Captain Jack Sparrow, once again hunted by a crew of vengeful undead pirates, this time led by Captain Salazar. Meanwhile, Henry Turner (Brenton Thwaites), the son of Will and Elizabeth, is looking to free his father from the Flying Dutchman's curse.
The answer to both men's problems can be solved by the universal curse-breaking power of the Trident of Poseidon, which astronomer Carina Smyth (Kaya Scodelario) holds the key to finding. Oh, and Barbossa is there, too, because who should tell Geoffrey Rush not to have a little fun every once in a while?
The plot is easily the zaniest of the franchise, but for my precious coin, it has some of the best action sequences of the series since Dead Man's Chest. I also award points for the reunion of Orlando Bloom and Keira Knightley and Barbossa earning a heroic exit this time.
I will take points away, however, for Sir Paul McCartney's cameo. A Beatle deserves better.
2. Pirates Of The Caribbean: Dead Man's Chest (2006)
Believe it or not, The Curse of the Black Pearl was not what initially roped me into the Pirates of the Caribbean movies craze.
It was actually the first of its sequels, which saw Captain Jack Sparrow's soul threatened by Davy Jones and William Turner's and Elizabeth Swann's wedding put on hold when he is commissioned to retrieve Jack's enchanted compass… among other things.
The story is a mixed bag, trying to juggle political intrigue, pirate lore fantasy, indigenous mythology, and stunted romance. While it might be the franchise's first sign of throwing out a simple good vs. evil adventure tale for overplotting, I still regard it as one of the best summer movie experiences of my young life and easily the closest a Pirates movie has come to matching the excitement of the film that started it all. Speaking of...
1. Pirates Of The Caribbean: The Curse of The Black Pearl (2003)
Disney took a chance on turning one of its theme park attractions into summer blockbuster adventure. Fortunately, they struck gold with the first of the Pirates of the Caribbean movies, a tale of a washed up drunken pirate whose past catches up with him after he is enlisted to help a blacksmith rescue the governor's daughter from the cursed crew of his fame former ship, The Black Pearl.
The Curse of the Black Pearl is pure popcorn movie glory with gorgeous sword fight choreography, cutting edge special effects, deliciously dark mysticism, and an Academy Award-nominated performance by one Johnny Depp. Who knew that the key to Disney's golden goose would be a cross between Keith Richards and Pepé Le Pew in a bandana and rags?
Does our ranking of the Pirates of the Caribbean movies make you anxious for a sixth swashbuckling adventure, or does it convince you that this treasure should have stayed buried after 2003? Let us know in the comments and be sure to check back for updates here on CinemaBlend.
Your Daily Blend of Entertainment News
Jason has been writing since he was able to pick up a washable marker, with which he wrote his debut illustrated children's story, later transitioning to a short-lived comic book series and (very) amateur filmmaking before finally settling on pursuing a career in writing about movies in lieu of making them. Look for his name in just about any article related to Batman.