Daniel Craig's Ankle And The History Of Injuries On James Bond Sets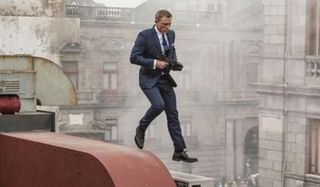 The filming of the next installment of James Bond franchise – the still unnamed "Bond 25" - was halted in April after the film's star, Daniel Craig, seriously injured his ankle while filming in Jamaica. He ultimately had surgery, but his injury marked the second time an event such as this occurred on the set of "Bond 25." In addition, two stuntmen were injured in an explosion at Pinewood Studios in England.
Unsurprisingly, in a film series with a history like the James Bond series, these are not the first injuries to occur in set. There have been a lot of injuries to actors, crew members, and stuntmen over the years, going almost all the way back to beginning of the franchise. We'd be remiss if we didn't take a look at the full history of injuries over the years.
From Russia With Love (1963)
In the second installment of the Bond series, an explosion during the final chase scene in From Russia With Love resulted in three stuntmen being injured and burning the eyelids of actor Walter Gotell, who was playing the villain Morzeny (but would later become more recognizable in the series as the head of the KGB in the Moore-era films).
In another on-set accident, the film's art director Michael White and a cameraman suffered minor injuries when their helicopter crashed into a lake in Scotland during the filming of the same scene.
The Bond Girl in From Russia With Love, Daniela Bianchi, also suffered minor face lacerations where the driver of the car taking her to the set fell asleep and crashed. Her scenes were delayed while the injuries healed.
Goldfinger (1964)
While it's an urban legend that actress Shirley Eaton died as a result of being covered in gold paint, there were a couple of injuries on the set of Goldfinger. The first happened to star Sean Connery when he injured his back in a fight scene the henchman Oddjob. The injury shut down production and caused another rift between the notoriously cranky Connery and the producers, which resulted in Sean Connery's contract being rewritten and the actor receiving 5% of profits from all the future James Bond movies he would star in.
Harold Sakata, who played Oddjob, also suffered injuries when he held onto some electrified metal bars for too long and burned his hands badly.
Thunderball (1965)
While no one was actually hurt on set, there was a close call for Sean Connery in Thunderball. During the sequence when James Bond was in in the villain's pool with the sharks, one of the sharks got through a small gap in the Plexiglas partition and Sean Connery had to make a quick escape to avoid the large shark. This is no shark tale; it really happened.
You Only Live Twice (1967)
One of the most iconic scenes in the entire James Bond series is the helicopter chase scene with Bond flying "Little Nellie" in you Only Live Twice. The scene also resulted in one of the most serious injuries on set. Cameraman John Jordan was dangling from a helicopter in order to film the scene when another helicopter's blade sliced off his foot. The foot was reattached by surgeons, but after filming wrapped, Jordan returned to England and had the foot amputated. Tragically, Jordan was killed a year later while filming Catch-22 in another on-set accident.
Octopussy (1983)
Another one of the more serious injuries happened on the set of 1983's Octopussy when Roger Moore's longtime stunt double Martin Grace was injured while filming the scene where James Bond jumps from the side of one train car to another.
In the scene, Martin had carefully timed the sequence and practiced it a number of times, but when the time came to film it, the train stopped due to a delay and restarted from the advanced position. As a result, Grace's timing was off and as he hung from the train, he hit a concrete post, shattering his pelvis and severely injuring his leg. He held on, literally for dear life, as the train continued down the track until it finally came to a stop.
GoldenEye (1995)
The first James Bond movie to star Pierce Brosnan wasn't without its problems. Bond Girl Famke Janssen broke a rib in a fight sequence with Brosnan when she told him to slam her into a wall with real force. When she hit the wall, it knocked her out of breath and broke the rib. She didn't miss a beat though and filming continued without interruption.
Die Another Day (2002)
Die Another Day, the 20th film in the franchise, had two injuries on set to its two biggest stars. Bond himself, Pierce Brosnan, injured his shoulder and production was briefly shutdown, but far more serious was an eye injury that Halle Berry sustained when shrapnel from a smoke grenade got into her eye, requiring surgery to remove it, though luckily there were no permanent effects on her vision.
Casino Royale (2006)
No actor has sustained more injuries playing James Bond more than the current star, Daniel Craig. The first time he was hurt was during a fight scene in his first turn as Bond in Casino Royale. In a movie that brought back James Bond's mean streak, Craig took a punch in the mouth by another actor and it knocked out two of his teeth! Surgery was required to fix it, but filming wasn't delayed and for future fights, Craig would wear a mouth protector to protect those pearly whites.
Quantum Of Solace (2008)
Daniel Craig was also injured on the set of Quantum Of Solace. This time he suffered a gash in his face during a fight sequence that required 8 stitches and later he sliced off the tip of his finger, though both injuries were fairly minor.
There were other, more serious injuries on the set of the polarizing Quantum Of Solace, though. Aris Comninos, a stuntman in one of the car chase scenes, was injured along with another stuntman, and landed in the ICU in a temporary coma. It was the third accident on the set, including a third stuntman who had crashed one of the Aston Martin DB9s into a lake, totaling the car, but escaping serious injury. Aris Comninos eventually fully recovered from his injuries as well.
Spectre (2015)
During the filming of the most recent James Bond movie, Spectre, assistant director Terry Madden suffered a very serious injury when a truck carrying a camera skidded out of control and slammed into Madden, crushing his legs. Madden broke multiple bones and suffered other serious injuries in the accident, requiring multiple surgeries. Madden has since filed a multimillion-dollar lawsuit against the producers of Spectre.
In a less serious injury, Daniel Craig sprained his knee while filming a fight scene Spectre, but it was fairly minor and he was back to work just a couple days later.
It's not a surprise that in a film series with so many legendary action sequences that there have been some serious injuries over the years. While some have been extraordinarily tragic, most have been fairly minor. Daniel Craig and Sean Connery have seemingly gotten the worst of it, but that too is hardly a surprise as they both have played the part with reckless abandon at times. Maybe that's why both are so popular in the role.
Your Daily Blend of Entertainment News
Hugh Scott doesn't believe aliens are hidden at Area 51 or that Elvis is alive, but he does believe birds are real and Meghan Markle isn't treated fairly by the tabloids. He's been writing about music, movies, and celebrities for most of his adult life after realizing stocking shelves in a paper warehouse in college wasn't all it was cracked up to be.