Disney World Raises Annual Pass Prices Ahead Of Star Wars Galaxy's Edge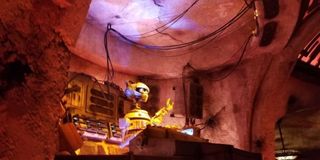 Star Wars; Galaxy's Edge is now open at Disneyland and the new land is a bona fide hit. Required reservations during the first three weeks of the land were gone within two hours. With the identical location set to open at Walt Disney World in just a couple of months, we can expect a near identical repeat of the same success. However, for a certain group of Walt Disney World fans, the trip to Batuu is about to get a bit more expensive, as the cost of Annual Passes for the park just went up.
The Platinum Pass and Platinum Plus pass both increased by a total of $225 per year and now both exceed $1,000. Both passes give you admission to all four Walt Disney World theme parks with no blackout dates. The Plus version of the pass includes access to the two water parks, golf course, and the ESPN Wide World of Sports complex.
Other passes, which include various blackout dates, went up anywhere from $20 to $99 per year. The Premier Pass, which gives guests access to both Walt Disney World and Disneyland increased by $125 and now exceeds $2,000. Annual passes also include additional benefits such as food discounts, free Photopass pictures, special offers on resort stays, parking, and other benefits.
While price increases are nothing new, many of these jumps are pretty significant. The biggest jumps are for the no blackout passes, which are going to be in especially valuable when Galaxy's Edge opens, but it's not like they were particularly cheap before. But in the end, a pass to visit any Walt Disney World park whenever you want is something most of us would love to have, so of course it's not going to be inexpensive.
The price increase comes in conjunction with reports that Walt Disney World annual pass holders are going to be receiving opportunities to check out special preview days of Star Wars: Galaxy's Edge before the new land opens to the general public on August 29. It's certainly not a stretch to make a connection between these two ideas. With Galaxy's Edge opening, the value of annual passes has now increased, you get more so now it costs more. Disneyland also saw a general ticket price increase in the months ahead of Galaxy's Edge opening there.
Of course, Galaxy's Edge isn't the only reason for the price increases. Many of Disneyland's annual passes included significant blackout dates around the launch of Galaxy's Edge and many of the Walt Disney World annual passes will be dealing with the same issue, so simply buying annual passes won't mean you'll be able to visit Batuu whenever you like.
There's a larger issue at play with the price increase, the fact that Disney theme parks are just too popular. While the parks certainly want to sell tickets and annual passes in large numbers, the company also doesn't want the parks so crowded that lines are too long and nobody is having any fun. If people have bad experiences, that's a money losing situation in the long run. These regular increases in both regular ticket prices and annual passes on both coasts is part of an effort to figure out just where the equilibrium point is.
Last year, Walt Disney World changed their pricing structure so that tickets purchased by guests would only be valid on certain days. This helps give the park a better idea of what the crowds will look like at any given time. Prices for tickets are also cheaper during the parks' slower periods. I bought tickets during one of the parks' slower periods and the tickets were actually slightly cheaper than they would have been before the change, so it's not entirely about making more money. It's about balancing the crowds.
Price increases are never fun but, at the end of the day, the cheaper the access, the more crowded the parks are going to be and it's no fun for anybody to spend any amount of money and then spend a day in long lines that never end. We all want to enjoy a nearly empty theme park for an affordable price, but unfortunately, that's just not feasible.
Considering how popular Star Wars: Galaxy's Edge has been at Disneyland, we can expect a massive influx of guest at Disney's Hollywood Studios when the land opens at Walt Disney World. The massive crowds were dealt with in Anaheim by requiring guests to make reservations to visit the land for the first three weeks. Walt Disney World is adding no such stipulation. Even after the mandatory reservation period ends in a few days, a virtual queue system will be set up to help manage entry into the area. No such plan has been announced for that at Walt Disney World either.
Part of the issue will likely be handled by the simple fact that Disney's Hollywood Studio has thus far always been the fourth most popular park at Walt Disney World. Even with the massive influx of guests one would expect once Galaxy's Edge is open, the fact is that Magic Kingdom and Avatar- The World of Pandora at Disney's Animal Kingdom will still be massive draws that will likely keep Galaxy's Edge from getting too out of control, at least after the initial excitement dies down
Anybody who happened to renew their annual passes in the last month or so just lucked out, as they'll have another 12 months before they'll need to worry about the increases. Anybody's whose pass is coming up for renew in the next month or so will have a significant decision to make if they were looking forward to Galaxy's Edge.
For most people it's not the end of the world. Anybody planning a Walt Disney World vacation is certainly planning to spend some money. Those who usually buy annual passes will just have to do the math and figure out if the pass is still the cheaper option depending on how often they visit the park. For many, the increased price will likely still be a better deal.
Your Daily Blend of Entertainment News
Content Producer/Theme Park Beat
CinemaBlend's resident theme park junkie and amateur Disney historian. Armchair Imagineer. Epcot Stan. Future Club 33 Member.