Galaxy's Edge Filled Up In Under An Hour On Opening Day, But It Isn't As Bad As It Looks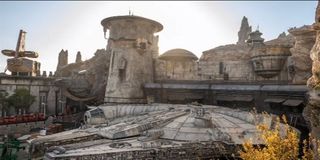 Yesterday was the first day that Star Wars: Galaxy's Edge was open the general public without a reservation. As one might have expected, the crowds trying to get into the brand new land were pretty intense. The land filled to capacity very early, forcing Disneyland to open up its virtual queue system and create boarding groups for later entry. However, it sounds like this system worked pretty well, and by mid-afternoon, the queue system wasn't even necessary and guests were able to walk in and out of Galaxy's Edge freely just like any other place in the park.
Early reports from Batuu yesterday were pretty much what you'd expect on the first day of any grand opening at a Disney park. Galaxy's Edge reportedly opened early, about 7:30 AM rather than the scheduled 8:00 AM, and before 8:30 AM, the land had hit capacity and no more people were allowed in.
At that point the remaining guests turned to the virtual queue system. By going to a FastPass location or using the Disneyland app, guests could reserve a spot in line without having to actually spend the day waiting in line. Guests would receive a phone notification via the app as their boarding group was called, and they'd have two hours to return to Galaxy's Edge and enter the land.
From all reports, the system worked pretty well, even better was that by 4:45 PM, the boarding group system was no longer needed, and so it was turned off. At that point guests could walk freely between Galaxy's Edge and the rest of the park just like any other land.
The new land's one major attraction, Millennium Falcon: Smuggler's Run saw significant wait times early on, with waits being listed at three hours when the land was at capacity early, but the average wait time was closer to an hour, which made it the longest line at Disneyland Park, but nowhere near as long as lines for some attractions can get.
Viewing the Disneyland app myself at various points, I saw wait times listed as low as 35 minutes, which is practically a walk-on for an E-ticket attraction. I'm not sure Radiator Springs Racers has had a wait time that low since it opened.
Part of the reason that Smuggler's Run may not have had a seriously long wait is because it's not actually the hottest ticket inside Galaxy's Edge. That honor instead goes to Oga's Cantina and Savi's Workshop. Both the cantina and the lightsaber building experience require reservations and those reservations reportedly went quickly on day one.
There are a number of reasons why Galaxy's Edge's first day might not have quite the level of insanity that many people were expecting. First and foremost, Batuu is huge. It's the single largest land ever built at a Disney park from a square footage perspective, two acres larger than Disney California Adventure's Cars Land. This means that the land can simply hold more people than any place else at Disneyland Resort.
In addition, while anybody with a Disneyland ticket could enter Galaxy's Edge, most Disneyland Annual Passports are still blacked out, meaning that a lot of the parks regular guests would have to buy a regular ticket to visit the land now, one would guess that most of them are not doing that.
While an Annual Passport holder would likely go racing for Galaxy's Edge upon entry, because they've seen the rest of the park dozens of times, your average guest, while likely still very interested in Galaxy's Edge, is still a tourist on vacation. If you've never been to Disneyland in your life, then the Casey Jr. Circus Train, which has been around since 1955, is just as new to you as Millennium Falcon: Smuggler's Run.
Disneyland Resort still has two parks and Downtown Disney and many if not most of the people there now want to see all of it equally.
It's also possible that, because yesterday was the first day that Star Wars: Galaxy's Edge was open to all guests, there was an expectation that it would be too crowded. If enough people assumed it would be too crowded to deal with, it's possible that the opposite could have happened, and the area became less crowded.
Some seem to be calling Galaxy's Edge's lack of insane crowds a problem. While certainly there was an expectation that masses of humanity would swarm Batuu to the point that it would be out of control, the fact that this didn't happen doesn't mean that the land didn't still see a massive number of guests, it simply means those guests were managed well.
The reservation period that went on for three weeks was essentially a soft opening. Crowds were limited so that the park could get up to speed, cast members could figure out how best to handle everything, and any bugs in the system could be discovered and fixed early. The fact that the boarding groups were needed at all shows that there was no lack of guest interest.
Overall, it appears that crowd management went really well for day one, and that's key. While lines and crowds are always to be expected, they're never fun, and if things get out of control, that's when guests stop having fun and the experience becomes negative.
It looks like guests for the most part had a great time at Galaxy's Edge. The biggest issues may have been that some merchandise sold out, so if you were looking for something specific, it may not have been available.
Crowds were looking unseasonably low based on attraction wait times in the weeks during the Galaxy's Edge reservation period. That hasn't changed now that the land is open to the public. Even during the times the boarding groups were in effect and people were, one assumes, visiting other parts of the park waiting for their entry time, the rest of the park wasn't overly crowded.
We'll have to wait and see how wait times change over the next few days and weeks. As Annual Passport holders begin to gain access to Batuu things may begin to get crowded again. It's also possible that simply by adding this new large land, crowds at Disneyland have fundamentally changed for the better. It likely won't last forever, but if this is a new standard, then the parks may have become a lot more fun.
Images courtesy Disneylandnews.com/Disney
Your Daily Blend of Entertainment News
Content Producer/Theme Park Beat
CinemaBlend's resident theme park junkie and amateur Disney historian. Armchair Imagineer. Epcot Stan. Future Club 33 Member.