Spider-Man: Far From Home - All The Returning Marvel Characters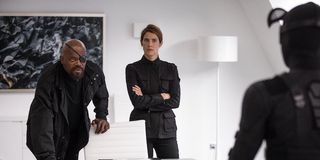 Avengers: Endgame may have wrapped up a lot of Marvel Cinematic Universe plot threads, but it's Spider-Man: Far From Home that'll bring an end to Phase 3 of this superhero franchise. Although the Web-Slinger popped up in Avengers: Infinity War and Endgame, it's been two years since his last solo movie, Spider-Man: Homecoming came out, and judging from early reactions, the sequel will go down as another critical hit on Spidey's film resume.
Naturally Spider-Man: Far From Home is introducing new characters, most notably Quentin Beck, a.k.a. Mysterio, who is being positioned as a good guy (for now?) and claims to be from another Earth. However, there are also many characters who we've previously seen in Spider-Man: Homecoming and other MCU movies who will be back for Far From Home. Let's go over those returning players now, shall we?
Peter Parker
Duh, it wouldn't make any sense not to bring back Tom Holland's Peter Parker for Spider-Man: Far From Home! The sequel will see Peter still mourning the loss of his mentor, Tony Stark, as he goes on a class trip to Europe over the summer. Unfortunately for the teen, who was hoping to get a break from fighting evildoers and wearing costumes, he'll be dragged back into action to battle the Elementals alongside Mysterio.
May Parker
While Joe and Anthony Russo said last year that May Parker survived Thanos' snap, it turns out that wasn't the case at all. Fortunately, like her nephew, she's back among the living, and while she was initially angered to find out that Peter was Spider-Man at the end of Spider-Man: Homecoming, the previews for Spider-Man: Far From Home indicate she's good with it now. While May won't be accompanying Peter on his trip, it does look like romance is in the air for her during Far From Home, but we'll get back to that later.
Nick Fury
Nick Fury is no longer affiliated with S.H.I.E.L.D., but he's still hard at work in the spy game. Following our look back at his 1995 self in Captain Marvel and his cameo in Avengers: Endgame, Spider-Man: Far From Home has Fury recruiting Spider-Man to team up with Mysterio against the Elementals. Unlike Tony Stark, who was largely supportive of Peter, Fury looks at Peter more as an asset who's too preoccupied with high school problems.
Maria Hill
Every leader needs a second-in-command they can rely on, and for Nick Fury, that person is Maria Hill. She and Fury haven't missed a beat resuming their covert operations after being un-Decimated by The Hulk, but as we've seen before, those two can handle themselves out in the open should the need arise. That'll happen at least once in Spider-Man: Far From Home, as Maria Hill has been shown alongside Fury shooting at the Earth Elemental.
Happy Hogan
Happy Hogan didn't think much of Peter Parker during the majority of Spider-Man: Homecoming, but he gained respect for the teen after he foiled Vulture's theft of the items and technology being transferred from Avengers Tower. With his longtime boss and friend Tony Stark gone, Happy has taken it upon himself to look after Peter, resulting in him getting caught up in the latest round of MCU craziness and interacting with Nick Fury, the latter of which he especially doesn't like to do. It also looks like romantic sparks are flying between him and May.
Ned Leeds
In the MCU, Peter Parker's best friend is Ned Leeds, and while Peter initially kept his life as Spider-Man a secret from Ned, now he's involved in his buddy's crimefighting life, serving as the "guy in the chair" when necessary. Like Peter and the other Midtown School of Science and Technology students being mentioned later, Ned was a victim of The Decimation, but he seems to have re-adjusted to everyday life well and is now romantically involved with Betty Brant.
Michelle "MJ" Jones
Her initials might not stand for Mary Jane, but like that character, Michelle Jones is being set up to be Peter Parker's romantic interest in Spider-Man: Far From Home. The character didn't get a lot of screen time in Spider-Man: Homecoming, so hopefully we'll learn more about her background in the sequel. MJ will also figure out that Peter is Spider-Man during Far From Home, although it remains to be seen if he'll come up with a convincing enough excuse to prove her wrong or if he'll welcome her into this part of his life.
Eugene "Flash" Thompson
The MCU's Flash Thompson isn't as physically imposing as he's traditionally depicted, but he still likes giving Peter Parker a hard time. Ironically, though, in the time since Spider-Man: Homecoming, like his comic book counterpart, Flash has gained a deep respect for Spider-Man, and he'll get to see his superhero idol in action while in Europe.
Betty Brant
Betty Brant is an important character in the Spider-Man mythos, particularly in Peter Parker's earliest days of superhero-ing. Her role in Spider-Man: Homecoming was minor at best, only appearing alongside her best friend, Liz Allan, and in quick school news broadcasts, but it looks like she'll get to do more in Spider-Man: Far From Home. In addition to going on the Europe trip, she's also now Ned Leeds' girlfriend, though Ned will do his best to make sure that Betty doesn't figure out that Peter is Spider-Man.
Roger Harrington
It can't be a school trip without chaperones, and one of the teachers who will be supervising the students is Roger Harrington (yes, he is the same guy from The Incredible Hulk), one of Midtown High's science teachers and head of the school's Academic Decathlon Team. It's up to Mr. Harrington to ensure the students stay safe, but when they're coming across monstrous creatures like the Elementals, there's only so much a teacher can do.
Mr. Delmar
Before Peter Parker heads off to Europe, we'll spend a little time with him back home in Spider-Man: Far From Home. One of the staples of Peter's corner of Queens is the bodega run by Mr. Delmar. While it's nice to reunite with someone who Peter interacts with frequently when not wearing the costume, we can reasonably assume that he won't be on screen for very long, but at least his store is in better shape after being partially destroyed in Spider-Man: Homecoming.
Spider-Man: Far From Home swings into theaters on July 2, so stay tuned to CinemaBlend for more coverage on the sequel, and don't forget to learn what other MCU installments are on the way in our Marvel movies guide.
Your Daily Blend of Entertainment News
Connoisseur of Marvel, DC, Star Wars, John Wick, MonsterVerse and Doctor Who lore. He's aware he looks like Harry Potter and Clark Kent.