A Family Guy Movie May Be Coming, And With Live-Action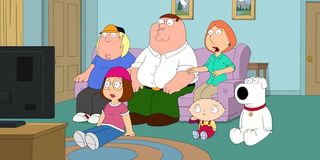 Next year will mark the 20th anniversary of Family Guy debuting on the airwaves, and while the animated sitcom's first years were rocky due to being cancelled twice (first in 2000 and then in 2003), ever since it was brought back for good in 2005, the show been a staple of Fox's animated lineup. Beyond the TV series itself, Family Guy has branched into video games and even been the subject of a couple of live shows, but now there's word that the wacky family from Quahog could finally be making the jump to the big screen, and this wouldn't be an entirely animated feature.
According to a new report from The Wall Street Journal about how 20th Century Fox's upcoming movies slate has been affected by the impending merger with Disney, the Fox movie studio is partnering with the Fox TV channel to put together a Family Guy movie. However, unlike the Bob's Burgers movie and second Simpsons movie that are also in development, Family Guy's theatrical tale would combine both animated and live action elements. It's unclear how far along this project is, but assuming it gets the green light, Family Guy would follow in the footsteps of The Simpsons, which released its first theatrical movie back in 2007.
Family Guy shows no signs of slowing down on television, so along with continuing its small screen journey, bringing fans a theatrical movie would make a lot of sense. Even if you don't watch Family Guy regularly, the Griffin family (Peter, Lois, Meg, Chris, Stewie and Brian) and their supporting cast have ingrained themselves in pop culture, and with that level of popularity, a movie seems inevitable. In fact, series creator Seth MacFarlane first talked about making a Family Guy movie back in 2007, and in 2012 he confirmed there were plans for production, but those were put on hold so MacFarlane could work on Ted 2. Now it looks like the project is back on, but the big question on my mind is how involved would MacFarlane be on this movie. You'd think he'd be the driving creative force behind it, but in addition to still being involved with Family Guy and American Dad!, McFarlane is also keeping busy with The Orville. Between all that, and other projects he's working on, it's possible he may not have time to directly oversee its development. Or conversely, MacFarlane could end up guiding the Family Guy movie, but it would require him to set aside some other things he's working on.
As for live action elements of this Family Guy movie, while interesting, they're not terribly surprising, as there have been various live action moments in the show over the years, from the Conway Twitty gag to Rob Lowe and the late Adam West sharing a bedroom together. If I had to guess, I wonder if the Family Guy movie would take a similar approach to its "Road to the Multiverse" episode and show what the Griffins would look like if they lived in the real world. Or maybe they'll just stick to tradition and use these live action elements as part of the cutaway gags. Those'll probably draw a few laughs.
Stay tuned to CinemaBlend for how this Family Guy movie is developing. In the meantime, Family Guy Season 17 will premiere Sunday, September 30 at 9 p.m. on Fox. If you interested in what movies are heading to theaters later this year, look through our 2018 release schedule.
Connoisseur of Marvel, DC, Star Wars, John Wick, MonsterVerse and Doctor Who lore. He's aware he looks like Harry Potter and Clark Kent.
Your Daily Blend of Entertainment News
Thank you for signing up to CinemaBlend. You will receive a verification email shortly.
There was a problem. Please refresh the page and try again.