10 Recent Movies With An A+ CinemaScore That Are Worth Checking Out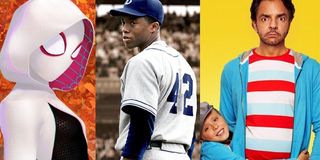 I always like checking a movie's CinemaScore -- along with an occasional peek at the Rotten Tomatoes audience score, IMDb user ratings, and social media reactions. CinemaScore is handy, though, because it gives a quick grade from moviegoers polled on the film's opening night. They watch a movie, get a ballot, and give a grade.
CinemaScore has been doing this since 1978, and grades are all over the map. Since people who see a movie on opening night tend to be excited about it, you might expect higher grades than usual. Still, an A+ is fairly rare.
As of today, only 84 movies are listed as having A+ CinemaScores. (And 19 got Fs, but that's a topic for another day.)
I don't agree with all of the A+ scores that have been given out since E.T., Gandhi, and Rocky III got top grades in 1982, but here are 10 recent A+ films that are worth a watch.
Spider-Man: Into the Spider-Verse
The 2018 animated Spider-Man movie is the only Spider-Man movie so far to get an A+ CinemaScore. Spider-Man: Far From Home just got an A, which matches Tom Holland's previous Spider-Man: Homecoming. Before that, the 2002 Spider-Man and 2004 Spider-Man 2 both got A- scores, followed by a B+ for Spider-Man 3 in 2007. The Amazing Spider-Man got an A- in 2012, followed by a B+ for The Amazing Spider-Man 2.
The computer-animated movie introducing Miles Morales as Spider-Man became the first non-Disney or Pixar movie to win the Oscar for Best Animated Feature since Rango in 2011. (Interestingly enough, Rango got a C+ CinemaScore.) Into the Spider-Verse was a deservedly huge hit with critics and fans, and a sequel and spinoff are in the works.
Incredibles 2
You might think every Disney/Pixar movie would get an A+ CinemaScore, but that's not quite the case. Incredibles 2 sealed the deal in 2018, keeping the same A+ that the first movie got in 2004. Before that, Coco also got an A+, along with Frozen, Tangled, Up, Finding Nemo, Monsters Inc., Toy Story 2, Mulan, and the animated versions of The Lion King, Aladdin, and Beauty and the Beast.
That's a lot of Disney/Pixar love, but there are some notable exceptions. Only one Toy Story movie got an A+, and Inside Out and WALL-E only got As. It doesn't look like the 1989 Little Mermaid was polled, and earlier classic Disney movies predate CinemaScore. No "live-action" Disney remake has gotten an A+ so far, but it's possible the new 2019 Lion King will change that.
Green Book
This is the reigning Best Picture Oscar winner, but it was a surprise winner and still a controversial one. I'm slightly surprised it got an A+ CinemaScore, but not surprised that it was given at least an A. It's more of a fan movie than a critics' movie. You can challenge the historical accuracy, in terms of the real-life people involved, but the storytelling is pretty mainstream-friendly, with strong performances. It's the kind of feel-good movie that tends to get a high CinemaScore.
Best Picture winners don't always or even often get A+ CinemaScores. More often, crowd-pleasers like sports films, military movies, or faith-based movies get a high score. Disney movies and blockbusters occasionally break through, but the previous Best Picture winner to get an A+ before Green Book was Argo.
Love, Simon
Greg Berlanti directed this 2018 teen dramedy, based on the popular novel Simon vs. the Homo Sapiens Agenda by Becky Alberta. The charming crowd pleaser has a 92% fresh rating from critics and an 88% audience score. Heartwarming movies with a deeper meaning about timely issues and social justice tend to get high CinemaScores, with opening night moviegoers most likely being drawn to the subject and wanting to support the message. That was the case as well for The Hate U Give, which was also adapted from a popular novel and came out in 2018 and received an A+ CinemaScore from moviegoers.
Queen of Katwe
This Disney biodrama co-starred Lupita Nyong'o and David Oyelowo in the story of Phiona Mutesi (Madina Nalwanga), a Ugandan girl from a slum in Katwe who learned to play chess and became an international chess champion. It's the kind of heartwarming feel-good movie that was made for A+ CinemaScores, and that's what it got in 2016. Queen of Katwe has a 93% fresh rating from critics, and an audience score of 87%. The people who saw it really seemed to love it. Unfortunately, not that many people saw it in the theater. The movie made $10.3 million worldwide from a reported budget of $15 million.
Patriot's Day
Peter Berg collaborated with Mark Wahlberg for a third time for this movie about the Boston Marathon bombing. One of their previous movies, Lone Survivor, also got an A+. (Deepwater Horizon got an A-.) Opening night moviegoers tend to love patriotic and/or war films. Another one that made the A+ cut was Clint Eastwood's American Sniper in 2014. Other historical dramas like Selma and Hidden Figures also got A+ scores. Interestingly enough, if you go way back to 1998, Saving Private Ryan did not get an A+ and instead "only" received an A.
I Can Only Imagine
Christian dramas tend to score high, which makes sense since you're talking about opening night moviegoers asked to grade the film, and those moviegoers are most likely heading into a movie that will be preaching to the choir. I Can Only Imagine came out in 2018, telling the story behind the song of the same name by MercyMe. That was actually the best-selling Christian single of all time. The movie tells the story of Bart Millard, the lead singer, who wrote the song about his relationship with his father (Dennis Quaid).
The film was a major hit, making $83.4 million off a reported project budget of $7 million, per Box Office Mojo. Critics were down the middle on the movie, giving it a 61% rating, with viewers giving it a 91% audience score. It's the kind of movie that might not be for everyone, but it has a wide enough appeal to be a crowd-pleaser. Another more faith-based movie that recently got an A+ Cinemascore is Unplanned, and past A+ movies include Miracles from Heaven, Woodlawn, Courageous, War Room, and Mel Gibson's The Passion of the Christ.
42
Before we knew him as Marvel's Black Panther, Chadwick Boseman played Jackie Robinson in this 2013 sports drama about the racial integration of professional baseball. Harrison Ford co-starred as Branch Rickey in the Brian Helgeland film, which earned an A+ CinemaScore. It's another feel-good movie that critics appreciated -- 80% -- but found a bit safe and old-fashioned. Fans were into it -- 85% audience score -- and the movie made $95 million off a reported budget of $40 million. Polled moviegoers love biodramas, sports films, and anything inspirational. Cinderella Man also benefited from that in 2005 with its own A+.
Instructions Not Included
You may not remember this movie, but the Mexican dramedy -- also known as No se aceptan devoluciones -- surprised at the box office in 2013 with the biggest domestic opening ever for a Spanish-language movie, per Yahoo. The offbeat family comedy didn't charm critics, who only gave it a 57% rating, but audiences loved it and gave it an 89% RT audience score and an A+ CinemaScore. The movie was reportedly made on a budget around $5 million and made just under $100 million. So, yeah, that's a hit. Comedies don't always get A+ CinemaScores, but some do break through -- including When Harry Met Sally... and Girls Trip.
Avengers: Endgame
Perhaps you've heard of this one? Most superhero movies and blockbusters do not get A+ CinemaScores. Spider-Man: Into The Spider-Verse was the only Spidey story to make the cut. Interestingly enough, The Avengers in 2012 is the only previous MCU movie to get an A+ before Black Panther in 2018 and then Avengers: Endgame in 2019. In terms of blockbusters, with the exception of Disney/Pixar movies, there aren't many on the A+ list. The only Star Wars movie to make the cut was the 1997 re-release. (The original movie came out before CinemaScore started polling fans.)
E.T. and Rocky III also made the A+ blockbuster cut, along with Star Trek IV: The Voyage Home, Lethal Weapon 2, Dances With Wolves, Terminator 2: Judgment Day, A Few Good Men, The Fugitive, Forrest Gump, Harry Potter and the Chamber of Secrets, The Lord of the Rings: The Return of the King, and The Chronicles of Narnia: The Lion, the Witch and the Wardrobe.
What will be the next movie to get an A+ CinemaScore from polled moviegoers? Well, it's unlikely to be Star Wars: The Rise of Skywalker. But it could be The Lion King. We'll have to wait and see.
Gina grew up in Massachusetts and California in her own version of The Parent Trap. She went to three different middle schools, four high schools, and three universities -- including half a year in Perth, Western Australia. She currently lives in a small town in Maine, the kind Stephen King regularly sets terrible things in, so this may be the last you hear from her.
Your Daily Blend of Entertainment News
Thank you for signing up to CinemaBlend. You will receive a verification email shortly.
There was a problem. Please refresh the page and try again.