Space Jam 2, An Updated Cast List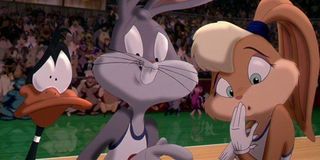 It seemed like Space Jam 2 was going to one of those movies that was never actually going to happen. For so long it was more concept than actual plan, and even when wheels began to turn in the direction of actually making the movie, things were happening so slowly it was far from a sure thing. And yet, now it seems like the NBA/Looney Tunes crossover sequel is finally, actually happening.
The movie has a director and a star, but now the rest of the cast is also being assembled, including the list of pro basketball players that will make up the bulk of the cast. Although, there are going to be at least a couple major Hollywood stars as well. Here's the full list of everybody currently reported to be joining Space Jam 2.
Lebron James
Space Jam 2 wouldn't be happening without Lebron James, and so, of course, he'll be in the movie. Lebron is the biggest star the NBA has seen since Michael Jordan, so it only makes sense he's be the one to headline a sequel to Jordan's Space Jam. Rumors of Lebron headlining a Space Jam sequel; go as far back as at least 2014 and the pro ball player always said he would be willing to make such a movie. It seems the grassroots desire to see such a movie went a long way in making it happen.
Don Cheadle
The newest addition to the cast comes in the form of Marvel Cinematic Universe star Don Cheadle. Without any details about what Space Jam 2 is about, we can't know know how somebody like Cheadle will fit into the film. If we're using the original Space Jam as a guide, there's a good chance Cheadle will be playing himself. That is, unless he's actually lending his voice to an animated character, something he has some experience with.
Sonequa Martin-Green
Sonequa Martin-Green is reportedly set to play the female lead in Space Jam 2. If the reports are to be believed, Martin-Green will have a unique role among the human characters, as she's set to play the wife of Lebron James, which would mean she won't be playing herself, unless the world of Space Jam 2 has the NBA player married to the Star Trek: Discovery star.
Anthony Davis - Los Angeles Lakers
Of course, the big draw of a Space Jam movie are the inclusion of several major basketball stars, and the sequel will not disappoint. Anthony Davis is a brand new teammate for Lebron James on the Los Angeles Lakers. He's a major star in his own right, scoring the cover of the upcoming NBA 2K video game.
Klay Thompson - Golden State Warriors
Klay Thompson plays for the Golden State Warriors. While he's apparently on board the movie, he has some healing and recovery to do before shooting starts, as he tore his ACL during the recent NBA Finals. He's the only Warrior in the current cast, as his teammate Stephen Curry was unable to commit to the movie.
Damian Lillard - Portland Trailblazers
Damian Lillard is a four time NBA all-star who plays for the Portland Trailblazers. He's also released a pair of rap albums, so he's a professional performer even if he's not an actor, It will be interesting to see if Lillard can turn Space Jam 2 into a third career.
Chinenye and Nneka Ogwumike - Los Angeles Sparks
In addition to NBA players, some WNBA members are also reported to be joining the cast of Space Jam 2. Sisters Chinenye and Nneka Ogwumike play for the Los Angeles Sparks and are the Vice President and President of the WNBA Player's Association. Chinenye also works as an analyst for ESPN.
Diana Taurasi - Phoenix Mercury
Diana Taurasi is, very simply, one of the best basketball players ever. She was the most outstanding player of the 2004 NCAA Tournament and since joining the WNBA she has won three championships with the Phoenix Mercury and numerous scoring titles for herself.
Of course, there's another group of characters that we need to get confirmed, the animated ones. A teaser poster has confirmed that Bugs and Lola Bunny will be back, but they're the only members of the Loony Tunes squad we have confirmed.
Other professional basketball players have been rumored to be joining Space Jam 2 and we could several more Hollywood stars joining the cast as well. Filming of Space Jam 2 is supposed to be taking place this summer, with the film eyeing a July 2021 release.
Your Daily Blend of Entertainment News
Content Producer/Theme Park Beat
CinemaBlend's resident theme park junkie and amateur Disney historian. Armchair Imagineer. Epcot Stan. Future Club 33 Member.