Robert Downey Jr. Talks Distancing Himself From Iron Man And The MCU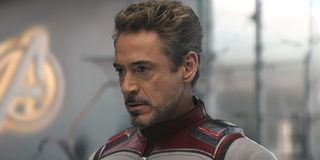 Robert Downey Jr. has been unleashed, cut loose. He's a man without a franchise after his beloved Marvel character Tony Stark left the MCU during the course of the events in Avengers: Endgame. Yet, while the man has had a lot of nice things to say to fans about the role, he also doesn't believe being Tony Stark was the end all or be all.
In a recent interview for Off Camera, Robert Downey Jr. described where he's been since Avengers: Endgame hit theaters this past spring, noting "it's always in the transitions from one phase to the next phase that people fall apart." He also said that he firmly believes he is not his art.
He's Robert Downey Jr. not Tony Stark. Or as he put it:
Well, I'd probably never advocate for anyone to "snap" out of it after the events in Avengers: Infinity War, but I do take his point. It's easy for your identity to get lost when you play the same character for a decade. People all over the world see Robert Downey Jr. and see "Tony Stark" as one and the same, so there needs to be some distance.
It's a role he'll get recognized for forever, and the question now is: Where does the actor go from here?
He also told Sam Jones within the Off Camera recording that he "100%" feels like he's in a transition period right now and is trying to figure out what the next step is. He seems to have a pretty good grip on the role that made him far more famous than anything he'd done prior.
He in fact noted it was a good stint and, perhaps more importantly, it was a "dependable" one in terms of box office and winning over fans. He also said:
This is new ground. I mean, it's not new ground for actors to jump from one project to the next, creating new identities and characters for different fanbases along the way. That's basically the entire job of an actor. What is new ground is a major Marvel actor simply being finished with the MCU and moving on.
Sure, the franchise has killed off villains and let characters fade off into the background before--particularly characters like Natalie Portman's Jane Foster come to mind. (Regardless, there's even an addendum to that exit.) However, Avengers: Endgame was the first major Marvel movie to say goodbye to original heroes in the franchise—people the fans really care about and have invested in for years -- in Stark's case, a decade even!
It's not just Tony Stark who will be gone after this movie. Assumedly, Pepper Potts' story has now been told too (although I suppose she could cameo or something; there simply doesn't seem to be a ton of investment on Gwyneth Paltrow's part). Captain America's storyline is also finished in the MCU. Black Widow is gone—although that's a little bit of a different situation, given a Black Widow movie is allegedly in the works.
Chris Evans already notably said goodbye on Twitter to the character before the fourth Avengers film came out, and I'd love to be the fly on the wall watching this transitional period play out for that actor as well. He's already completed work on Rian Johnson's Knives Out and The Red Sea Diving Resort, while he has TV series Defending Jacob and flick Jekyll coming up.
Robert Downey Jr. has shifted to another high-profile project with The Voyage of Dr. Dolittle. He also may have the opportunity to finally return to playing Sherlock Holmes in the upcoming Sherlock Holmes 3 – so he's not totally done with franchises yet.
Yet, Tony Stark is even different compared to the actor's other popular characters. He's a character Robert Downey Jr. lived with day in and out for years. There was always a Tony Stark project on the horizon. Beyond that, Tony Stark was larger-than-life, a modern-day tech rock star, a beloved character. He was a man with a past and an edge to him, a man who inadvertently created villains, yet a man who saved the world.
Even if Robert Downey Jr. has "aesthetic distance" from his work, it's easy to see why moving past a role may not be as simple as snapping your fingers.
When Mark Hamill signed on for Star Wars in the 1970s, I doubt he thought that forty years later he knew that would be the character he'd still be identifying with and talking about on a regular basis. Robert Downey Jr. has already had more prominent big screen roles than Hamill throughout his career, but I still doubt he knew Tony Stark 10 years ago would be the Tony Stark we saw in Endgame.
Thinking about the scope of the MCU wordlwide is a startling thing -- an astonishing one really -- but I can't wait to see what Robert Downey Jr. does next and how his career fares in general as he moves into the next role. RDJ may not be Tony Stark, but he's still a pretty big name in Hollywood, after all. I don't expect that to change soon.
For a look at what Marvel will be doing next, here's what we know about the upcoming Phase Four.
Your Daily Blend of Entertainment News
Reality TV fan with a pinch of Disney fairy dust thrown in. Theme park junkie. If you've created a rom-com I've probably watched it.