Tom Holland Recalls Two Humbling Times When Gwyneth Paltrow Forgot Him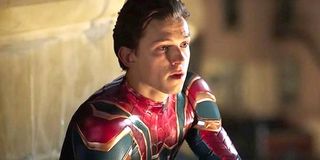 It's difficult to forget Tom Holland. Not only is he arguably the best, most unique live-action version of Spider-Man, but judging from interviews and press junkets, he's also a likable dude. But for Gwyneth Paltrow, the name "Tom Holland" means about as much to her as...well, something she doesn't remember.
During a Marvel trivia video, Tom Holland revealed he knew offhand that Pepper Potts' real first name is Virginia. He also recalled offhand that Pepper actress Gwyneth Paltrow forgot him both on the Spider-Man: Homecoming and Avengers: Endgame sets. He said:
One part of that is true. Gwyneth Paltrow did not realize she was in Spider-Man: Homecoming, and was surprised when Jon Favreau insisted she was there. The other part isn't true, but Tom Holland caught it mid-answer in the PopSugar video. He quickly corrected himself without completely backpedaling, adding:
With that context, the post 'this guy' is talking about becomes hilarious, especially if you look really hard into his eyes. Go on, look. He totally looks like a guy who's been slighted. For reference, here's the picture he's putting on blast:
But don't worry, Tom. You're not the only MCU actor with whom Gwyneth is unfamiliar. That's surprising considering how close many Marvel stars seem to be with each other. But at the very least, she should have caught wind of how many times Tom Holland has spoiled MCU movies. It's not a number that denotes an ability to keep secrets, that's for sure. And it's not like he did it privately, either.
Tom Holland has played Spider-Man since 2016's Captain America: Civil War. I remember the moment he was revealed in-costume at the end of that film's trailer. It was nuts. People went absolutely bananas. And because of the ever-growing importance of his role, he's risen to prominence remarkably quickly. It wouldn't be entirely incorrect to call him one of the biggest stars in Hollywood. Not that anyone would really contest that.
Itching to see Tom Holland leap back into action as Spider-Man? You can catch him in Spider-Man: Far From Home, out on July 2. And, if you feel so inclined, revisit his other MCU appearances. He's a joy in every one.
Your Daily Blend of Entertainment News