Homecoming: How Beyonce And Netflix Teamed Up To Redefine Music Documentaries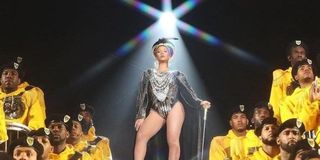 In today's streaming era, particularly with Netflix, we have the chance to provide content to the widest audiences — all at the blink of a eye. The latest movies and TV shows can be viewed practically everywhere, in thousands of countries around the planet, and it is a resource that we are only at the very early stages of realizing, in terms of its potential.
Beyond binge-friendly shows like Stranger Things and Twitter-friendly movies like Bird Box, Netflix has a wonderful opportunity to stream in-depth, in-the-moment footage that hasn't been seen on such a wide platform. It's an incredible asset that has only been used in the broadest sense so far. That is, until Beyonce's acclaimed music documentary/concert film Homecoming came online.
On April 17, Netflix surprised viewers with the unexpected release of Homecoming, an intimate, engaging look at Beyonce Knowles' acclaimed 2018 Coachella headliner performances. Unless you were lucky enough to see one of the shows in person, most people only had a chance to watch the well-publicized music festival performances on YouTube videos or shoddy Snapchat stories. These video platforms weren't the optimal way to see such a revolutionary show. This concert was an event, and it needed to be treated as such. Therefore, Beyonce teamed up with Netflix for a bold new movie.
The resulting film, Homecoming: A Film By Beyonce, can be viewed both as an extension of Lemonade, her 2016 motion album, and an opportunity to witness (or revisit, if you were lucky to be in attendance the first time around) an outstanding concert experience — and one that captures an artist who is not only continuing to excel at her craft, but advancing to evolve and expand herself in even bigger, even better and even more incredible ways.
Along with being in the center frame throughout the concert film, Beyonce also directed Homecoming, allowing viewers to get the whole extent of her broad vision for herself. Beyond the concert footage seen during the movie, which is often both intimate/close to the action or seen from the wide, adoring crowd, all of whom are watching with fixed eyes and focused phones trying to record every sliver of footage they can capture, there are also behind-the-scene recounts of the process behind this amazing show. It provides viewers and music lovers with a glimpse of how it all came to be.
As you'd expect from such a lavish spectacle of a concert, it took a hell of a lot of work to bring that Coachella performance to the stage. And Beyonce makes a point to not only highlight her determination and her big vision for the show and what the artist could provide through this incredible concert experience, but also showcase the fine talents of her fellow musicians, dancers, and performers — all of whom helped to make it a tremendous time.
It is clear throughout Homecoming that, while the show is often about Beyonce, it takes a whole team to bring such an experience to the masses. If one person isn't bringing their all, then the extravaganza wouldn't be the same. And it's clear that everyone has such immense love and respect for not only one another, but the person who is making sure this Coachella concert is happening in the first place. That dedication and admiration is firmly felt.
For it's apparent throughout Homecoming that Beyonce isn't simply putting on a concert. She is providing an experience that not only encapsulates what she has gone through the past 20-plus years in the entertainment industry, but what many women, people of color, and under-appreciated artists have experienced, and how she has a platform and an exceptional opportunity to give many stunning and talented performers a chance to shine here.
Additionally, it's clear that a concert movie like Homecoming doesn't come to fruition easily. There were not only more than 150 artists working the stage to bring the show to life, but a ton of crew members as well, who would document the visual experience from both close and afar. Through two nights of performances, the camera crew and the editors were able to intercut footage from a variety of places, providing audiences with an experience that is not only intimate but expansive. You can see the show on the stage, behind the stage, above the stage, in the crowd... you get the whole view.
And in that sense, Homecoming is both a celebration of history, culture and the talents of a variety of people, as well as a deeply personal, tenderly-moving look at the hardships that Beyonce Knowles has faced in balancing both her personal life and her wildly-acclaimed professional music career. There are very few people like Beyonce Knowles, and there is a good reason why. Not a lot of people can do what Beyonce does day in-and-day out. Let alone with the ease and command that she has mastered through two decades of performing. And this documentary shows how that's all possible.
Homecoming is not only an impressive concert-going experience brought into the living rooms, iPads, and laptops of viewers around the world, but it's also an educational and foundational movie through which Beyonce Knowles, as both a musician and filmmaker, is allowed to fully express herself in a variety of compelling, engrossing, invigorating and revolutionary ways. Homecoming is a great opportunity, therefore, to not only expand what we know about music documentaries today, but it is an excellent chance to use widely-used streaming services like Netflix in new, liberating and exciting ways.
We are in the very early days of streaming, and this is a platform that has the potential to grow in bold, audacious, incredible new ways. Homecoming is just one example of how Netflix can provide a visual, high-spectacle experience that's both intimate and extravagant — right at the click of a button. It's an exceptional showcase for a beloved talent to flex her skills and celebrate her triumphs, while also recognizing the people who brought her there.
There was once a time where excellent concert movies like The Talking Heads' Stop Making Sense and Prince's Sign 'O' The Times were increasingly rare cinematic experiences. They were presented in theaters and moviegoers were giving fleeting moments to see concerts on the big screen with rightly loud speakers, allowing them to feel like their movie theater was transformed into a concert arena.
Now, through Netflix, we have projects like Bruce Springsteen's Springsteen on Broadway or Thom Yorke's incredible Anima to allow musicians and filmmakers alike to broaden the possibilities of music and film in invigorating and compelling new ways. Streaming is such a young medium; Beyonce's Homecoming shows us a bright new future, while also reflecting on the past and celebrating the legacy it takes to bring such a grand, impressive, astonishing accomplishment to the centerfold.
Will is an entertainment writer based in Pittsburgh, PA. His writing can also be found in The Playlist, Cut Print Film, We Got This Covered, The Young Folks, Slate and other outlets. He also co-hosts the weekly film/TV podcast Cinemaholics with Jon Negroni and he likes to think he's a professional Garfield enthusiast.
Your Daily Blend of Entertainment News
Thank you for signing up to CinemaBlend. You will receive a verification email shortly.
There was a problem. Please refresh the page and try again.